Performing Arts - Dancing with the God
by Avinash Pasricha
Everytime Guru Kelucharan Mohapatra, the legendary Odissi dancer, takes the stage, the grace and emotion transforms the stage to a temple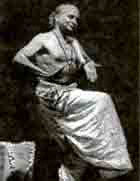 Every time I have seen Guru Kelucharan Mohapatra enter the stage, he does it with such grace and emotion that the stage itself becomes a temple, it turns into a sacred space. For me, Guruji is one of the two main male dancers in India.

In fact, I feel there is no female dancer who can come close to him (Odissi) and Birju Maharaj (Kathak). Guruji starts each performance with a prayer—there is a murti (idol) of Lord Jagannath placed in a corner. Guruji's graceful movements and his intense feelings, coupled with his dedication and humility, reflect the strength of his relationship with God.

I remember a performance where there was a makeshift stage erected on the back lawns of Gandharva Mahavidyalaya in Delhi, India. Given the temporary nature of the setup, there was an electricity failure for over 20 minutes. Guruji just waited silently and calmly. He did not blame the organizers, nor DESU.

Instead, when the lights came back, he commented: "Meri puja mein hi kami rahe gayi hogi (There must have been shortcomings in my devotion)". He then proceeded to perform his puja with great feeling. The audience watched on, absolutely mesmerized. Once Madhavi [Mudgal] and I were traveling with Guruji from Bhubaneswar to Cuttack, where he lives. We decided to stop by at a nearby village, the birthplace of Jaidev, the Oriya poet whom Guruji venerates next to God.

I was busy shooting when I found Guruji prostrate in front of a small monument. Again! his feelings were immense and very visible. That evening I watched him teach some senior students the khandita nayika piece: Yehi Mahadev, Yehi Keshav. Guruji was in full understanding of the emotions the dance demanded; the perfectionist in him made the students repeat the steps over and over again, till he finally stopped—not because he was satisfied, but simply because he had guests for dinner! Which reminds me of another incident.

Presuming him to be a vegetarian, we have never ever offered him non-vegetarian food. Once, after a performance, we went to a restaurant on Delhi's Pandara Road. And, to my utter surprise, I saw him dig into a piece of chicken with great relish. Well, I guess you don't necessarily have to be a vegetarian to be spiritual.