Alternative Education - The montessori way
by Bharati Sarkar
In the Montessori system of education, each child is a unique being. He is encouraged to develop social and emotional skills, in addition to intellectual ones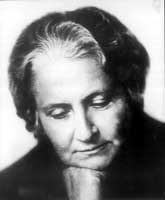 To influence society we must turn our attention to children. Out of this truth comes the importance of nursery schools, for it is the little ones who are building our future, and they can work only on the materials we give them
—Maria Montessori

In urban India, parents send their children to school when they are just 2-plus, mainly to interact with their peer group and often to learn. Many schools with the word 'Montessori' in their name usually have not a clue about the unique method that was first introduced in India by Dr Maria Montessori as early as 1939, in Adyar, Chennai, India. Most parents are themselves not familiar with the method and given a few options in finding a decent school for their children, thankfully accept whatever they get.

Dr Montessori created this holistic system of education which has universal applicability. She took serious note of Socrates' view when he said: "Education is the kindling of a flame, not the filling of a vessel." She used her determination and intelligence to transform the prevalent system of education in her native Italy around the turn of the 19th century, a system still followed in large parts of India-strictly regimented, overcrowded schools with classrooms ruled by stern or harassed teachers who do not brook questions and where children are not permitted to move or speak without permission.

Today, most upmarket play-schools boast expensive playthings and have young teachers who play, teach and sing, addressing the child's learning abilities and allowing 'play' as a serious activity (as it should be). But few schools view a child with the respect he deserves. Many play-schools use Montessori teaching materials, but the true Montessori school follows a system where the child is viewed as a unique being that is not an adult and who has distinct needs and capabilities. Montessori school activities promote the development of a child's social skills, emotional growth and body-mind coordination as well as cognitive preparations for future intellectual activities.

The main premises of Montessori education are:

• Children are to be respected as different from adults and as individuals who differ from each other.

• The child possesses an unusual sensitivity and intellectual ability, unlike those of the adult, to absorb and learn from his environment, both in quality and quantity.

• The first six years of life are the most important years of a child's growth when unconscious learning gradually emerges to the conscious level.

METHOD AND GOALS

The approach: Montessori programs aim to help children reach their full potential in all areas of life. Specially trained teachers, who facilitate, guide and help (but do not impose their own will), allow the child to experience the joy of learning, the time to enjoy the process, and ensure the development of self-esteem. The system simply provides the experiences from which children create their own knowledge. The child and teacher form a relationship based on trust and respect to foster self-confidence and a willingness to try new things.

Materials: Dr Montessori's observations of the kind of things children enjoy and return to repeatedly, aided in her design of several multi-sensory, sequential and self-correcting materials to facilitate learning.

Positive attitude towards school: Most learning activities are individualized, so that a child engages in a learning task that appeals to her and builds a positive attitude toward learning.

Developing self-confidence: Tasks are designed so that each new step is built upon what the child has already mastered. This removes the negative experience of frequent failure, contributing to the child's healthy emotional development.

A habit of concentration: The ability to listen attentively to what is said or demonstrated presupposes effective learning. Through a series of absorbing experiences, the child forms habits of extended attention, increasing her ability to concentrate.

An abiding curiosity: Opportunities are offered for the child to discover qualities, dimensions and relationships amidst a variety of stimulating learning situations thereby developing curiosity, an essential element in creative learning.


Teach by teaching, not by correcting: At no level of learning are papers returned to a child with angry red marks and corrections. Instead, the child's effort and work are respected. There is neither punishment nor reward because Dr Montessori observed that small children expect neither. Their reward is in the happy completion of a job itself and the natural respect that it commands.

Initiative and persistence: The child is surrounded with materials and activities geared to her inner needs so that she becomes accustomed to engaging in activities on her own, resulting in a habit of initiative.

Montessori pre-primary schools exist all over India but the numbers are small compared to the demand. Calcutta leads with over 25 schools including Young Learners' Montessori House and Miranda Hall. Surprisingly, Delhi has just a few. One of them, Magic Years in Vasant Vihar, is promoted by an educational trust. The most remarkable thing about the school is the extraordinary level of disciplined quiet we witnessed on a visit. With so many little children of various nationalities, one expected a bit of noise and clamor. Instead, we saw quiet children sitting, moving around, drawing, playing, doing a variety of things, somehow very absorbed in whatever they were doing. It strikes you that these children take their 'activities' as seriously as adults and do not like being disturbed.

Amazingly, they respect other's need for space and quiet too. Not a single instance of a teacher demanding silence or obedience, simply because the children imposed their own form of natural discipline while engaged in activities they enjoyed!

Shirley Madhavan Kutty, Principal of Magic Years, explained how even training in sports was adapted to a child's age and ability. "Children all over the world develop in the same manner. At a certain age they walk, grow teeth, learn to eat, absorb language and talk. Whether the child is born in Africa or Australia, they all share the same developmental needs," she elucidates. "To me the Montessori method appears the most scientific way of teaching young children."

Chanda Raisinghani, who trained Montessori teachers for many years in Calcutta and continues to do so now in Delhi, admits that she is just beginning to make an impression about the Montessori system's efficacy in the Capital. She is the director of Magic Years teacher training program and consultant with American Montessori Public School in DLF, Gurgaon.

The fact is that education is treated as a profitable business, especially in cities, with most pre-primary schools being highly priced places where children are entertained and 'minded' by young teachers and ayahs for a few hours a day. Montessori materials are expensive, eating into the net profit of school owners. But Shirley explains that village Montessori schools known as Balwadis exist in India, where the original (more expensive) materials have been adapted to suit smaller budgets. "The cost is below Rs 2,000 for one unit of 35 children," she says, "and several companies are now manufacturing the materials locally."

Chanda calculates that given the steep fees charged by private schools, investors would still make a 100 per cent profit using the Montessori method and materials in upmarket schools. Surely dedicated educators would see the benefit of the investment? Parental intervention and direct involvement in educational policies would also see a change in perceptions, attitudes and resources reserved for our children's future.

With the growing need for preprimary schools, perhaps the more dedicated among our new generation educators will be less swayed by the profit factor and more concerned about their contribution to our future generations. The corporate sector and educational trusts must enter the educational market aggressively, not only because there is financial profit in it, but also because the investment will ultimately pay off in future citizens who are balanced, creative and better adjusted human beings.

Reader's Comments


Subject: montessori - 20 January 2013
thank you, its helpful and informative article.
by: izah

Subject: The montessori way - 15 January 2012
An excellent article..I believe in the system and hope one could create an awareness in the Indian society..
by: Barkha

Subject: beautiful piece - 30 October 2010
this is a most revealing piece. very educative and interesting piece.i love it so much. its true that the eduction industry is filled with more investors than educators
by: foluso faseyitan

Subject: information - 7 July 2010
congrates very very informative essay
by: shahnaz