Technology - Aliens might come as a pure thought form
by Life Positive
To what extent are sci-fi versions of the future probable? Lisabeth Shatner, daughter of William Shatner who attained iconic stature as Captain James T. Kirk in Star Trek, explores the question in an interview with Anupama Bhattacharya

How was it growing up with Star Trek?

To me, having a father who went to a television set instead of an office seemed normal. At some point, I noticed other people didn't have fathers who worked in space and had best friends with pointed ears. At that point I was forced to develop a sense of humor about the whole thing.

To what extent do you think the futuristic society depicted in Star Trek is plausible?

If you look at the size of the universe, it's hard to believe we're alone. So, it's possible there are other beings out there. Perhaps they won't have the same pretty girls or fabulous costumes that Star Trek depicted. But I'd like to think that a federation of beings can live in peace together.

What do you think will be the major changes in human society two centuries hence?

Hopefully, we will have zero dependency on fossil fuel. And we will learn to stop killing each other in order to 'solve' problems.

How do you feel about space travel? How soon do you think it will be achieved at a mass scale?

Well, we are already travelling in space, aren't we? As far as the types of vehicles used in Star Trek, I have a lot of faith in human ingenuity. If we can think of it, we probably can build it.

Are you personally interested in sci-fi? If so, what are your favorites?

Yes, I love sci-fi. My favorite movies are The Matrix and Aliens. I also loved Lord of the Rings.

Star Trek, space is teeming with humanoid life-forms. Even the alien encounters and the Roswell-Area 51 rumors portray humanoid life forms. Comment.

I've always wondered why aliens were depicted in humanoid form. It seems to me they would come in a totally unrecognizable form, like some kind of energy mass that travels without space vehicles. Perhaps they will come in a pure thought form.

How important are psychic and paranormal qualities for the evolutionary process?

Many animals on this planet already communicate using intuition and telepathy. I definitely think these abilities will develop further as we evolve. A lot of people already possess psychic abilities, but they are not aware of it. Most people at this point would be willing to admit that these abilities exist.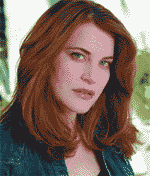 Do you have any interest in meditation, spiritual healing or any other New Age activities?

Many New Age activities are, in fact, not 'new' at all. Meditation , yoga , acupuncture , herbology, even hands-on healing have been performed for centuries on people around the world. I think that modern Western civilization is just 'discovering' what the Eastern world has known for a long time.

What role will spirituality play in our evolution?

Man has always been searching for answers and will continue to do so. Hopefully, this quest will lead to a peaceful resolution of problems. Perhaps a sense of spirituality will keep people from killing each other and from destroying the planet.

Both you and your father have a great bonding with animals. Do you think pets and animals will be as important a part of human life a millennium hence?

I sure hope so. I can't imagine this planet without its animals. They are a special part of what makes this a miraculous place to live in.

If you were asked to choose the characteristics that will comprise the species humanity will eventually evolve into, how would you visualize this race?

In my most positive moments, I see a race that uses intelligence, compassion, spirituality, telepathy, and respect for nature . In my darker moments, I see a species hell-bent on using violence as a way to resolve disputes.

How do you feel about genetic engineering and cloning? Is a nuclear holocaust possible?

If genetic engineering were used to only help people with diseases, it would be great. I have a lot of doubt about cloning, though. I don't think it is leading anywhere good. Unfortunately, I think nuclear holocaust is possible. If it did happen, though, I feel certain that Earth would recover. We would have just performed natural selection process by eliminating ourselves. Nature would take over and begin the whole process again.

Do you think humanity will contact alien civilizations in the near future?

I don't think it will happen in my lifetime, but you never know. Anything is possible.

Many sci-fis depict a world where art is unnecessary. Others depict a world where, since all the work is done by machines, humanity spends its time in the pursuit of art. Since you are also an artist, which do you think is closer to truth?

If the sci-fi world depicted was based on a human model, I think there would always be a place for art. As long as we are wondering, there will be a need to express.

Can you relate any interesting anecdotes about William Shatner and other Star Trek crew that might have a bearing on their perspective of the future?

I can only speak about my father. He believes that as long as we value the environment, we have a chance for survival and make ourselves great. He is an optimist. He looks to the future with anticipation.