Holistic Living - Gift of Wings
by Anupama Bhattacharya
By Anoushka Shankar, sitar prodigy and daughter of sitar maestro Pt Ravi Shankar, as told to Anupama Bhattacharya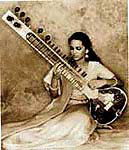 Somebody once told me that I'm an ancient soul. There was this strange man I met somewhere. He started talking to me about past lives. I was sure I had met him before—such was the ease with which we communicated.

It's hard to explain things like telepathy, coincidences. They just happen. It's a daily occurrence when I'm with Rebecca, my best friend at school. In fact, if I forget to call her up in the morning to decide what we are going to wear, we invariably end up wearing matching outfits.

There are certain people who keep meeting beyond lifetimes. You come across strangers who seem familiar. Such things often happen to me. I don't take all of them seriously—I know I have an erratic imagination. I'm, after all, a passionate and indecisive Gemini with many personalities.

Once in a while, however, something happens that forces you to look beyond your limited perspective. It happened to me one night when I was sleeping. I woke up feeling weightless. When I opened my eyes and looked down, I couldn't see myself on the bed. Then I looked up and there was this brilliant sky above me and I was rising higher and higher. The beauty of it was beyond words.

Initially, I thought that it was just a beautiful dream. But I could remember that I had opened my eyes. Was it an out-of-body experience? Maybe!

I believe in God. But not as a separate entity. It's something like karma—you do good, you get good. My mother says that it is a person's faith that brings God out. If you believe that a piece of stone is God, then it will become a manifestation of God.

So far, I've not got into a trance while performing. When I'm on stage with my father, I'm so busy watching him for cues that I don't have the freedom to get into a trance. But sometimes, when the two of us play together, there is a deep communion of the soul.

I play both the sitar and the piano. But there came a point a year back when I felt bored with the piano. To sit there with a beautiful sheet of music and play what somebody else had composed long ago was not exciting anymore. With sitar it's different. I'm learning all the time.

Indian classical music is a combination of tradition and newness. It has depth and spirituality, a beauty that can make you cry. At the same time, it has excitement and technical virtuosity.

A few years back, I went through a major Beatles craze. I had my room covered with Beatles posters when in walked George Harrison. He was quite flabbergasted. He said: "Uhoh! What am I doing here? You have me all over the walls."

Yes, I'm a feminist, but I don't define feminism as anti-man. To me, it means believing in yourself as a woman. We have a feminist club in school. We also work with a domestic violence cell.

I have worked with terminally ill children. It's like adopting a friend till he dies. You should see how they value life. Even going for a walk or having an ice-cream is a celebration—because it may be the last time. It makes you appreciate each day, each moment of life so much more.

I feel that the purpose of life is to learn our lessons. To be complete, to be successful and virtuous and loving. When you've learnt everything, perhaps the cycle stops. When I look at my father, I feel that if this is the way it is, then he is one person who's not coming back.

My father is an incredible human being—loving, caring, considerate. He is a genius who did not just sit around but spent a lot of effort cultivating it. I think that makes a difference.

My motivation in life has been a combination of what my parents gave me. Musically, it has been my father. But I derive my strength mainly from my mother. The women on my mother's side seem to have a healing power. I don't know if I have it too. It works when I heal my mother's pains, but I'm not sure it'll work with others.

There are so many alternative healing systems available now. It's nice that suddenly people are trying to get in touch with themselves. Still, it is not deep enough. My friends in the USA talk about doing meditation and healing and past life regression and I say: "What? You're going to do all these things in 10 minutes?"

My primary goal in life is to be happy. I would also like to publish a book of my poetry, get more involved with the community. Above all, I would like to fly. I have recurring dreams of flying. I see myself in a strange world with a deep green ocean over which I fly. I was disappointed when I learnt at the age of 10 that human beings don't grow wings. Perhaps the world I see in my dreams is a place where it is possible, where I can spread my wings and soar higher and higher. Perhaps, there, I will be able to realize my dream.