Holistic Living - Invocation to God
by Life Positive
By Pandit Birju Maharaj, Indian classical dancer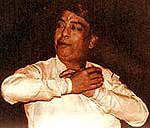 My quest in life can be summarized in this line from a bhajan: "Kaun gali gayo Shyam (which way did Lord Krishna go)?"

Born to Pandit Achchan Maharaj in Lucknow, India, I was exposed to the Islamic culture of the region, the seat of Awadh opulence. Wajid Ali Shah, the Nawab himself, danced adorned as Krishna. When we were growing up we were taught to believe that all gods were one. Different names just described their attributes but for us Aum and Allah were one. Today, I just cannot understand where our basic education and understanding has gone. How can we fight over religion? What is religion?

My personal religion teaches me to respect all living beings and to treat nature as mother, for it provides us sustenance. How can we fight over the same land, which nurtures us? God has given us the abundance of His creation. And what have we given in return?

My search for my Shyam continues. Don't forget, as a Brijwasi, my chief preoccupation is dalliance and love with and for Krishna. He is my friend, God, companion, father, mother—everything. We have been so conditioned and brought up on the lore that one lifetime is not enough to recapture that spirit of Krishna.

Throughout my 60 plus years, I have felt a close bond with Krishna. My dance and my music is but His praise, or a way of worshipping Him. Imagine, He has been so kind that He has made me famous for something I enjoy doing anyway!

For me, dance is not art. It is a way of life. I feel close to Him and close to Mother Nature. What is shakti (mother goddess) but prakriti (nature)? All creation is a gift of the gods. We salute and celebrate it. And in Brindavan, in Gokul, I still feel like asking: "Kaun gali gayo Shyam?"