Holistic Living - Pilgrim of Inner Spaces
by Arundhati Mitra
By Deepti Naval, Indian actress, poet, painter and photographer, as told to Arundhati Mitra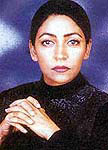 Sky is another space, another world not part of mine. Perhaps it's an experience where you can be another thing. I don't know how to define that space. Maybe I'm trying to find myself in it. There are so many beautiful things in nature. But the beauty I seek is not conventional. I love barrenness, shadows. Perhaps they appeal to me because I'm a loner. I was full of films and people after attending the 1998 Film Festival in New Delhi. I wanted to get away. I went to Ladakh and stayed in a small village. There I saw this gift of nature. Everyday I used to go for a walk with my camera and kept clicking at random. I never planned it. I never plan anything. That's why I call my collection of photographs 'In Search of Another Sky'.

For me, nature is God. These unexplained mysteries don't come from calamity or good luck. The rest is man-made, like religion. Spirituality is often mixed up with religion. I'm opposed to all religious practices. Spirituality means living life with basic things.

I think of an existence that is not acquisition oriented, a quality of life, which is a quality of mind.

I spent about 10 days at Igatpuri in Maharashtra, India, doing vipassana. It was a soul-searching experience. There were no ceremonies, no pictures. There were no rituals. It was difficult because they compelled you to look at yourself. But to me, that made sense.

I was first drawn to Buddhism when I went to Japan for a film festival. The Buddhist gumphas were so calming. There were monks sitting and chanting. I liked chantings because it creates positive energy around you. I love the word Om. I also like the morning azan of Muslims. I like being in a church when there is nobody around. I love their music. It gives a lot of tranquility. I am drawn to all religions but religion per se, implying what it does today, is not okay.

I'm fascinated by the architecture inside a church. These monuments humble you. Generations must have worked at the captivating Ajanta and Ellora cave paintings. But nobody knows about them. They just created, lived their life and were gone. They had no need for attention. To me that is spirituality—to have no craving, to live and die without wanting to make any mark.

When you become truly spiritual there is no urge to leave a proof behind that you lived in this time and place.

Different media give me the freedom I need to express myself. I am greedy to live a full life. Maybe that's why I took up acting as a career. It gives you the opportunity to be so many different persons. But acting is not my expression. In that sense my poetry, painting and photographs are my statements. They are about finding myself. The self-portraits I had painted depicted a certain part of my life. The poems were a phase that coincided with the self-portrait. Together, they threw me back into creativity. I am grateful for my highs and lows. If I didn't have lows what would my understanding of life be?