Holistic Living - Mother Divine
By the Indian actor, Govinda, as told to Suma Varughese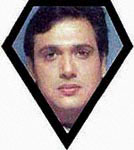 My mother, Nirmala Devi, a classical singer, was my first and last guru. To her I owe everything. She was a sadhu, a devout woman, wise in big things and small. Many people approached her for spiritual guidance. She prescribed a sattvic (pure) lifestyle and ran a frugal household for the first 25 years of my life. Our food was simple: vegetarian without garlic or onions. I still follow that rule in my house. On the rare occasion when I eat non-vegetarian food elsewhere, I invariably fall ill. My lifestyle is simple. I don't smoke or drink. I keep fit through walks, jogging and yoga .

I practise a meditation my mother initiated me into. Before leaving the house I touch my forehead on the ground where my mother used to sit. There is a lamp shining before her portrait. Every morning I worship Shiva for 20 minutes. Even when I'm shooting out of town, my family sends me fresh bel leaves by air for the puja (daily prayers). My devotional practice is down to earth.

I believe that serving one's mother is Shakti sewa (service of the Divine power), serving one's father is Shiva puja, acquiring knowledge is to worship Ganesh (the Elephant God of the Hindus), looking after your body is Hanuman (the Monkey-God) puja, keeping your wife happy is Lakshmi (The Goddess of wealth) puja, serving your children is Krishna puja. The greatest service is to serve humanity itself. I have had many spiritual experiences. My sister died of cancer while my mother was still alive. When my mother saw her body, she said that her atman (soul) was stuck inside her. She spoke to her, told her to go in peace, and that her children would be looked after.

Suddenly the dead body moved by four inches! People were aghast, and ran to call the doctor, but that was only the departure of the soul. My mother extended her lifespan for my sake. Though she prepared me for it, her death was a great loss to me. When she died I had doine about 70 per cent of the sewa I had wanted to do for her.

The rest remained undone. I may be a popular film star, but I never see that as a reason for arrogance or vanity. My mother told me that as long as I had the grace of Saraswati, the goddess of arts and learning, I will be popular, that's all. So why should I be vain? My popularity has nothing to do with me. I hope to walk along the right path all my life. That is my only ambition.