Holistic Living - NEW AGE GOES MAINSTREAM
When newspapers carry columns on spirituality , celebrities consult personal gurus, mainline hospitals offer alternative therapies, corporate houses host personal growth workshops, meditative music tapes sell in thousands, it's clear that the New Age is now well on its way to occupying centerstage in India

On Friday evening, a crowd of commuters is assembled outside Malad station (a Mumbai suburb, in India), gazing wide-eyed at two cameos. Two young lasses dressed in luminous white, a gentle smile on their faces, sit in rapt meditation; beside them, two girls, richly dressed and bejeweled, also sit in deep meditation against the backdrop of a palace cutout. 'Tomorrow's World', the placard proclaims. The Brahmakumaris, a Mount Abu-based organization, is conveying its visions of spirituality in the future.

Returning to work on Monday morning, I see what is by now a familiar sight. The Sathya Sai Baba Trust is organizing a blood donation drive. Pictures of the curly-haired saint adorn the enclosures, along with some of his well-known sayings like 'Help Ever, Hurt Never.'

Satyam, the teenybopper hangout in Mumbai for greeting cards, pop music and books, is marching to a different beat this day: the sonorous sounds of a Ganesha chant. Inside, vying for attention with the airport novels are Deepak Chopra's How to Know God, Brian L. Weiss's Many Lives, Many Masters and James Redfield's The Celestine Prophecy.

Bombay Stores, an upmarket department store in Mumbai, has its front section dominated by energized candles, aromatherapy and other holistic ware.

Spirituality is upfront. What used to be a private aspect of life, is spilling over into the public domain and lunchtime conversations. Daily newspapers prominently carry interviews with saints and motivational speakers, and have columns promoting a meditative way of life.

Is society undergoing a seminal change? Is a paradigm shift happening?

Says Anjali Mathur, editor of The Sunday Observer: "Spirituality is becoming more popular. People are looking for moorings, for more universal truths. They want meaning in their lives."

V. Gangadhar, media columnist for Mid-day, a popular afternoon paper, agrees that the media has given the trend prominence, but adds: "I haven't seen anything in the life around me to suggest that people are moving into spirituality."

Swami Chidananda, of the Chinmaya Mission, Powai, says: "More people are talking of Vedanta, but whether they will practice it is another matter. In Kali yuga everyone has access to spiritual truths but at the same time, the material comforts and distractions are manifold." Nonetheless, he discerns a greater intersection between the material and the spiritual. "Software companies and management colleges invite me for talks on stress management and how to control anger. Of course, this is a far cry from enlightenment, but it's a beginning."

Uday Acharya, Swami Dayanand Saraswati's disciple who teaches Vedanta to Mumbai aspirants, is more upbeat. Says he: "In this century all the positive things are coming together. Everything's ready for a takeoff. There's no specialization any more. Today, most subjects are becoming multidisciplinary, such as biochemistry or geopolitics. And whether in religion or in health, people are taking matters into their own hands. They come together in small prayer units, or try alternative medicine. They are taking back their power."

On the other hand, Titu Ahluwalia, head of ORG Marg, believes that there is a reverse movement towards consumerism. "Today, the young believe that it's okay to make money any way. Greed is unmasked and naked." Similarly, Ruby Bhatia, the popular TV anchor, states that people on the whole are deviating from spirituality.

Different voices, different views. But nothing that runs counter to the New Age vision. It's the term given to the broad vision espoused by a large group of thinkers, artists, scientists and visionaries from the West, that the time has come for humanity to move into a more spiritual culture. Says physicist Gary Zukov in his book The Seat of the Soul: "We are evolving from a species that pursues external power into a species that pursues authentic power."

James Redfield in his book The Celestine Vision says: "We are intimately connected with the universe and with each other, and our influence on our world with our thoughts is more powerful than anyone ever dreamed."

Today, New Age is fertilized by currents of thought from various fields, including the Third Force humanistic psychology, spearheaded by Abraham Maslow, who concluded that man was driven by a need to actualize himself. This gave rise to the human potential movement, which postulated that man's purpose for existence was growth and enlightenment.

However, despite its idealistic and deeply serious agenda, the New Age has its quota of the frivolous, faddish and even unwholesome. All too often, activity revolves around mumbo-jumbo such as the invocation of spirits or contacting UFOs, or stories of being abducted by aliens. Excesses abound and, in the name of spirituality, a new form of consumerism is arising. The spiritual bazaar is chock-a-block with New Age artifacts such as wind chimes, crystals, energized candles, yoga mats et al. With all that, however, it remains a movement oriented towards the positive, harmony, peace and universal love.

New Age in India must be distinguished from Old Age, which is the source of its wisdom, and which still prevails undisturbed in the greater part of India. Obviously the dividing line is blurred, but New Age could be said to have moved from the religious to the spiritual, from the particular to the universal. Says Swami Chidananda: "New Age has two distinguishing features that separate it from Old Age. It doesn't take any particular religion as the authority and secondly, it draws from all religions." He also feels that New Age gives far more freedom to its practitioners than Old Age did. "Ancient India didn't have that freedom."

Where the New Age can learn from the Old Age is to borrow its depth while retaining its admirable breadth of vision.

Its significant hallmark in the Indian context is the ability to straddle both the old and the new with harmony, because it is in touch with perennial principles. Thus, you have the saffron-robed monks of the Swaminarayan movement who are also computer engineers and MBA graduates. Or the mini-skirted Ruby Bhatia earnestly visiting Iskcon temples for spiritual succor. Or the non-vegetarian sage, Ramesh Balsekar, who retired as general manager of the Bank of India. Or publisher Madhukar Thompson of Neti Neti Press, who has packaged Vedantic concepts in the form of cartoon postcards. Or click onlinedarshan.com and you will find yourself transferred to any Indian temple, from Tirupati to Vaishno Devi. In short, New Age is Old Age in blue jeans.

Assuming New Age is here, how far has it penetrated?


SPIRITUAL FAST TRACK

In the shift from religion to spirituality, the action at ground level is sizzling: from the variety of personal growth and spiritual workshops, to high-profile spiritual gurus and organizations. Says Dr Anil Suchak, representative of the Divine Life Society in India: "Today, we realize that science is not the solution to life. Faith in God was dissipated by science but today, people realize that spirituality contains science."

Meditation is mainstream activity, with techniques galore: Art of Living, Siddha Samadhi Yoga, TM, Vipassana and so on. And belief in God is widespread. According to an ORG-MARG poll, 94 per cent of young adults below 30 believe in God, 62 per cent pray regularly and 35 per cent perform puja and visit a shrine once a week. The momentum is growing.

Art of Living organizers, for instance, say that in the last three years 16,000 people have taken the course in Mumbai alone, as contrasted with 2,000 in the preceding years. When their guru Sri Sri Ravi Shankar came to the city last year, he addressed a crowd of over 50,000.

Mata Nirmala Devi routinely draws a crowd of a hundred thousand for her mass Kundalini awakenings, as does Mata Amritanandamayi in the metros. There was a massive turnout last year when Sathya Sai Baba of Puttaparthi made a rare visit to Mumbai.

Yoga is now a household term. Its popularity is growing worldwide. Actresses like Gwyneth Paltrow, Kate Winslet, Cate Blanchett, Madonna, Meg Ryan and Uma Thurman swear by it. The Defense Institute of Physiological and Allied Sciences (DIPAS) prescribes yoga to help acclimatize soldiers to adverse operational terrain, like deserts and snow-clad mountains. Cricket stars such as Javagal Srinath, Venkatesh Prasad and Anil Kumble are using it, while Sachin Tendulkar is said to have consulted renowned yogacharya B.K.S. Iyengar.

Nothing, however, compares with the sudden popularity of reiki. Surat actually boasts of a Reiki Street, where almost every household has a graduate. It has become one of the most popular ways to discover spirituality, requiring little or no discipline.

In the New Age, wisdom traditions from around the world are welcome. That explains why gurus such as Vietnamese monk Thich Nhat Hanh, Pranic Healing founder Choa Kok Sui and Karuna reiki founder William Rand enjoy tremendous popularity in India.

ROMANCING ALTERNATIVES
The phenomenal popularity of alternative medicine the world over offers the most convincing proof of a shift in public perception. Says Dr Urjita Jain, a gynecologists who's moved to herbal treatment: "Allopathy doesn't cure. It may rid you of your illness but you won't know what caused it or how to uproot it. With ayurveda, they would check your diet, your dosha balance, and show you how to prevent disease. Today I call myself a herbal gynecologist."

Dr S.U. Nagarkatti, a general surgeon, says: "India has always believed in alternatives, but we had a brief romance with allopathy which has apparently waned, at least for chronic diseases."

In the West, the growth of alternatives is more dramatic. In England, for instance, the Royal College of Medicine has opened the Royal College of Alternative Medicine. Doctors on both sides of the Atlantic have urged governments to provide more funds for research in alternative therapies.

Here in India, ayurveda and homeopathy, in particular, have numerous votaries. Dr Pankaj Naram, an ayurvedic doctor in Mumbai, sees 400 patients daily, while Balaji Tambe Vaidya of Lonavla has a star clientele of politicians, including Bal Thackeray and Sharad Pawar.

Almost every activity or object is a potential therapy such as art, music, play, aromas, crystals, flowers, herbs, colors and so on. Among the more established treatments are acupressure, acupuncture, biorhythms, chiropractic, iridology, massage, naturopathy, reflexology, shiatsu, rolfing and siddha. Practitioners of one form of therapy usually adopt a clutch of others and treat their patients 'holistically'. Thus, an ayurvedic doctor may also use acupressure, reiki or pranic healing.

Alternatives have weaved their way into mainstream hospitals, too. Delhi's Escorts Heart Institute and Research Center has commissioned a program incorporating meditation and yoga to prevent heart disease, along the lines of American doctor Dean Ornish's famous program. The Indraprastha Apollo Hospital has opened a body-mind medicine department, in collaboration with Deepak Chopra.

And when it comes to mental disorders and addictions, vipassana has been tried with some success. Psychiatrist Rajendra Chokani recommends it to many of his patients. Kripa Foundation, a leading Mumbai-based treatment center for drug and alcohol addicts, uses yoga, meditation, introspection and group therapy.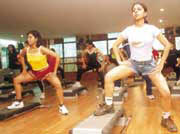 New Age in India is still largely an urban westernized phenomenon. Unlike other classes, this class has been largely molded by a western perspective, which is why it has had to retrack its way much as the West has done. Without rejecting its cosmopolitan, liberal patina, it is accepting its Indianness. Little wonder, the glitterati are leading this move.

Former dancer Salome Roy Kapoor encourages eco-friendly initiatives among the students of J.D. Somani School, Cuffe Parade, that included a 'March for Earth' on International Earth Day.

Former models Rhea Pillai and Nandini Sen are the flamboyant flag bearers of Sri Sri Ravi Shankar's Art of Living course, while model Sheetal Malhar is an avid follower of Mata Nirmala Devi.

Today's Miss Universes and Miss Worlds are created through, among other things, a careful dosage of spiritual wisdom. Miss India 1999, Gul Panag, was told by her aunt and TV personality Komal G.B. Singh "to unclutter the mind and visualize yourself wearing the crown, surrounded by brilliance and radiance." The reigning Miss World, Yukta Mookhey, was coached by fitness trainer Mickey Mehta in universal oneness through a regimen of walking on the beach, smelling flowers and sending out love to the world.

When Nita Ambani, wife of the Reliance scion, Mukesh, was asked to speak at the Ladies Wing of The Indian Merchants' Chamber, Mumbai on how to spend money, it turned out to be a serious discourse promoting old-world values. "Wealth when directed at the larger benefit of society is wealth that will last forever," observed the sagacious lady.

CORPORATE COUNTER-CULTURE

Again, the West has taken the lead. Management books like Steven Covey's Seven Habits of Highly Effective People and Anthony Robbins' Awaken the Giant Within, have been stressing concepts like self-management and drawing from one's internal power. Willy-nilly, Indian corporates have followed suit.

Companies that have institutionalized meditation include Godrej, Lupin Labs, Ayodhya Paper Mills and the Nagarjuna and Alacrity group. In Mumbai, employees of Benzer get a 10-day break to learn vipassana. Eicher Consultancy Services, run by Anil Sachdeva, a disciple of Swami Chinmayananda, holds personal growth and communication workshops, yoga and meditation for its employees. Mahindra & Mahindra uses Rational Emotive Therapy to control stress.

Training schools are ardently promoting management, Indian-style. The credit goes to Prof S.K. Chakraborty, who founded the Management Center for Human Values at IIM, Calcutta. Others include the S.P. Jain Institute of Management and Research, Mumbai and the Symbiosis Center for Management and Human Resource Development, Pune.

Spiritual organizations, too, have opened management centers, including the Center for Value-based Management Education, Coimbatore, run by the Mata Amritanandamayi Math, Maharishi Mahesh Yogi's Maharishi Institute of Management and the Sringeri Sharda Institute of Management, both in Delhi.

All these institutes advocate yoga, pranayama and meditation, and promote values such as social sensitivity, team spirit and the development of intuition and vision.

In a display of international recognition to spirituality, vipassana guru S.N. Goenka was invited to the World Economic Forum at Davos, Switzerland this year, where he addressed assembled world leaders, including Clinton, on true happiness.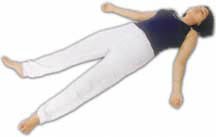 SACRED SPACE
Behold, God lives. And in the pages of mainstream newspapers, no less. The media has become surprisingly receptive to New Age in the last four years.

When Life Positive magazine was launched over four years ago, it was a publishing oddity with a slim chance of survival, but today, spirituality is nestling rather cozily amidst articles on current affairs and business. Spiritual columns are mandatory in all newspapers, news on alternative medicine is the prevailing trend, and discourses are covered with gusto.

And supplements that abided by the three Fs of Food, Fashion and Fun now foray into subjects like enlightenment, environment awareness and mind expansion.

Is the media catering to rising public interest, or creating it?

The advertisement world, too, is responding. The Raymond's ad for the 'Complete Man' showed the model meditating. Tibetan monks, maroon-robed tonsured figures, appear in many ads.

New Age publishers and bookstores are proliferating. Delhi has the Indologist chain, Motilal Banarsidass, as well as Full Circle, while B. Jain Publishers specialize in alternative medicine; their corpus on homeopathy is the largest in the world. In Mumbai, old-timers such as Chetana and Giri Trading Co. have been joined by Motilal Banarsidass. Pune has the popular retail outlet, The Word. Other notables are Sterling, Diamond Pocket Books, Think Inc. and Zen Publications.

LIFESTYLE SHIFT

Organic food is in. Dr Vijaya Venkat, longtime advocate of a natural organic diet, runs a lunchtime dabba service eschewing oil, refined flour, milk and milk products in Mumbai. Alternative restaurants have opened in Mumbai. Swad Shakti is an ayurvedic restaurant run by Pankaj Naram. In Ahmedabad, a Swaminarayan sect follower has started a restaurant, Rahbaaz, obedient to the strict codes of their faith.

Concern for the healthy food has sent diets like the Fit for Life formula spiraling. And given rise to health food outlets and products. Among these are the Health Food Shop in Mumbai and Spicer's in Pune, and organic food products by dietitians Anjali Mukerjee and Kavita Mukhi.

There are also the so-called super foods, sold as miracle workers. The current favorite is spirulina, a variety of seaweed rich in protein, beta-carotene and chlorophyll. Then there is wheat grass, a detoxicant and anti-pollutant, and miso, or fermented soya bean.

People are increasingly availing of vaastu shastra or its gentle cousin from China, Feng Shui, to set right their dwelling-places. Fountainhead, IBD's bookshop at the newly opened shopping mall, Crossroads, owes its funky decor to a Feng Shui expert. Elle publisher Neerja Shah has had her house redesigned to vaastu guidelines. Jane Shilton bags now come with a little write-up on how to Feng Shui your bags.

New Age fashion is now an item. T-shirts have entered the fray, wearing spirituality on their sleeves. Tantra T-shirts, run by young entrepreneur Ranjeev Ramchandani, takes a quirky look at Indian spirituality. Says fashion writer Meher Castellino: "Fashion worldwide is becoming simpler."

Spiritual travel has become an option in the tourist itinerary. Suman Motels has 33 religious destinations divided into three circuits, Vaishnav, Jain and Buddhist. Kerala has been touting its line 'God's own country' to great effect, especially among foreign tourists, offering health and beaches. The Taj Residency, Calicut signed up with Ayushman Ayurvedic Pharmacy, part of the Coimbatore-based Arya Vaidya Pharmacy to develop in-house ayurvedic packages for guests.

Fine, so New Age has entered the mainstream. But how far has it penetrated? Has it managed to change systems? What is its influence at the macro-level?

Well, the changes are still unnoticeable. Yet there is hope. Several private initiatives may have a spiraling effect on how things will work in the New Age.

Consider Swadhyaya leader Pandurang Shastri Athawale. Using the Bhagavad Gita as a tool for social transformation, his followers forge into fishing and agricultural villages preaching universal oneness. Result: thousands of villages in Gujarat and Maharashtra live in happy amity. And his economic innovations are laudable. The villages jointly buy and till a common plot, or boat in the case of fishermen. The produce is then given to those in need. The delicacy of the operation safeguards the receiver's self-esteem, staves off indigence, and hence avoids dependence.

Likewise, Professor Dabholkar of Kolhapur has started a movement called Prayog Parivar, whose bottomline is how to enable a family of five to live comfortably on a quarter acre of land. Farmers are invited to experiment with manure and produce, and to communicate their discoveries through postcards to other members. He is credited with the success of grape cultivation in Maharashtra, otherwise not a traditional crop.

Also, vipassana has now been introduced in jails, namely Tihar Jail No. 4 in Delhi and the Nashik and Yerawada jails in Maharashtra.

SSY teacher Guru Rishi Prabhakar is planning a Gramin Gurukula movement, to uplift and spiritualize the masses.

Hearteningly, community initiatives are becoming more common in urban areas. People are taking over the task of cleaning their street, keeping it free of crime and greening it. Eradicating illiteracy is fuelled largely by private measures. The government is no longer seen as the sole custodian of all responsibility.

And that's really the bottomline. The New Age philosophy suggests that social transformation can only be the result of self-transformation. And that the individual has the power to move the world. At the end then, the buck stops with you and me.

Reader's Comments
Subject:
New age goes mainstream
- 28 December 2010
What a fantastic article..Thank you for empowering me to bring modern day living and spirituality into balance! being born in UK my awareness was trapped in the world of materialism and the physical body! in 2005 i had a life changing desire to leave and headed for OZ for a 2wk break, which turned
More...
by:
Richie Hackney
Subject:
spirituality
- 27 August 2009
we are going back to our roots. there are different methods to acquire one goal ie. enlightenment.beatifully written article, its a good source of knowledge of different spiritual methods to follow, one which suits u da best.
by:
pooja