Holistic Living - I Insist on Happiness
By Manisha Koirala, filmstar, as told to Suma Varughese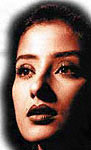 I have only two ambitions in life. One is to be a great actress and the other is to be totally happy.

I think I am an average actress. In comparison to the actresses of the '50s and '60s, I am below average. That's because the scales today are loaded against good acting. Crass movies sell, and so they are produced. Still, there are some Indian directors trying to do good work, such as Mani Ratnam, Sanjay Bhansali and Vidhu Vinod Chopra. As for being totally happy, it is a state of mind. I believe you need a disciplined mind, one that is balanced in both good and bad times, in success and failure.

I have been an atheist most of my life, with a rational and scientific approach. But around three years ago, I hit a downer. I had no idea why things were going wrong or how to correct them. Then, a series of incidents happened. A friend gave me Brian L. Weiss's book Many Lives, Many Masters. Later, I began reading related books such as James Redfield's Celestine Prophecy, the books of Carlos Castaneda and J. Krishnamurti. I also read a lot of U.G. Krishnamurti. All this reading was a real eye-opener and helped me understand my despair.

Today, I feel completely connected to nature. I understand myself and others a lot better. Small things don't hassle me anymore. I know that if I'm going through a rough patch, better times will dawn tomorrow. Instead of worrying, I focus on how to solve the problem. These changes have not been caused by any spiritual technique but by inner cleansing. It is a process of correcting yourself, of going beyond your tendency to blame others, to mistrust and to nurse negative thoughts.

I now believe in the Creator and in the fact that life has a purpose. No matter how successful you may be on the material plane, it all comes to nothing if you are not spiritually aware. Being a film actress has its own pressures. For me, it was a strange profession. From a small town, I came to live alone in Mumbai (Hollywood of India). But it taught me a lot. It would be easy to let all the adulation go to one's head, but I have my feet firmly on the ground. I thank my family, particularly my mother, and my friends for this. To them, I'm just Manisha, with no labels.

Personally, I'm not the sort who gets a high out of being placed on a pedestal. I actively discourage it. I try very hard to avoid being pigeon-holed into behaving like a 'star'. Recently, I shocked my family and boyfriend by taking an auto-rickshaw to Versova. But I felt good about it. I felt free!

I love my first-class air travel when going abroad. But I'm also aware that all this may just disappear one day. And you need a strong mind to cope with that. I've never found myself beautiful. When people tell me I am, I'm glad that they can't see me through my eyes. It's important to look good, but certain things within are far more important. Without them, all you have is five seconds of fame.

My work is important to me. Right now, I'm 90 per cent my work. Which is why it is important that I be happy while working. I know I'm asking for too much, but I'd love to work with people I relate to. Theatre is an option I'm looking at.

Spiritually, I want to understand Truth. But I don't want it to make me sad. I admire Indian film director Guru Dutt tremendously, but his was a sad philosophy. That may be the truth for all I know, but the sadness is unacceptable. I insist on happiness!

Reader's Comments
Subject:
Be Brave and Happy
- 31 July 2012
Hi Manisha, I have been through your heart voice and found your hunger to know the real truth of the life being a atheist, which you are searching here and there, Channai to Rishikesh. May be you have been misguided as they do not know themselves the TRUTH. If you know about Vedas t
More...
by:
Manu