Holistic Living - Winning the Game
by Kumkum Bhandari
By Nafisa Ali as told to Kumkum Bhandari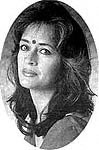 When I was young, as a swimmer every muscle in my body was toned, my physique perfect. Now at 40, I've realized that a few kilos more or less are not everything. I've learnt to be comfortable the way I am because my friends, my family and my husband love me for who I am. In the Vedas, fitness encompasses the body, mind, soul, spiritual aspects and the relationship you have with people. If all five are in balance, I would consider a person to be fit. As a swimmer, athlete, amateur jockey, actress.

I always strove to give my best, to win. At 19, I won the Miss India contest. I've never sought to be glamorous or fashionable, but I did feel insecure for a while when the first gray hair came. At 37, I went to Tirupati, shaved my head (to honor a wish come true), stood in front of God (Lord Venkateswara) there and said: "I'm putting my life into your hands. Guide me, I need direction."

Shaving my head made me realize how vulnerable we are to our human image, to the fašade we cling to. I have seen miserable souls for whom all that counts is dressing well. It's so futile. We need to shed externals and focus on who we truly are. I used to be totally against religion because I thought religious heads created divisions among people. Three years ago, at a discourse by an architect-turned-swami of the Chinmaya Mission, I realized that I had shut spirituality out of my life.

Now I often read Swami Chinmayananda's books late into the night. I have learnt that the essence of spirituality is goodness, and the right way of living. My swami from the Chinmaya Mission once said: "If you need to use anger, use it like a playing card and put it back in your pocket. More for effect than for anything." I've learnt to do that, especially with my kids. My search for what I want in life never ends. But the answers come whenever I sit back and tune into this powerful force, call it God or what you will. Today I am excited about the release of my new film. Major Saab, which followed 20 years after Junoon. At 19, I thought I had to win, to be the best, be on top. Now I would rather focus on family, on being a caring human being. I still have a long way to go: in learning to be a good person, sharing, helping others and being responsible not only for my own actions but for those around me.