Holistic Living - Acts of Happiness
by Life Positive
Actor Rahul Bose on his personal recipe of positive living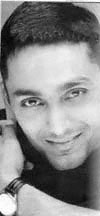 My spiritual practice comprises five Tibetan rites that are supposed to move your chakras at the same speed, thereby creating harmony. The sheer fact of exercising twice a day, in silence, with monastic rhythm, centers your thoughts.

Ayurveda also takes you within. I turned to it because allopathy had no solution to my colitis, but it soon embraced not just the food I ate, but also my lifestyle, and the need to eliminate stress.

Yoga is a great stress-reliever. I close my eyes, focus, attack the point that is causing me stress, and try to find a solution there and then. If I can't, I accept that the problem will take a while to resolve itself.

More than stress, it is desire that holds me back. I haven't yet mastered detachment. Honesty is what I value above all else, in myself and others. What would make me really happy is to know myself without the bullshit.

I like taking risks. Leaving advertisement for full-time acting, practicing karate, rugby, whitewater rafting, even accepting unpredictable roles, are all part of my inclination to confront my worst demons and slay them.

I'm totally irreligious but I believe in God and prayer. Prayer is a perfect vehicle ti introspect, to understand myself, to rectify mistakes, to look for answers. And to intuit that nothing is in my hands—all you can do is live to the best of your capabilities.

Everything about my life emerges from the belief that in a world of unhappiness and discontent, the most important contribution is to be personally happy, and to spread that happiness and positive energy around. I will not do anything that makes me unhappy. My constant goal is to find contentment and happiness. I want to do what I feel like doing at any moment of time. Tomorrow, if I wish to build a road, I will.