Holistic Living - Dance Gives Me Spiritual Energy
by Ambica Gulati
American Odissi dancer Sharon Lowen tells Ambica Gulati how her love for this exotic dance form brought her to India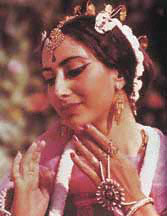 Sometimes, I feel I belong to another planet. I have this strange fascination for the whole universe. I've always wanted to explore more and more. I grew up wanting to learn the flute or sitar. The Indian performing arts have so much depth. You actually enjoy what you're doing. Other forms, too, are beautiful, but you don't grow with them.

Classical ballet is beautiful. But ballet in the West is purely aesthetics. There is not a tinge of emotion. With Indian dance, I can get to the ethos of it, go deep into it.

Even though I was born in the USA, I feel I have connections all over the world. So it never seemed strange to me that I ended up making my career and home in India. When I came here, I felt as if I already knew the place.

In the university, I had studied humanities and fine arts in the Asian Studies course. I had also done a lot of theatre, dance and even puppetry. I'm very fortunate to have cosmopolitan parents. They were interested in the arts and humane issues and would take me to cultural performances all over the town. You can really get to know a country well through its arts. I guess that's why I took to dance. Every performance is like a puja. It's so fulfilling. When you go into a spiritual form like dance, there is very high energy there. It's a great blessing to be able to do the work I'm doing.

I came to India to continue learning Manipuri dance, which I had begun in 1969. I really liked the lyricism of this intricate dance style. And I didn't want to come merely as a tourist. When I got an opportunity to attend a workshop on Manipuri, I immediately availed of it.

I always wondered what I could do with the arts in the USA. I was teaching and performing in California, even running 200 programs in schools but there was always this desire for more. So, in 1973 I came back to India to study and that return was a turning point. Initially, it wasn't my intention to stay here. But as I went deeper and deeper, time just kept on extending.

I started to learn Odissi, after taking permission from my Manipuri teacher. The guru's blessings are very important. At that time, Kelucharan Maharaj was holding a workshop, where I took my first lesson.

Then I trained under Shree Charan Mahabhadra. I followed him wherever he went: Calcutta, Mumbai and America. So I learnt it in bits and pieces initially and then practiced regularly. It takes many years to realize your real aptitude in a classical form and even more to perfect it. My teachers also urged me to do more Odissi. And since then, there has been no looking back.

But I think real appreciation for me came when the maestros, Bhupen Hazarika and Jatin Ghosh, declared that I was one of the few foreigners who could dance with the grace of an Indian. I still perform Manipuri, but not as much as Odissi.

Most people say that I have a past life connection with Asia, but I've never bothered to find out. I find it sheer self-indulgence. Why bother looking at past lives? Live in the present. But I feel that past life regression has value as it helps to sort out certain unresolved issues, which you probably need to desperately do. Basically, we are here to learn. You have to be present in the moment and evolve.

My background is Jewish, but that doesn't make any difference to me as a person, or dogmatic about religion. I enjoy all religions as long as they aren't used against people. I can't imagine my life any other way than it is right now. I'm lucky to be in a profession where I can reach out to so many people. I can touch so many lives, even help them in my own way. I'm glad to be able to devote my hours, minutes and days to an art form, which is about love, truth and beauty. I'm a lover of the sublime. The fact that it is metaphysical, genuine, appeals to me.