Holistic Living - Soul Classes
by Ambica Gulati
I was very attached to my brother. His death jolted me out of the material plane. Later I decided to help others and Soul Classes were born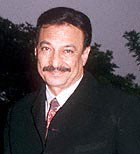 My father in heaven! Thy will be done." This was my prayer to God and today I am just walking on the path he set out for me. I've never questioned His ways. It is His will that I help people, so I do it.

I think that is why I was born in a religious family. For our sanskars make us. From childhood my parents had instilled a deep faith in us children. I was born in Quetta (now in Pakistan) and did my schooling in Hyderabad, India.

My mother was in love with Guru Nanak and would follow his words to the letter. She had so much knowledge. She was my first guru. She could tell the deep inner meaning of anything. Unlike many who simply look at one half of anything, positive or negative, she taught me to see the complete picture, to look below the surface for the real thing. My father followed the Arya Samaj and we used to have regular havans in the house.

I've been intuitive since childhood. Once when my parents were in Kashmir for a holiday, it struck me that I should write to my father that I'd passed with good marks because he would not come back. And he actually didn't come back. That was very painful but at that time I never listened to my inner voice. It was much later that I learnt the lessons of life.

My parents never hosted any booze parties or ate non-vegetarian food. Today, my children also don't drink or smoke. I've done it, but at that time I was riding high on the wave of success. I was in the 1974-75 batch of the Pune Film Institute and with my first movie in 1980, I was given the status of a star. That blinded me to everything. I lived on a material plane where life was one big party.

But my elder brother's death brought me back to my destined spiritual path. I was trying to act the godfather in real life. I was bringing my brother and his family to settle them in Mumbai. But we had an accident on the way and he just died in my arms. I'll never forget the date—April 26, 1986 at 2:45 a.m.—it left such an impact on my mind.

I was very attached to my brother. His death jolted me out of the material plane. For three years, I lived in a state of guilt. I had no answers for his demise. I just kept asking God 'Why?' Every night I would wake up in sweat, just gave money to anybody who came asking for it, didn't do my work properly. My wife, Yashodhara, really supported me.

Then I read many books to find the answers. In a book on bodybuilding I read that the human body is self-repairing. I wanted to know what it meant. And on reading more, I realized that the body doesn't get sick, it's the mind that makes it sick.

My quest took me to many gurus… in vain. Then somebody suggested a female guru. In those days, I was an MCP (male chauvinist pig). Why should I stand in a queue to take gyan (wisdom) from a woman? I felt. After all, I was Suresh Oberoi, the star. But that meeting was the turning point in my life.

My guru taught me that pain comes when there is a difference between what you desire and what you have. I learnt to control my ambitions and didn't want to play the villain anymore. Slowly, I erased pain from my life.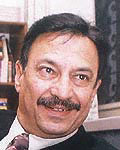 I decided to help others and Soul Classes were born. Initially, I wanted to make a TV serial but then felt that individual interaction would bring more satisfaction. I've never tried to publicize this side of my life but in the Gulf countries I've got a tremendous response. We have a psychiatrist, reiki master, yoga expert and I also give talks on how to live a happy life. Happiness is our birthright, we must learn to accept all—pain and love—with happiness. We have been invited by an organization in Bahrain to hold classes for their counselors. We will also be holding classes for doctors in the USA.

Through Soul Classes, my sole desire is to help people get rid of anger, old grudges and overcome all problems. People bottle up so much inside that they just knot up their entire lives. I want to help de-knot them.

My wife and sons, Anand and Vivek, support my cause. Yashodhara is a voluntary social worker for an organization called Caring Hearts in Mumbai. She works with cancer and AIDS patients. She is also a reiki master and channels free reiki to anyone in need.

Today, after all the ups and downs in life, I realize that God is within us. If we learn to follow his signals, he makes life so easy for us. During my graduation days in Hyderabad, every Saturday I would cycle down to a Hanuman mandir near my house. His devotion endeared him to Rama. So we should be completely devoted to whatever we do. Your karma traces you in any form.

After all, every seed we sow becomes a tree, which has many branches, which bear fruit and those fruits then have millions of seeds inside them. And these seeds again become trees. Similarly, every action has an equal and opposite reaction, even science agrees with that. If we give love, we will get love.

The Earth has nourished my forefathers and me. In the traditional Hindu cremation, the pyre is made of wood. I thought maybe wood was one way of paying back, so I've planted 385 trees.

The bottom line is that we must be good to people. My experience is that every wise man is not necessarily a nice man, but a nice man is wise. Nice people are full of love for the world, for humanity, and like to put all the unpleasant things in life behind them.

And by love, I'm referring not to sexual love but platonic love. I prefer to call it pyar (love). This is what I aim to spread through my classes. I want to bring out the inherent goodness in each of us. I also wish to write a book—The Art of Blissful Living, using my experiences.

I'm a student of life. Every experience in my life will continue to teach me. But I'm not planning anything. It's God's path I'm walking on.

By Suresh Oberoi, Indian film actor, as told to Ambica Gulat

Reader's Comments
Subject:
Soul Connection Videos
- 15 July 2013
Dear Suresh,I take it that you are responsible for the Soul Connection videos. I happened to come across them the other day on YouTube, I am at a loss for words, sister Shivanis words are profound. I have read a lot of books and listened to a lot of people in my lifetime, and never have I heard
More...
by:
Satish Sobrun
Subject:
Awakening with BKs
- 13 March 2013
Dear Brother Suresh I am a BK sister from Toronto. We operate from a small Gita Patchala giving Baba's message. It is called Satyuga Place. Lately we have been watching your interviews with Sister Shivani, and it become part of our classes. Shivai's wisdom, and your
by:
BK. Babika
Subject:
ego which is best ffood for god.
- 27 August 2012
i saw your past mentioned in this document,but somehow i still do not know who was your guru who taught you to be changed person. his name isnot mentioned. why? and if you have excuse of this, than you should not have mentioned this in this site. i was taught to make my guru in front and be behind
More...
by:
dalip rupaney
Subject:
A question
- 24 July 2012
Namaste Suresh uncle, It was a good piece of article from you.My question to you is how can we cope up in indecision in life.Can u throw some light on it.
by:
mohit