Holistic Living - Leading Light
by Life Positive
Former Indian movie star takes a look at all that she has let go of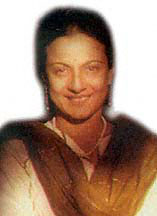 In August 1995, I did the Silva Mind Control program. I followed it up in less than two weeks with Reiki I and II. My development has been so rapid since that I feel I'm on an escalator. There has been much healing, both of myself and others. I healed a growth on my mother's right kidney by giving her reiki while I went into the alpha stage, with the help of my Silva master.

Over the years, there has been a dramatic change in me as a person. My conscious return to the spiritual path occurred in 1982 through est (Erhard Seminar Training). It helped me complete many relationships, including one with my husband. Though separated, we remain good friends and have jointly brought up our children, Kajol and Tanisha, as mature and stable individuals.

I also rid myself of a violent temper, which would often cause me to hit the victim with anything I could lay my hands on. Returning home one day after a terrible row, I asked myself why I kept losing my temper. Why not lose it permanently. At est, they ask us to be willing to be the cause of every circumstance in life and to take responsibility for it. I could see that by allowing others to provoke me, I was giving them power over me. At that moment, I let my temper go, and I suddenly felt centered.

All my life, I've been surrounded by spirituality. My grandmother's guru, Siddhanand Swami, was a real presence in our lives, although he had attained samadhi by the time we were born. I still revere him. For me, gurus are the ones who lead you to the source.

As children we never doubted the presence of God. My grandmother firmly believed that I was a reincarnation of her husband because I walked, talked and behaved like him. He was a Sanskrit scholar, a banker, with an ear for languages. I too learn languages fast and whenever I hear a Sanskrit sloka, I seem to recognize it.

Until I was five, I could find lost objects by closing my eyes and seeing them on my mental screen. Although I cannot draw a straight line, once, at the age of four, doodling in front of Siddhanand Swami's portrait, I sketched a complete picture of him.

After I grew up and became involved in worldly things, a veil fell over my spirituality. It revived only through the troubles I faced in marriage, and when a friend, Tarachand Barjatya, brought me tracts from Auroville.

There have been many miracles in my life. I was financially very badly off when my second child was born. I resolved I wouldn't worry about it, and leave it to God. And the exact amount of money I needed to settle my debts materialized. God knows what we need and He also provides it, if we deserve it.

Today I have an absolute belief in God who is my best friend. I feel blessed talking to God. There is an abundance of everything in my life, especially love. Which is why I've decided to love everybody, regardless of what they think of me.