Only if you save money will you have the seed capital to start an enterprise of your own, to make lots of money. American financial planner J. Grady Cash points out the seven mistakes people make along with the relevant cures

Spiritual matarialism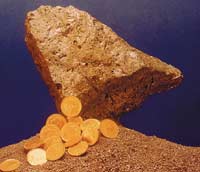 In India, spirituality has often been associated with renunciation, hardship and suffering. But most spiritual leaders of today are trying to correct that image.
Pranic healing
Master Choa Kok Sui
is one of them. He argues that we can
work
towards spiritual growth and be successful at the same time. He is himself a personification of this ideal. A spiritual teacher, he travels constantly, conducting
meditation
retreats and workshops. At the same time, he is a
successful businessman
and runs several companies in Manila, Philippines.
Choa Kok Sui has coined a term, '
spiritual materialism
', which he uses to describe a
life
where we
work
towards
material success
but in accordance with
spiritual principles
. According to him, instead of
money
being bad, it is the improper attitude towards
money
that is the root of evil.
Money
itself is nothing but energy, a means to ensure that our lives are comfortable, so we can then devote time to develop ourselves spiritually. Folk wisdom everywhere has expressions like: ''You cannot
meditate
/contemplate
God
on an empty stomach!''
The very
meditation
and
healing
techniques we learn for spiritual growth hold the key to
material abundance
. For example, part of pranic healing's
Meditation on Twin Hearts
involves activating certain
chakras
to receive divine energy. At the same time, the
meditation
also includes sending positive energy to the earth, all living beings, to our homes, families, businesses and anything or anyone else that requires it.
This transmission of energy can be likened to an investment. When done regularly, the returns are enormous. As Choa Kok Sui says: ''Nature is an echo—what you give comes back to you." The returns are not only confined to spiritual growth, but can be channeled into good health, happiness,
success
,
prosperity
and
abundance.