Money - Seven deadly money mistakes
by Anupama Bhattacharya
Only if you save money will you have the seed capital to start an enterprise of your own, to make lots of money. American financial planner J. Grady Cash points out the seven mistakes people make along with the relevant cures

Spiritual matarialism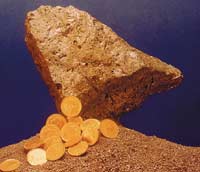 In India, spirituality has often been associated with renunciation, hardship and suffering.
More >>
---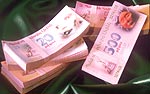 1. Impulsive Buying: Have you ever returned from a shopping trip to find that you have spent more than you planned or bought an item you had no intention of buying? These little mistakes can add up.

Solution: a. Leave the physical presence of the item. b. Compare prices in three locations. c. Follow a checklist. d. Carry only enough to make planned purchases. e. Make a list of desired purchases. f. Spend by choice.

2. Fanatical Shopping: They are the people who will drive across town to save a few pennies! Fanatical Shoppers see the spending decision as a battle.

Solution: a. Make it a game instead of war. b.Value your time and energy. c. Consider needs and value. d. Keep a healthy perspective.

3. Passive Buying: When it comes to buying, the Passive Buyer is, well, passive. They often dislike shopping and will procrastinate until the eventual purchase costs more. The biggest problem for passive buyers is their tendency to get talked into buying items they don't need or can't afford.

Solution: a. Ask questions. b. Don't get intimidated. c. Don't procrastinate.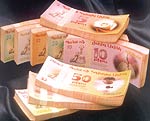 4. Avoidance Shopping: Avoidance Shopping results from the 'fight or flight' syndrome. It's natural behavior that man shares with animals. But avoiding problems by shopping only makes them worse.

Solution: a. Face the underlying stressor. b. Substitute with healthy coping behaviors.

5. Esteem Buying: Esteem Buying is common among teens, who simply must have the latest jeans or sneakers. In a materialistic society, these purchases help teens feel they 'belong' to their peer group. In adults, expensive possessions such as cars serve as a visible sign of success.

Solution: Ask yourself the following questions before Esteem Buying, and don't rationalize the answers to suit your desire: a. What will you really lose if you don't buy the item-prestige or feeling good? b. Can an existing or less expensive item meet the same need? c. Will your purchase create financial or family problems? d. Which needed purchase would you willingly drop from your budget for this item?

6. Overdone Buying: Overdone Buying is a habit, hobby or activity pursued excessively to the point of causing financial problems.

Solution: a. Recognize and admit the problem. b. Consider professional counselors and support groups for addictive habits. c. Avoid triggers. d. Replace negative addictions with positive ones.

7. Hot Potato Buying: This progresses through two distinct stages-a period of worried indecision followed by impulsive action, like juggling and then dropping a hot potato.

Solution: a. Put the potato down! If a traumatic event accompanied the spending decision, allow your life to return to a normal routine before acting. b. While waiting, use the time to educate yourself. c. Use a checklist to avoid impulsive decisions. D. Don't overlook small decisions.