Parenting - ONCE UPON A HAPPY FAMILY
Families were once taken for granted. Not any more. Family bonding is important and now calls for a conscious effort to make it harmonious

PARENTING TIPS FROM A SON
Parenting from a child's perspective can be a real eye-opener, discovers Vikas Malkani The other night, as I slept, the thought that all first-time parents are at best experimenting with the
More >>
---
Family stories. They break you up.

"We are four sisters and one brother," says Kalpana Iyer, a 50-something Indian housewife from Mumbai. "After my first husband died, I had financial problems. One day, the housing society sent me a bill of Rs 15,000. I was in despair when that afternoon's courier brought a cheque for Rs 15,000 from my brother. Apparently, he had dreamt the night before that I was in financial need."

Mithu Basu, a public relations consultant, comes from a close-knit family of ten siblings. "When my brother went on his first trip abroad, he spent all the money he had making calls to our mother. When his friends asked why he didn't spend the money shopping, he told them that calling home was more important."

Dr P.P. Gandhi, a retired Mumbai-based doctor, is the eldest of a family of seven brothers and two sisters. Says he: "Some of us are better off than the others but that has made no difference to family unity. Recently, one of my brothers retired and another brother, an affluent businessman, gifted him a Maruti."

Moments of sharing, caring, loving and giving. Signs of a family that works. Where does the magic lie? Why do some families, no matter how large and unwieldy in numbers, flow together like a song, while others are gridlocked in conflicts and hatred or simply drift apart like a cloud of autumn leaves? Why do some seem to grow in strength and purpose while others taper off like an unfinished sentence? Is a happy family a conscious creation or just an act of grace? Is there anything we can do to make our family life more fulfilling, more harmonious, more loving?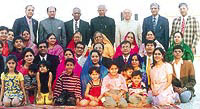 Families are where our histories are made. They have the strongest part in determining who we are. Whether it is the primary family we are born into or the secondary one that we make on marriage, it is the scene of our greatest joys, deepest sorrows, most significant milestones, most heartfelt hopes and disappointments. The birth of a child, the death of a parent, one's marriage or that of a sibling, housewarmings, operations, festivals, birthday celebrations: these are the incidents that punctuate a life. No matter how successful or fulfilled we are on the outside, these private moments nourish us and form the center of our emotional and spiritual lives.

"We have evolved from a tribal society," says psychiatrist Dayal Mirchandani, "and human connections are supremely important."

A happy family life is one of life's greatest blessings, and conversely, its absence is a singular misfortune.

But why, you ask, preach to the converted? After all, India is the original champion of the family concept. Vasudaiva Kutumbakkam (the world is one family) is the proud slogan of our Vedic culture. We are the land of the joint family. The average Indian woman nestles into the expansive bosom of her primary family until marriage propels her out into creating another. We still pull together, still put the interests of our children ahead of ours, still give the family first priority, still treat our parents with respect and our children with love; and we point a collectively smug finger at the permissive West and its disintegrating family system.

And yet... Our families may be holding up better than ones in the West, but the strain is palpable. Modern life, says motivational writer and trainer Stephen R. Covey in his book, The 7 Habits of Highly Effective Families, is family unfriendly. "We now live in a world that values personal freedom and independence more than responsibility and interdependence… Social life is fractured. Families and individuals are becoming increasingly isolated. Escape from responsibility and accountability is available everywhere."

Every 'ism' and revolution in the recent past has driven a wedge into the institution of the family. Women, traditionally the custodians of the family, are venturing into the workplace today. Latchkey kids are a sad reality of urban life. Tremendous tensions as families vie with each other for better and more.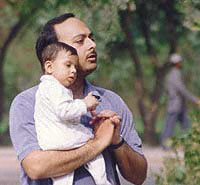 Says Maya Kirpalani, psychologist and family therapist at India's Jaslok Hospital in Mumbai: "In this competitive atmosphere, families are achieving more but after a lot of struggle. Ultimately, they are unable to enjoy their achievements." One-child families are the norm and guilty parents attempt to compensate for their lack of time and attention by plying their children with goodies. As traditional values are replaced by a greater demand for freedom and individuality, relationships are cracking.

Popular Indian author and columnist Shobha De, a proud mother of six children, says: "The Indian family culture is under threat today. It is in such a fragile state, I wonder whether it will survive the next decade."

>Divorce, in urban India, is hardly scarce. Technology, particularly television, is fast substituting human company. According to Stephen Covey, an average American child spends seven hours a day watching TV and five minutes with Dad. Here in India, the statistics are fast catching up, and we haven't even mentioned the Internet as yet!

But there are other reasons why our family values merit attention. Even in families that stay together, how many actually maximize the relationships? Most of us may spend evenings at home, but what do we do with them? Do we use them to bond with our folks or do we retire into our private cocoons or watch television like zombies? Are we there when the family needs us? How much of our time, imagination and effort do we invest in creating a vibrant and joyous family atmosphere? Are we giving our children all that they need to flourish? Are we realizing our full potential as a family?

Well, that's the opportunity and the challenge.

And finally, we are entering the age of conscious living. Today, we are consciously learning and implementing the underlying principles that uphold life. Should we not direct this consciousness to the level of the family too and look at the principles that hold a family together? Why not create the family of our dreams rather than merely taking it on sufferance?

MAKE IT HAPPEN

Happy families don't just happen. They are created by conscious effort, time and attention. But above all, by intention. "One of the reasons why we are so close is because that was a top priority with my parents," says Kalpana Iyer. "I remember my mother telling us repeatedly that we should be like the five fingers of the hand."

Adds Mithu Basu: "We were always close but the turning point really came when our eldest brother began to consciously prioritize the family. Even if he had other activities on a day that the family was meeting, he would consciously choose to attend the family function. And he made us aware of his choice. Gradually, all of us got into the habit of prioritizing the family."

Says Covey: "Many people may want to put family first. But until that deep priority connection is there and a commitment is made that is stronger than all the other forces in our lives, we will not have what it takes to prioritize the family. Instead, we will be driven or enticed by other things."

Covey suggests two ways of converting priority to practice. One is the concept of the weekly family night. Here, in India, almost every night may qualify as family night since most people do stay at home. However, the crucial difference between hanging out at home and consciously meeting is that it creates opportunities for interaction and bonding.

Covey and his family of nine children use these meetings to review family events such as children's birthdays, school functions, sports events and vacations. They also hold family councils to discuss issues and problems. Children use it to showcase any new activity or skill they might have learnt. They have fun, which is a forgotten concept in many Indian families. They go out for dinners, picnics, movies, whatever. Finally, they use it for spiritual closeness as they pray and sing together.

Aditya Ahluwalia, a global businessman and chairman of Life Positive, abides by the concept of a family right in his own home. "We go out for dinner or take in a movie," he says.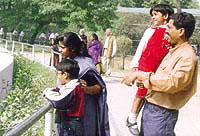 Covey also recommends one-on-one bonding between parents as well as between each parent and a child. Indian parents might feel awkward about creating structures that should ideally happen naturally. If bonding occurs naturally between members of the family that is ideal—if not, give this a try. One-on-one bonding is particularly crucial between spouses. Covey says, "There is a tremendous need for husbands and wives to sit down together and plan or, in a sense, mentally or spiritually create their own future."

Pankaj Naram, the popular ayurvedic doctor, shares an enviable relationship with his wife and helpmate, Smita. He attributes it to the regular retreats the two undertake outside Mumbai. For a few days every two months, each sits in a closed room writing out a vision for the future. At the end of the period, they exchange notes and see how they can integrate their separate visions. Naram attributes his success to this quiet reflective time and the synergy gained by blending their separate visions.

Bonding with children could take the form of taking them out for their favorite activities. Covey talks of taking a child on bike rides and camping trips. "This is where there is deepest nurturing of heart and soul. This is where the most significant sharing, the most profound teaching, the deepest bonding takes place."

In an article on childhood memories in the Reader's Digest, writer Norman M. Lobsenz reports that most people recalled memories of inconsequential things that the parent did with the child. Lobsenz's son best remembered the time they stopped in the middle of a drive and caught fireflies together. Another remembers the time his dignified executive father canceled a trip to Europe to join him at the school picnic.

Writes psychotherapist Dr Pearl Drego in her book Happy Family: Parenting Through Family Rituals: "Parental bonding in infancy is crucial to the development of healthy closeness where a child is unashamed of needing love and knows how to ask for and receive love."

CREATE A FAMILY MISSION STATEMENT

What does your family stand for? What goals do you aspire to? What are your shared values? What kind of relationships do you want with each other? Where do you stand vis-à-vis society? All these can be reflected in your 'mission statement', which in turn will help you to achieve it. The fundamental truth of life is that life goes in the direction of our dreams and desires. Most of the time, through conflicting desires or negative intentions, we create undesirable outcomes. If we can make the process conscious by drafting the mission statement, we can move the family purposefully towards harmony.

Adds Covey: "A mission statement is important in a marriage because no two people are completely alike. When you put two people together in this tender, sensitive and intimate relationship called marriage, if you don't explore differences and create a sense of shared vision, then these differences can drive them apart."

"Certain values were drilled into us as children," says Kalpana Iyer. "Cleanliness was essential. Every week we had to clean up our cupboards. At the slightest mess, my aunt would simply throw everything on the floor. Today, I do the same with my children and nieces and nephews because it taught me discipline."

Shobha De says that her family stands for love and loyalty. Says she: "The family culture I grew up cherishing is the one I've tried to pass to my children. Honesty and integrity at all times. Hard work. Respect for elders. Discipline. Old-fashioned in today's context, timeless in mine."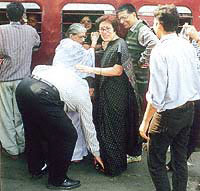 The Basus value fun. "Life is to be enjoyed," says the matriarch Dolanarani Basu robustly. "We work hard," says daughter Gita, "but we make sure we play hard too."

Manoj Lekhi, who looks after the Mumbai center of Siddha Samadhi Yoga, and his wife Nina are the proud parents of the six-month-old Vedoci. "We are raising her consciously," says Lekhi, who holds Vedoci on his lap while meditating. "Love and seva are the two most important values for us. We wish to serve everyone as God. We love this child, so the challenge is to love everyone as much."

All members of the family should be involved in creating a mission statement. "It should be an expression of their deepest values and goals," says Covey. "And it should represent everyone in the family."

CREATE FAMILY RITUALS AND TRADITIONS

Is there a special way in which your family celebrates the summer vacations? Or everybody's birthdays? Rituals and traditions add meaning and continuity to life. In her book, Pearl Drego correlates rituals to the permissions which parents must give children if they are to grow up healthy; such as the permission to exist, to be oneself, to be a child.

"Wherever we were, Amma would call early in the morning on our birthdays to wish us," says Kalpana Iyer. "Today, I try to continue the same tradition with my children, nieces and nephews."

Aditya Ahluwalia adds: "On birthdays, we have a tradition of meditating together and we go out on family vacations."

"Every Sunday, all ten of our families synchronize breakfast," says Mithu Basu. "If head office (my parents' house) has aloo paratha (fried Indian wheat cakes stuffed with mashed potatoes), so does everyone else."

"Every Durga Puja and Bengali New Year (April 14), wherever we may be, all of us make it a point to do pranam (touching the feet of elders as a mark of respect) to our parents before midnight. On New Year day, my eldest brother officially flags off the mango season with a crate of alphonso mangoes. None of us would dream of buying mangoes before that," adds her sister, Gita.

Dr Gandhi's extended family hit upon an ingenious way to celebrate the New Millennium. The family organized a symposium-cum-family gathering in Mumbai from December 31 to January 2, 2000. Suits for the men and silk saris for the women were distributed, besides sweets, gold coins and cash. Amidst religious ceremonies such as the Shanti Path, the family assembled for photo sessions and to debate on the topic—'Continuity with change'. "The entire family participated in it," recalls Dr Gandhi. "We addressed questions like: What does the younger generation expect from us? How to progress? What is outmoded? I emphasized that the women of the family should consider earning a living."

The meeting, says Dr Gandhi, created awareness among the younger generation about the family's values and brought them all closer. It also gave them a chance to take stock of where they were as a family.

NO SUBSTITUTE FOR CARING

In Seven Spiritual Laws for Parents, Deepak Chopra writes: "In a perfect world, parenting would come down to one sentence: Show only love, be only love."

Only love will tell us how to bring up our children and relate to our spouse. Love will teach us to cope with crises, support a vulnerable child and let go with grace.

Stephen Covey narrates the story of a man who came up to him after his seminar and confessed that he and his wife didn't love each other any more, and they were worried about the effect on their children. Covey told him: "Love her." The man said that the love wasn't there. Responded Covey: "Love is a verb. Love, the feeling, is a fruit of love the verb. So love her. Sacrifice. Listen to her. Empathize. Appreciate. Affirm her. Are you willing to do all that?"

Holistic healer Gulrukh Bala, a divorcee, has been bringing up her son, Naushir, and daughter Farah single-handedly for the past six years. Says she: "We all need love. It is like water to a plant. I understand that. That's why it is so important to remember birthdays. If you love a person you should wait for that day."

She adds: "My children did not suffer much from the divorce because they knew that their mother would be there for them. I taught them freeing, forgetting and forgiving."

Says Kalpana Iyer: "Family means everything to me. And I want them to know while I'm alive how much their love and appreciation means to me."

After the death of her first husband, Kalpana married Rama Iyer, a widower with two grown-up daughters, Rekha and Sunita.

"From the beginning, I told them I was their friend. I did not try to take their mother's place. Instead, I concentrated on things they may have missed, like special food, folding their clothes and celebrating festivals. They have a great relationship with their father that I never try to disturb. If they're sitting with him, I always move away. I don't change the décor either, because I know that they are used to this. If I ever need to make changes I make sure to consult them. Today, we are friends."

COMMUNICATE RIGHT
Resolving knots in relationships, building new ones, riding a rough patch to emerge stronger, bringing up children right, all these require deep commitment, sensitivity, sheer artistry and, above all, communication skills.

Says Maya Kirpalani: "Communication is important to bring families together. However, it should be based on mutual respect without blame or judgment. And don't wait until you are so full of negative emotions that you can't listen."

Shobha De concurs: "Communication is the key. A family that talks a lot is a family that weathers every storm."

Stephen Covey talks of the Emotional Bank Account, where you make a deposit each time you do something to improve your relationship and withdraw each time you react. The more you deposit, the higher the trust, the more open the relationship and the more influence you can wield. Some of the best deposits, Covey says, are being kind, apologizing when wrong, being loyal to those not present, making and keeping promises, and forgiving.

Mithu Basu recalls that when they were young, their mother would cook and fill seven lunch-boxes every morning to cater to individual taste buds. "At that time we took it for granted, but today, I don't know how she did it."

Says Gulrukh Bala: "Even if my daughter, who is computer literate, comes at midnight and I have something to key in, she does it and then goes to sleep."

Covey talks of the three primary laws of love: acceptance rather than rejection, understanding rather than judgment, and participation rather than manipulation. These come from understanding that love is unconditional. Says he: "By loving people unconditionally, you unleash their power to become better. You can only do this when you separate the person from the behavior and believe in the unseen potential."

Covey suggests some habits for unconditional love. The first is to think 'win-win'. He says: "The spirit of wanting the best for everyone and being willing to love and sacrifice to make that happen is the true spirit of win-win."

Another principle is 'Seek first to understand than to be understood'. Before we put our point of view forward, let us try to understand that of the other. Covey says: "The way we see the world is not necessarily the way other people see it." He adds: "The deepest hunger of the human heart is to be understood, for understanding implicitly affirms, validates, recognizes and appreciates the intrinsic worth of another."

Understanding comes from empathetic listening, which is without judgment, reactions or pre-conceived notions. It is simply opening oneself to the other person and feeling what they feel. In the process, you play back to them what you think they meant so that misunderstandings may be corrected. It may be advisable to ask questions like: What are your concerns? What is important for you? What values do you wish to preserve?

Understanding the other is equivalent to giving them 'psychological air'. Only if they have it will they be open to proceeding further.

The third habit for creating a loving family relationship is to synergize. To synergize is to use the situation to create a new, beautiful solution. Says Covey: "It's the magic that happens when one plus one equals three or more."

Uday Acharya, a Vedantic teacher, recommends traditional conflict resolution methods. He says: "The guru was the mediator between parent and child because of the respect he commanded. Value for truth minimized conflicts because if you were wrong, you had to apologize. And finally, there was a great sense of duty that compelled you to take measures to resolve relationship problems."

One glaring flaw in our parenting style is our tendency not to let children grow up. We spoil them, pamper them, and protect them from the consequences of their actions. They grow up with little sense of responsibility and with an exaggerated sense of their own importance in the world.

Carried to the extreme, it creates monsters like Puru Raj Kumar, son of the late film actor Raj Kumar, who allegedly maimed and killed some pavement dwellers in Mumbai while drunk driving one night. Puru got away lightly, thanks to his father's connections. A similar case in point is of an admiral's grandson who mowed and killed some half-a-dozen people when drunk driving early one morning on New Delhi, India's Lodhi Road.

Covey suggests having agreements based on win-win to help build the child's sense of responsibility. One mother had an agreement with her children that they would launder their clothes and put them neatly into cupboards. In return, she would give them a clothing allowance. The children took it easy at first, but later when they realized that their laxity had cost them their clothing allowance, they buckled to.

To make agreements work, Covey suggests that the parent sit with the child and clarify the following—desired results, guidelines, resources, accountability and consequences.

CREATE A LEGACY

Many successful families unite in a purpose that goes beyond themselves. They are motivated to do something for society that gives them a sense of meaning. Says Dr Gandhi: "We have created a charity trust in the name of our father. Also, we plan to open an old people's home at Jodhpur."

Kalpana Iyer and her siblings have a gold medal and scholarship for needy and deserving students. "The younger generation is expected to contribute when they start earning," she says.

TRY SPIRITUAL METHODS

Says Deepak Chopra: "A child raised with spiritual skills will be able to answer the most basic questions about how the universe works; she will understand the source of creativity both within and outside herself; she will be able to practice nonjudgmental acceptance and truth, which are the most valuable skills anyone can possess for dealing with people; and she will be free from the crippling fear and anxiety about the meaning of life that is the secret dry rot inside the hearts of most adults, whether they can admit it or not."

He recommends that children be introduced to the Seven Spiritual Laws of Success early on by devoting one day to the practice of each law. For instance, Sunday is devoted to the first law of Pure Potentiality and children are encouraged to meditate for a few minutes, appreciate nature and see the hidden potential in familiar things.

Manoj Lekhi says: "My wife and I used to talk to Vedoci all the time when she was in the womb. So she was born recognizing our voices. If I'm going out, I tell her so and also when I'll be back. When I miss telling her, she is cranky when I return. When she was born, we had Vedic chants and mantras playing non-stop and I insisted that instead of slapping her bottom, she be handed over to her mother. Nina kept her against her chest for a long time."

Raising a child spiritually would be to recognize the child's innate divinity and to relate to that. It is also to acknowledge that we are guardians of our children, not their owners. They have their own agenda and purpose for existence that we must respect.

USE TECHNOLOGY

The circle is coming around. The very forces that separate the family can bring them together. Thanks to e-mail, far-flung family members are closer as communication is no longer dependent on the occasional overseas letter.

Kalpana Iyer and her family have taken a homepage on the website, www.family.com. "We post our latest family news on the homepage. So everyone is connected."

Family websites are burgeoning on the internet and may well be the 21st century answer to a community fellowship.

Building a family is a lifetime of work. Perhaps perfection can never be won. However, every family that undertakes the task with sincerity and commitment will have earned not only joy and contentment for itself, but would also have given humanity a precious gift.