Personal Growth - ARE YOU USING BOTH SIDES OF YOUR BRAIN?
by Anil Bhatnagar
Are we using both sides of our brain?? No? Then here is how we can accomplish it to function more effectively, realize our hidden potentials and become balanced and complete personalities

WHAT BRAIN TYPE ARE YOU?
If you are more left, you…
• Analyze everything and love the structure of research and need supporting evidence before accepting new ideas.
• Like stability and
More >>
---
Every human being has two personalities. That this statement seems to have been designed to shock doesn't deter from its truth. It's a sort of benign schizophrenia that keeps us balance gingerly on the tightrope between what society labels as sane and what it ridicules as mental malfunction.

Lasting happiness is a state of mutual peace and balance among our physical, mental, emotional, psychological and spiritual aspects. This is because in order to strike this balance we need to identify our real and ultimate goals correctly (which should not appear to be misplaced later on) and then adopting the correct and balanced routes to attain these goals. Underneath the buzz of day-to-day hustle and bustle that gives us no time to pause and reflect upon our actions and our lives, an uneasy realization of some kind of an imbalance lurks very near to our skin but still continues to elude all our endeavors to identify the same. The imbalance indeed lurks very close to our skin—only a few millimeters beneath our scalp.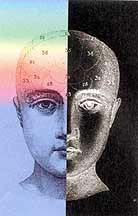 TWO BRAINS, ONE BODY

The last time anyone talked about two brains in one body was regarding those behemoths that dominated the earth 65 million years ago: dinosaurs. Tyrannosaurus Rex, the cost dedicated carnivore of all time, weighted between four and six tonnes—too much bulk for one pea-sized brain: so, in a fit of anger Mother Nature gave it two pea-sized brains, one in the head to handle senses like vision, hearing and the procreative instinct, the other near the tail to deal with locomotion and control of the extremities.

Nature was subtler with human beings: she gave them one brain and bisected it into halves that not only look different but have exclusive functions as well: the grayish left half is logical, analytical, verbal, lineal and sequential; the right white half is emotional, spatial, visual and holistic. The right hemisphere is white because the nerve cells there are protected by a white insulation called myelination, covering the nerve cells, which are too involved in processing an unending marchpast of visual, emotional and sensory message to keep a lookout for their enemies.

It is here that fuzzy logic creates lifesaving abstractions like hunches and gut feelings. The left brain doesn't need much myelination because its function, unlike the right brain, does not need to process a wide variety of messages to provide a complete and overall picture of the situation. It processes the messages only to provide special and analytical results. The hemispherical preference of our personalities—left or right-dominant—depends on our genes and psychological conditioning.

This preference has a direct bearing on our style of thinking, which in turn influences our skills, our inclinations and ability to gather particular kinds of knowledge, our attitude towards life, the quality of our performance and our relationships with people, work, money, material possessions, Nature, and all that we are surrounded by and interact with. One hemisphere grows in skill only at the cost of other. The consequences are unnerving: impoverishment of the right brain could lead to our denial of our intuitive faculty. Also, the historical cost of this hemispherical sequestration is mindboggling: the Industrial Revolution blindly favored the left brain and accelerated the pace of scientific and technological progress—but it retarded the progress in research in the right brain, the paranormal, ESP and other hidden powers of man.

Besides left or right-dominant people, there are mixed dominants: they can use both the sides with almost equal command. Mixed dominants, however, may vary in lateralization. Highly lateralized individuals (more males than females) move more completely to the task—appropriate hemisphere than their less lateralized counterparts, who may end up performing a task in both the sides. Mixed dominants lacking this ability of lateralization may experience in inner competitive tension between the two sides, which may manifest itself in indecisiveness or stammering or both.

THE BRAIN BRIDGE

Strangely enough, it is this dichotomy that shapes our personality. The story of these cranial twins began in the 1960s following the world's first "commisurrotomy", an operation that demolished the bridge of nerve fiber, the Corpus callosum. A breakthrough surgery was performed on a World War II veteran whose brain injury had been causing him agonizing seizures. The operation blocked the seizures originating in one side from crossing over to the other. Scientists then found that, normally, both halves worked together, helped by the Corpus callosum. The most well-recognized brain surgery—lobotomy, given notoriety by the film One Flew Over the Cuckoo's Nest—came into being this century, but its true nature was revealed only with "hemispheric to my", the entire excision of a diseased or damaged half.

Left to themselves, the two halves are civilized neighbors, constantly gossiping across the fence. A poet, who is supposed to be highly lateralized, first gets a bolt of inspiration from his right brain. Second, he organizes these thoughts and puts them down on paper or hard disk by scooting to the left half. Third, to add finesse to the final product, back to the right half. Fourth, for badgering publishers, back to the left half. Fifth, to weep copiously at the unkindness of critics, back tot he right half. Sixth, to plan and exact vengeance—the left half. And so on.

DEVELOPING YOUR LEFT BRAIN: PRESENT YOURSELF LIKE A LEFT PERSON

Pay attention to the way you dress. Make yourself more formal. Note whether your posture reflects confidence. Show that you are alert, confident. Decide to be what you know you are not. The response from people will fill your subconscious with positive messages regarding your being a left person. In essence, fake it till you make it.

Fill in the details

It is natural for right-dominant to start with as global view with glaring holes in it. Fill details into the picture, but methodically. Notice the details of the details. Jot down the whole rigmarole.

Measure the treasure

Keep records of everything—your belongings, car mileage, investments. Plan your day like clockwork. Develop awareness of time, space (in terms of height, area, volume), weight, money.

Work out at the mental gym

Try to go deeper into all that interests you. Draw up an impressive family tree. Gather more knowledge. Become systematic, scientific and organized. Try to learn something new every day. Don't let things be taken for granted. Don't let others and your habits think and decide for you. Make notes of all that you read and index it properly for future reference. Revel in the intricacy of the Times crossword... Give yourself puzzles and koans to solve. Think of your brain as a gymnasium, and your mind as its developer, powerful and indefatigable. Remember that like any other faculties, mental ones, too, tone up gradually. So, don't be discourage by initial results.

Work like clockwork

Periodically dump, sell or donate all the junk you don't use. put every activity that you do on trial. Evaluate. Eliminate, Replace. Set goals—yearly, monthly, weekly, and start your day with a 'to do' list. Remember that a second gone is gone forever. Monitor your progress, regularly review your actions.

Make temptation slog for you

Keep your nervous right brain in abeyance when you face a bank of humorless people. Recognize and welcome temptation. Not al greed is bad. Risk is good. Beat stage fright by going on-stage. Plan your speech meticulously, even your ad libbing. Making points elaborately upon each of them, forming effective sentence and summarizing will exercise your left brain effectively. Melt the ice with internal and private conversations: practice in front of a mirror.

Know that bad is bad
Know that, like smoking, what is bad is bad—no matter where it's done, or how or when or why. Also, things like morning dew and grass are always good to walk on. Know that ruts were designed to be got out of, not wallowed in. Set yourself daily challenges. Make rules only for yourself—give the rest of the world a break. Switch off your TV at a pre-appointed time every day for the rest of your life. Will power is left brain territory.

DEVELOPING YOUR RIGHT BRAIN RIGHT CAN'T BE LEFT BEHIND
Artists and musicians often lose touch with their skills when they become busy with left-brain activities such as income tax, planning for outstation schedules and administrative matters. We, too, often reach a mental dead-end. All this implies that we need to suspend the left for a little while in order to recondition ourselves of the left-brain contents.

Write with your other hand
I wrote my desires first with my right hand and then with the left, and found to my surprise that they were quite different. Many others have tried this. Now, it is your turn to find out your deep, hidden right-brain desires.

Associate freely with dreams
First thing every morning, record all that comes to your mind—preferably after recording the dream itself. This will give you some right-brain insight into your unconscious.

Fantasize about your future
Think about 20 years from now. Sometimes, this projection can hold up to light important clues about why and how to change your life this moment onwards.

MEDITATE
Meditation or anything that facilitates under- or over-stimulation of the left actually activates the right brain.

Try self-hypnosis
Hypnotists repeat a message in a monotonous voice to tire out the left brain till they succeed in activating the right. You can hypnotize yourself by rolling your eyes upwards till the whites show. Watch your breath deeply and slowly entering, filling your lungs and receding. Start examining your body toes upwards to the crown and then back to the toes again. Stop briefly at junctions such as ankles, calves, knees, thighs, etc., loosening knots of tension. Our right brain is at its best when our body is relaxed.

Mind your muscles

Long distance runners and aerobics freaks often experience intuitive insights and emotional revelations, sometimes from the body's release of feel-good endorphins. Extreme physical comfort and discomfort, long, boring lectures, sleep deprivation, hunger and passivity can stimulate your right brain.

Develop intuition

Flashes of intuitive insight can arrive unexpected: white bathing, tying shoelaces, shaving, driving. Since they often seem to be quite unsubstantiated and irrational, the left brain calms them down with a flurry of strong objections. So next time onwards pay attention to these: don't hesitate to rely and use these and discuss these more often with believers.

Using the halves together creating your creativity

Experts have identified five stages of creativity. The first two and the last need left brain skills whereas the third and the fourth need the right brain. Preparing: gathering information, identifying major issues, defining the problem and clarifying goals. Focusing: Discipline yourself to tune out distraction in order to focus on immediate activity. Sleeping over it: Synthesize, collate, let the subconscious mind do the work. It knows best. Sudden insight: Let a spontaneous new insight—an expert mix of visuals, sounds and intuition—blossom at the culmination of the incubation process. Weighing up: Analyze and see the feasibility of a concept in its entirely. Plan a sequence of steps to be followed.

OVERCOMING STRESS

Categories the activities, no matter how small, that you do from morning till bedtime under three heads : left, right and mixed. Record the time you spend on each activity. This will give you an estimate about which side is being used more than the other. Explore the possibilities of exchanging some chores of the side used more with the ones pertaining to the other side. Working with one hemisphere at the cost of the other may bring you boredom and negative stress. You need to balance the two, perhaps by deleting, exchanging, delegating professional activities, or starting a new leisure time hobby.

Even if your job is unstructured, stick to a schedule, which you review frequently. Divide your day into sections of -3 hours each and assign bodyclock-based activities. Once every two hours or so, relax in your chair. Pace about or try this exercise: tighten your body at all its joints; hold the tension for a minute, then exhale and let go of the tension. Manage your time. Digress from the schedule only during an emergency. Learn to say: "No." Time away from unnecessary activity is time earned. Learn leadership and the fine art of delegating. Don't marry your job. Only a bad manager will attempt to do everything with equal perfection. Not prioritizing will burn you out: chaos is a managerial imperfection, a sign of indecisiveness, inefficiency and thoughtlessness.

SOLVING PROBLEMS
Try to define the problem in as many ways as you can. Compare the present status with the desired status. Analyze the differences. Break the problem into sub-problems. Consider each separately and decide to discuss it, delegate, or seek a second expert opinion. Switch over to your left brain. Close your eyes and try to perceive what is happening in your mind. You could catch visuals or sounds pertaining to your problem. Keep jotting down whatever you see or hear with your 'inner mind'— keeping your eyes closed.

Don't worry about your handwriting or order-lines on paper. Open your eyes after 10 minutes and look at the paper. It could spark off another mental journey. Repeat the process.

Dream solutions:

Dreams provide solutions—if you know how to read them. There is a wealth of visuals, emotions, and imagery with no pretense to logic and reality. Scientists confirm that the right brain dominates during the dream state. Here's how you can tap it: Develop an awareness of your dreams. State your problem broadly. You can be specific only after time and experience. Visualize doing the very opposite. For example, if your have a bee in your bonnet about public transport, contemplate a system that obviates the need for it. You could end up a millionaire devising a (patented) system of moving roads. You could also design a public stairway to heaven.

Watch the space around the problem instead of the problem itself:
Say, you want to sketch an object in front of you—one way is drawing everything in the space around it. Most management problems can be solved this way.

Take nothing for granted:
Assume that all assumptions are wrong, even if they look right. Shift to left for the final solution. Start jotting down your comments, judging, asking relevant questions, exterminating irrelevant thoughts. Master your speaking skills. Use the left to define your objectives. Move right to visualize success. Move left to allay fears. Start with writing a few points on the board.

Speaking out loud—a left brain activity—calms your right brain's fears. Move again to right to give a clear overall picture of your presentation. Bring order by paraphrasing, summarizing and asking questions. Simplify and use analogies and metaphors. Don't use logic to convince somebody who is responding from his right brain (angrily, etc). Either shift him to the left by asking relevant questions or shift to the right yourself. Say, for example: "I share your feelings." Once the boss feels that his right brain views are responded to with similar views, empathy will make him receptive. Don't keep providing information pertaining to one side of the brain and letting the other sit idle. If you are carrying heavy luggage you need to change hands every two to three minutes to feel comfortable. So, arrange your presentation in such a way that the listener may not need to carry on listening only to what is of interest to one side.

Logic, analysis, statistics should be interspersed with feelings, emotions, metaphors, analogies, jokes and interesting anecdotes and inputs pertaining to smell, taste, sounds, the texture and the visual. Give attention and importance to gestures, tone, pace, variation in volume and other elements of nonverbal communication of the other person(s) in order to understand the hidden inner responses so that you can adapt tot he same both as a listener and a speaker and also to grasp the communication in totality—not merely its verbal part.

Give attention and importance to gestures, tone, pace, variation in volume and other elements of nonverbal communication of the other person(s) in order to understand the hidden inner responses so that you can adapt to the same both as a listener and a speaker and also to grasp the communication in totality—not merely its verbal part. Pieces of information with inputs pertaining to both left and the right brain are assimilated better by the listener (or even the reader). In other to memories something pay attention to both kinds of inputs so that you have at your disposal a strong bunch of associations which may help you (and the listeners too) to register, retain and recall a piece of information better.

IMPROVE YOUR LISTENING SKILLS

In order to beat the boredom while listening: With the left Take notes. Ask yourself, "Is he following basic outline?" "How has he organized the lecture?" "What points are being emphasized by him and why?" "What could be the source of the data being used here?" Shift the receiver of the telephone to the right ear for analytical thinking. With the Right Picture the listeners, their gestures, expressions, movements, smile, tone etc. Relate with what you already know. Look for connections. Shift phone to your left ear (controlled by the right brain) for emphatic listening.

IMPROVE YOUR POWER OF CONCENTRATION

There are times when while attending to a job, we get to hear several voices as a response to a stimulus—an inner (a thought or a remembered episode) or an external stimuli. In case you want to concentrate on a left-brained job, it is better to tune down any negative and subjective right-brained thought after listening to it momentarily, unless it is intuitive in nature, giving you a new insight into some matter. In which case, jot down this intuitive insight and get on with whatever you are doing: listening, reading and so on. For example, you are planning for your presentation and you suddenly encounter this thought: "Last time I could not make an impression. That guy is so good at this that I stand no chance…What if he falls ill and is not able to…"

Tune down this thought and get back to your preparations. (Imagine that as with a radio or TV set you can tune down the volume of your inner voices and finally tune them out.) However, after a while you encounter another thoughts: "Why don't you select the most powerful points and talk bout them with conviction? Would this not be better than talking about everything but not being able to put conviction and depth behind them for want of time?" Should you pay heed to this thought? Consider it for a moment. It has come very spontaneously to you. You were not thinking about this aspect, yet it has brought a very intelligence insight into the whole matter. Hence, don't brush it aside with a left-brained objection: "It's too late to make such a drastic change. Let me get on with this."

Stay on with the intuitive insight and give it serious consideration and you may feel it wise on your part to change your decision; preparing for fewer points may not take much time because it is always easier to carry things in bunches than in scattered form, even though the bulk of information may be the same in both cases.

Reading is a left activity that often gets interrupted by reactive thoughts which can both help or hinder one's understanding of what is being read, depending upon whether these are related to what is being read or not. If related, the thoughts may enhance one's understanding. Often, when the subject does not interest the reader or if he has been studying for a long time, the thoughts can bump his attention totally off the track. Voluntarily interrupt yourself at the end of each paragraph and reflect upon it in your mind.

Visualize the concept just discussed, if you can. This will give a much needed breathing time to your left brain since visualizing is a right-brain activity. This will also strengthen the neural pathways in the brain and thereby reinforce your memory of the concept. Keeping the tips of the right index finger (controlled by the left brain) and the thumb in contact with each other while reading as a cue in order to remain yourself to bring your attention back to the reading material.

Define what you expect from both brains and the reward you will give to your right brain—a to fee, a cup of coffee, drawing a sketch or just humming a tune if it does not disturb while the left is engaged. Similarly if you want to concentrate on a right-brained job, tune out all negative statements and questions from the left brain which can do nothing but discourage you—for example, the thought, "At 11 a.m., I am surely not at my best as far as my gripping potential and body flexibility is concerned." However, if you hear a spontaneous intuitive insight in the garb of a left-brained message be careful to pay heed to it—sometimes intuitive thoughts can be so full of sense that they appear to be coming from the left than from the right.

To know more read, : Whole Brain Thinking by Jaquelyn Wonder and Priscilla Donovan, The Right Brain Experience by Marilee Zdenek.

Reader's Comments


Subject: Are you using both sides of your brain - 28 March 2010
I want the exercise which can do to perform this activity. passage I read was a good one...
by: YOGESH KANHED