Transformation - Interviews
D.R. Karthikeyan

D.R. Karthikeyan, Special Director, CBI, India, spoke to Kankana Das

Most people buckle under the pressures of one job. But there are some , like D.R. Karthikeyan, 57, who work seven days a week and handle three demanding and high profile jobs: Special Director, CBI Special Director General, CRPF, and head of the Special Investigation Team (SIT) probing Rajiv Gandhi's assassination.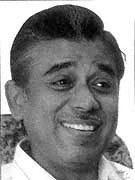 The secret of his limitless energy, unplumbed reserves of concentration and time management skills; a yogic lifestyle and philosophy. Seated behind a large desk in the CBI office in Delhi's Samrat Hotel (his main office is in Hyderabad), he gives the impression that whatever he undertakes he completes with dedication. Born near Coimbatore in a farming family, he did his master's in horticulture and then a law degree. But his life took a sharp turn after he joined the IPS in1964.

"I have gone through a turbulent career, I doubt how many have gone through what I have," says he. Couldn't be too far from the truth. His first promotion, during the peak of the Kannada-Marathi agitation, was Dharwad-the most populated district in Karnataka—usually handed to senior officers. Belgaum followed next, which registers the largest numbers of murders in Karnataka. Added to work pressures were the battles to gain mastery over two new languages, Kannada and Hindi.

Several postings abroad—Moscow and Australia; and assignments as deputy commissioner, law and order, Bangalore, and the chief of intelligence in Karnataka found Karthikeyan steadily moving up the police service ladder. His simple motto, however, remained: "Accept things as they come. Never avoid responsibilities. Do your best and leave the rest to the will of God."

These words were especially useful when on May 22, 1991 he was summoned by his superiors to New Delhi to head the team investigating Prime Minister Rajiv Gandhi's ghastly murder—the most sensational assassination case in Indian history so far. Explains Karthikeyan: "Unlike the Mahatma Gandhi or Indira Gandhi assassinations, this was a blind case. Not even the intelligence agencies had a clue as to who had done it." He was a little reluctant—the responsibility and pressures would be tremendous.

But "I thought, if this is the call of the nation I do not want to run away from the responsibility. Also, I was an admirer of Rajiv Gandhi." What followed, before the case was cracked open, were 90 days of pure trauma, working round the clock for 20 to 22 hours, going through thousands of letters, videotapes, photographs and phone calls. "Time was precious. The whole world was on my head—the Parliament, the media…" he says.

What kept him sane was the little time he could steal for his daily yoga practice. "Yoga is unlike any other exercise. There is no fatigue. The longer you do yoga the more relaxed and calm you feel," he explains. In fact, yoga had been a part of Karthikeyan's life for some years but he met Mysore-based Pattabhi Jois, the advocate of ashtanga vinyasa yoga, an energetic form. Ever since, he tries to spend half-an-hour every day in yoga and meditation. Constant effort, he says, is required to keep a watch on oneself and one's conscience.

"The devil and the angel are both in us. What you think you become. If he finds time to read, he prefers books on spirituality. And his inclinations are apparent from the two journeys he holds dear: to Jerusalem and Kailash-Mansarovar in India. A vegetarian, for Karthikeyan breakfast is a must. Lunch is often fruits or butter milk followed by a healthy dinner. His one regret: not enough time to devote to his spiritual growth. "So far I have not achieved anything. If and when I can, I'll spend all my time on yoga and meditation," he says. He had enlisted for the 10 day vipassana meditation course in late March.

Deepa Kodikal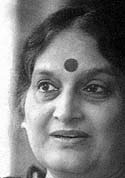 Deepa Kodikal, author of A Journey within the Self, spoke to Suma Varughese

Sitting knees crossed on a sofa, surrounded by paintings, sculptures and other artistic bric-a-brac, I allow God to serve me crisp vegetable cutlets and mango soufflé. There is awe and an astonished reverence at the vastness and depth contained in the personage sitting casually on the carpet, sari tucked under her feet, measuring out spoonfuls of sugar into two cups of tea with intense concentration. But there is no fear, discomfiture or a cringing sense of unworthiness. Nor should there be, for as Deepa Kodikal, a.k.a. God, reiterates in her book, A Journey Within The Self, there is none more humble than the Lord. Kodikal's journey into primal oneness with God began with dramatic suddenness on New Year's Eve of 1984.

A spontaneous meditation pitchforked her into a series of intense yogic experiences that unfolded over the next few months, with a deepening understanding of the nature of God. She escalated almost directly into the turyavasta, the divine fourth state that transcends the normal waking, dreaming and sleeping states. She accomplished this feat while fully conscious, a relatively rare achievement. Kodikal's book is a fascinating chronicle of the torrent of knowledge, visual images and experiences available in the higher states of consciousness, which included nirvikalpa, the state of pure being that transcends all knowledge of personal identity.

Her intimate and detailed narrative is as close as one can get to a spiritual travelogue, exploring unmapped regions of the Self, God and the universe. Kodikal's state of grace may have been both complete and swift, but it was well-deserved. Her inner voice informed her that it was a reward for spontaneously abiding by the Bhagavad Gita's prescription for detached living. In retrospect, she recalls a childhood saturated with the love of God. "God was a living presence," she says earnestly. "I used to see visions of Krishna, Rama and Vishnu whom I loved for their power, splendor and glamor. They were my friends and companions."

Apart from worshipping at her own private altar, Kodikal recalls being conscious of life as perfect, so much so that she hated cracking the perfection even with a smile. " I lived moment to moment," she says. "I don't recall doing any thinking." The inner stillness was counterbalanced by an intensely active external life: cycling, playing badminton, participating in ballets and classical dance, the National Cadet Corps, music, painting and even hang-gliding.

Marriage and the birth of three daughters, Nandita, Aqueela and Akshata, followed without causing a ripple on her inner equanimity. Periods of intense bhakti or devotion, were interspersed with long periods of not needing to worship. But the seeker of the family was her husband, businessman Raja Kodikal, an ardent student of spirituality and philosophy. Ironically, his search for a guru became the cause of Deepa's awakening. Once found, his guru predicted that the couple were destined to have one more child, an extraordinary boy blessed with divine grace.

After much thought, the Kodikals agreed to have another baby, at which point began Deepa Kodikal's tryst with enlightenment. The experiences ranged from oscillating between one end of the sky to another on a cosmic swing having a star-studded sudarshan chakra (Krishna's weapon—the disc) descend upon her, bullets of light streaking towards her and yogis and sages appearing in her sleep to bless her. That all this had little to do with the divinity of the gestating baby became evident when after the delivery of a baby girl (!) the experiences intensified, culminating finally in that New Year's Eve cosmic celebration. It is difficult to speak of Kodikal's celestial explorations without venturing into hyperbole.

They range from a union with Krishna and Shiva, a state she describes as divine intercourse, to witnessing vishwarupa, the nature of the universe. The pattern is breathtakingly vast and complex. Single stars orbit around a galaxy, which in turn orbits around a larger galaxy and so on, leading to universes orbiting around a larger more stupendous galaxy of universes. "This was only one aspect of the universe. There were universes within universes, invisible and visible, universes lying side by side, 'existing' through each other simultaneously in different dimensions of time and space", she reports.

Kodikal didn't just see all this, she was all this. "I saw in a tremendous flash that—my God!—I am the Lord! The Lord God, creator of the universe, of the cosmos, of the multiple universes." At the same time, she was beyond it, free of it and uninvolved with it. That, says Kodikal, is the essential nature of the Lord. Other attributes are: existence, awareness and bliss, jnana, knowledge and shakti, strength. "The Lord," says she, "has perfect segmented awareness, as also universal awareness. He is aware of what each being thinks, talks, knows, tastes, hears and smells, individually and collectively."

The nature of the Lord is also the nature of man, affirms Kodikal. Knowing the reality of God and man has suffused her with compassion and understanding for the human species. "Each one is innocent in his own way," she says. According to Kodikal, karma is paramount in deciding our lives. "What you are today is the sum total of your past." You can, however, change your attitude towards past events, and transcend the rule of karma. So what changes did Kodikal's transformation bring in her?

Her essential nature was already fairly well-developed, so there has been only a further deepening of tranquility and acceptance. Enlightenment has not unfolded any siddhis (psychic powers), nor does she want them, and she continues being a non-vegetarian. However, almost from the beginning of the insights, she was repeatedly enjoined by the inner voice to write a book that would be as "simple and plain as the Lord", a modern Gita.

The book, which encompasses her experiences from 1984 to 1986, was published in 1922 by Bharatiya Vidya Bhavan. The response, from those who have read it, it tantamount to worship, she says. Some people approach her for guidance. She clarifies their spiritual queries and aligns their perspective. "But I don't see myself in the nature of a guru. Once you feel the oneness, you don't feel the need for different positions." The modest disclaimer is really the key to Kodikal's personality, and perhaps the strongest proof of the authenticity of her experiences. There is no mistaking her humility, dignity or serenity. While we are talking, a carpenter appears, bearing the wrong pane of glass. Patiently, she hears him out, and suggests that after rest of the work is done, he should change the pane of the glass, if time permitted.

Her impish three-year-old grandson dances in, insisting on sugar cubes from "Grandmom". She gives them to him, but gently and firmly tells him to take one at a time. Her youngest daughter, 14-year-old Tejasvi, is off to a movie. She quizzes her on whom she is going with, what transport they will use, and other motherly queries. There is a gravity, a deep seriousness in the way she performs her functions, even a minor one such as arranging cups of tea on a tray.

Kodikal is now working on her next book, which starts from where the previous one left off. The intense state of nirvikalpa has left her, but the transcendental turya continues to co-exist with her ordinary identity as a housewife. The next stage, the inner voice has made clear, is mahanavastha, the very topmost rung of the spiritual ladder. Kodikal describes her present state as "beautiful". All the daily chores are conducted against a backdrop of quiet joy. "There's constant sense of worship, directed not to any particular God or deity, but to all of life. Everything becomes more meaningful, and life a celebration."

Sharon Clarke Sequeira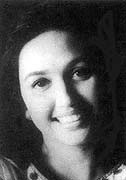 Sharon Clarke Sequeria, a former model spoke to Suma Varughese

"I moved into spirituality via modeling and motherhood," says Sharon Clarke Sequeria, 28. Perhaps not a route prescribed by the shastras or ancient texts, but given the extremity of artifice in modelling, definitely a pressure-cooker path to the Truth. Not that spirituality was an unknown quantity in her life. Indeed, her rapid ascent up the glamor world in Mumbai, India, via the Navy Queen and Miss India First Runner Up 1985, titles that made her a top ramp and photography model, as well as a Lakme face, in the early 1990s, ran parallel to an intense spiritual quest awakened when she was just 14. The occasion was a retreat organized for Catholic students by her school, Fort Convent, in Mumbai.

She found herself grappling with the question: "Who is Jesus?" Suddenly, feeling a gentle arm on the shoulder, she wheeled around to find the personage under dispute himself, telling her: "Don't look for me outside, Sharon, I'm within you." For a Christian accustomed to a Heavenly Father, this was a revelation. Perhaps, not coincidentally, this was the beginning of a path that lay in synthesizing Christian thought and Indian spiritual practice.

Her guide in the quest is Dr Jayant Balaji Athawale, an autohypnosis expert and founder of the Sanatana Bharatiya Sanskruti Sanstha, which approaches spirituality scientifically and mathematically. Spiritual levels are calibrated in percentages, as are the merits and demerits of various spiritual practices like breathing, meditation, or the organization's starting point, chanting.

Chanting Hail Mary for two years (members of different religious groups are encouraged to use the name of their individual God), yielded Sharon dramatic dividends. Today, few events or people upset her: anger seldom arises, and she has transcended her extended love affair with food that sent her weight soaring from 58 kg during her modeling days, to 95 kg. She is now down to 68 kg.

Her threshold to bear grief and pain has risen. Even her pulse rate is an incredibly low 46. All this through a love for God that grows more intoxicating by the day. Sharon's quest for the indwelling God moved her away early from Catholicism. She recalls attending a retreat when she was 20 that struck her as being a spiritual kindergarten. "When invited to surrender their most precious belongings to God, many cried, I couldn't understand it. Everything I had came from God in any case, so why should surrendering anything be a big deal?"

God was the final authority. She finalized her marriage with photographer Denzil Sequeira only after receiving divine sanction. "While praying at the Blessed Sacrament Church, I was told that we were already married. Another time, I saw a ring suspended in a shaft of light." She even withheld kissing Sequeira until she had got the divine nod. Such an uncompromising moral code led to conflicts in modeling, where her refusal to bare often met with vigorous opposition.

Through her spiritual initiation by Dr Athawale, her material desires, such as becoming India's No 1 model, became sub-limited by a growing love of God. Motherhood temporarily dampened her fervent progress, but after plumbing the depths, she came back with a vengeance two years ago, buoyed by Dr Athawale's prescription to further her growth through teaching others.

Her most cherished spiritual milestone occurred in 1994, while attending Guru Purnima, an auspicious day, at the ashram of Bhaktaraj Maharaj, Athawale's guru, in Dhule, Maharashtra, India. She recalls the guru darting a look at her akin to the look of God, "brighter than a thousand suns". "I knew then that I would be dancing only to God's tune and not that of others," she says rapturously.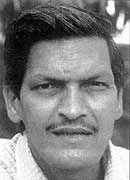 Surinder Sharma

Surinder Sharma, a former manager in tourist resorts spoke to Harveena Herr

He does not live planned life—in fact, he doesn't live the kind of life most people would consider life at all: a breath here, a breath there, padded in between with bouts of angst on the losing side and almost forbidden bliss at the winner's end. There is little point in asking Surinder Sharma, the 45-year old born in Jalandhar, India, about his future.

He will tell you that the very premise of a future as being predictable is baloney: no one can know the future because it is neither linear nor logical. "Before birth, life was unmanifest. With birth, it became manifest. With death, it will become unmanifest again." Sharma hates the high life. It goes back to his days in the sunrise hotel industry. But it's his sense of humor that comes to his rescue everytime the past—"a phony world, dry, no relationships were real,"—abuts into the present.

Sharma has splurged on wine, women and carousing, he tends to go to extremes, perhaps his way of transcendence. His "real" hunger, his seeking, which remained unrecognized earlier, however, started to assert itself when he went through jobs in West Asia and Germany. Sharma's return to India in 1985 saw him progressively develop an interest in mysticism. Using his work experience, he sailed through positions as manager of some tourist resorts, but he had become a longer and was now a misfit in what was once a familiar environment. He had no job for months on end. Meanwhile, the mists of ignorance started clearing with study.

Sharma found that in meditation, the urge disappeared. He was also drawn to the philosophy of Ramana Maharshi, Krishnamurti and Osho . This was a phase when Sharma had spontaneous mystical experiences which he could not understand and which made him fearful. "I don't want any of this," he would exclaim. This phase ended when a year ago he found his way to an Osho meditation center in Dehradun where, he says, he underwent a physical change: he felt an energy and for the first time in his life, felt joyful. A mystical experience followed soon after. While reading a book, he felt some channel opening up making him feel totally released, changing his overview of everything. He felt an unreasonable, bubbing joy, a tremendous love for humanity.

A couple of months ago he went for pranic healing sessions which opened more channels for a freer flow of energy. But there was something discernible over one shoulder,which could be grace, or it could equally be negative energy. But Sharma is unmoved by the prognosis. There is no problem. Although man is eternally happy and life is all-inclusive—happy, sad, fearful—most problems arise from people identifying with their bodies, says Sharma.

The solution: "If you are fearful, experience it fully, focus your awareness on it." If you suppress your feelings and emotions, they'll resurface in some other form, if you're angry, or need sex, say, immerse yourself fully in the experience. He uses the metaphor of a series of closed doors: behind the first door of the conscious mind, are other doors which remain locked, and various suppressed memories or experiences are hidden there. This creates a lot of stale energy, creating phantom personalities.

Meditation is a key to releasing blocked energy. The meditation that Sharma subscribes to is not a mapped one either: "Meditation truly happens when the meditator disappears, and the duality ends." In his own case, he confesses, the phantom seeker was the problem. Today, Sharma chooses to say this to his fellow beings, echoing Ramana Maharshi: "Be as you are." "Thinking is a sickness," he adds, "Feel!"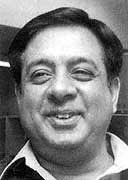 Rahul Setia

Rahul Setia, a doctor, spoke to Harveena Herr

The Synergy Centre for Holistic Health & Empowered Living. Quite a mouthful? That is Rahul Setia's dream—to support people in living healthy, empowered lives. Having seen success in using alternative medicine, Setia clearly recognizes its value and aspires to set up a center that will focus on health rather than 'healing' which he translates to mean a fix-it for things gone wrong.

The 37-year-old Delhite, from India, Setia holds an MBBS degree and worked as a doctor for a few years before being drawn in to join the family garments business. The two years that followed, he recalls, were a complete and frustrating sea-change, as he handled accounts, finance, labor, government agencies. The turning point came when Setia accidentally walked into a seminar conducted at the Federation of Indian Chambers of Commerce & Industry (FICCI).

The subject was, "Enjoy Your Vocation". One speaker claimed that only 10 per cent people were lucky enough to be in a vocation chosen by them: the vast majority was unhappy. He said that each of us was searching for a state best described as anand or bliss. If you don't have it, the speaker advised, change your job by keeping as your focus: "How can I make a good job of it?" instead of, "What I could have done". Innocuous words, but they helped shift Setia's focus.

Setia now addressed his tasks from a different perspective. He was gifted a book, Heal Your Life by Louise Hay, that sat on his bookshelf for six months before he took it along on a trip. The book had a series of affirmations and exercises, which opened up a new world for him. The FICCI seminar seemingly triggered off a series of linked events. Setia smiles as he recalls picking up a second-hand magazine from a bookstore in Mumbai, India, which carried an article, "How to use more of your Mind", by Dr Herbert Benson, who charted the Relaxation Response.

Benson, in fact, was among the first to use meditation in training programmes in corporate America. Accidental turning points continued to occur. Setia's mother gave him a Yoga Nidra tape: meditation not only made him feel relaxed, he became more creative. As it started directly impacting his work, he signed up for a Creativity and Dream workshop at the Tata Management Training Centre in Pune, India.

Next he attended The Landmark Forum workshop, and even helped conduct it for a few years, as an assistant and coach. Other personal and spiritual growth systems such as the Silva Method, reiki and Sudarshan Kriya (as taught by Sri Sri Ravi Shankar) followed. Unassuming, Setia agrees that he has evolved, but admits there may be entire stretches of time when he is "fairly ineffective, living life at 10 per cent".

Says he: "I've learnt a lot from each of these workshops but I can't apply all of it all the time. I would ideally like to reach a state where I can live life powerfully and effectively all the time." Setia had started a group called Synergy which lasted a year—an open group, a place for people with similar interest in personal growth . The idea sustaining Synergy was that interaction could trigger something off. The dream project too of the doctor-turned-businessman will draw from various systems for a holistic approach to health.

Says he: "The time has come to prolong the health span, not just the life-span." As in most things, there is a duality: Setia's business responsibility demands that he focus on profit. Yet, when he looks at all the growth therapies, money is pretty low on their priority list. The only redeeming feature of the situation is that the profits will help him set up his dream project one day. Meanwhile, he hopes to set up a charitable multidisciplinary polyclinic within a year in Delhi or on its outskirts.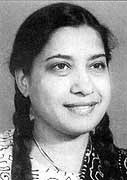 Swati Chavan

A first-person account of Swati Chavan, a social worker

I was born in a family of freedom fighters in the Indian state of Maharashtra. That I owed something to the downtrodden of the country became an element of belief from childhood and was strengthened by like-minded friends in university. But Jayaprakash Narayan's call for total revolution channelized my thoughts and influenced my drift towards leftist ideas.

After graduating in law, I began working for the uplift of women. But questions cropped up, everything began to appear dualistic in nature. I began to realise that there was a yawning gulf between idealism and cold reality. Social work brought me in contact with a wide cross-section of people. It is my habit to observe them closely, the state of their mind and spirit and then seek answers within myself, And the recurring question is: what is the purpose or meaning of life ?

Since childhood, the idea of God had always appealed to me. But I never had blind faith, nor could I accept rituals —I just couldn't comprehend this relationship. The rigors of education conditions our mind, so when I tried to think about this logically, I found no answers. This took me to J Krishnamurti's books and I got some relief. A friend introduced me to Osho's writings and the mist in my mind slowly began to lift. My self-perception began to alter. Duality began to recede and I began to grow in acceptance.

Osho's dynamic meditation worked like magic on me. In the very first session, I felt I had lost myself, as if a weight had lifted and I was breathing in open air. My mind's domination over my self began to ebb, as did the constant battle between the mind and the heart. I began to feel that to hope to be happy by achieving some goal in the future is meaningless. Joy is in the path itself—in the here and now. The journey, in a sense, is the destination. I began to see that I am not separate from creation, which is without a beginning or an end. I am eternal too. I am just a witness and I have to see everything in that light. The ultimate test of anything is whether it leads to happiness.

A few years ago I went to the USA to train in the rehabilitation of the psychologically impaired and lived in a community. Around Easter, I suddenly started having strange dreams. They were in blue and red. I told my friend named Christina about it. Surprised, she took me to a special place meant for meditation and prayer. There, I found the entire room flooded with red and blue light. I entered a deep state of meditation anbroughtd set off on an astral journey.

Later, Christina told me that I had been in a trance—I couldn't hear her and I was walking but my feet did not touch the ground. This experience stayed with me for days, making me serene. Others also noticed the change. I was in a state of blissful peace with no trace of sorrow. Now I run an organization called Rachna in Pune, Maharashtra, India. We work with people in small villages. This work is based on love and compassion. My aim is to live joyfully and watch passing events as a witness. To become a total witness, what is needed is meditation. That is going to be my direction.

Prema Seshadri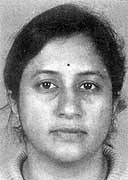 Prema Sheshadri, a housewife, spoke to Kajal Basu

You'd think that the only things that the world of the spiritual and the world of opulence share are an embarrassment of riches—albeit riches of different kinds—and mutual disdain. Till you come face to face with Prema Seshadri, who is both in one physical self. A housewife in her mid 30s, self-aware, honest and confidently candid as only a New Ager can be, she embodies what many would call a paradox: transformed but wealthy.

Her large flat in Bangalore, India, is an uncannily perfect extension of her mind: spare but not stark, minimalist but not miserly, functional but not forlorn. And, above all, open and welcoming to both weather and visitor. It is a sad truism that the troubles of transformation are difficult to articulate. The observer can see the state and know the state, but the transformed one can do nothing but be the state. Prema is a picture of that truism.

Stowed away deep in her home's trappings of immaculate design and décor is an untidy jumble of uncertainties: of problems almost resolved, of a heart almost reclaimed, of lifestyle almost finalized, of the placid ocean of equanimity almost sighted, of a horizon of utopian hope between sky and ocean almost discernible. This "almostness"—of perpetually poised at the threshold of spiritual discovery, but never stepping forth into the light—has haunted Prema at every step. What she went through was a 10 year period of questioning the validity of a job that brought her both husband and hearbreak, in that order. But even heartbreak has its ironies.

"I was the one who went through the Silva method," she says, "but it is my 12-year-old daughter who landed up being wise. What the Silva Mind Control Method taught her was how to recognize her state and then gently prod it into the body's traffic control system and subjugate it. But subjugation is as far from the perfect state she aspires to as is anarchy.

"My transformation, if you can call it that, is not quite as spiritual as the usual understanding of the word might suggest," she says. But it is transformation nonetheless: even if you can't see it in me, you can't but see it in my daughter. Even at her age she is comfortable giving me advice, some of it very sensible and out of the ken of normal pre-teenagers. I don't seek it, but if it makes sense, I have no qualms taking it."

This disregard for the hierarchy of age in favour of the hierarchy of wisdom seems to define her life. One bit of wisdom that she has acquired is that you need no more than the least glimmer of light to dispel the thickest darkness. In actual life, however, you do need to remove some cobwebs. Reflecting on her past, she says: "After my college days, I joined a management development company. The whole approach in the initial years was how to make it big. But slowly it came to me that the kind of organization I worked for was not conducive to my growth, in the kind of way I had thought of."

Her career careened around her husband's, and she spent 10 years of her life in the grip of extreme emotional thrall for a single entity, "When I resigned, I felt relief but I was also afraid of my own audacity. I'd quit the corporate world and all its power attachments. A large part of the corporate world is about controlling and running life like a military operation." Transformation came not because it was wanted but because it was there. In Prema's dictionary, transformation is a good word, ecastatic behind the pain, much like the birth process.

"How I was transformed is as important as the transformation itself," she says. Does that sound like a self-improvement programme junkie? "I don't think so," she says. "I'm surviving now without one, aren't I?" In fact, like many other transformed people or those along the path, she occasionally toys with the idea of turning into a transformer, of developing a personal growth workshop.

Mahadev Mangela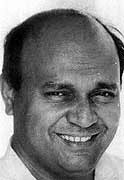 Mahadev Mangela, former strongman speaks to Suma Varughese

Nature has wrought Mahadev Mangela in imposing lines. His burly physique, well-cut features, massive dome of the head are stamped with power, resolute will, and driving purpose. A man destined to make a mark, for good or for bad. In Mangela's case, both. A former dada (strongman) who settled all disputes with his fist, today, at the age of 45 he is a mellow blend of strength and gentleness.

"From wanting to hurt or hit, I have turned to healing. I never used to love people, but now I realize that the other is not other, he is my brother. Divine brother." On his arrival in Mumbai, India, in 1975 for a job as a bank clerk, Mangela came into contact with the group and its founder, Pandurang Shastri Athavale. Behind him lay a backdrop of conflict and the assertion of might.

Born to a family of illiterate fisherfolk in Udwada, India, Mangela financed his way through school by working in a hotel at a monthly salary of Rs 5 and a bonus of Rs7. His standard response to injustice and exploitation of others was to resort to violence. As an ace cricketer, unfavourable calls on the field would provoke him to uproot the stumps and pulverize the umpire. His teachers and later, lecturers, were also victims of this rough and ready logic, as indeed, were his eight brothers.

"I would beat up anyone who said anything against my mother," he laughs, white teeth gleaming against his brown face. Come election time, the village head would be who Mahadevbhai (as he is known) insisted upon, and woe betide the opponents. "I was so arrogant! People sighed with relief when I left," he recalls. "Dadaji (as Athavale is customarily known) has Karl Marx ki kranti (Karl Marx's revolution) and Himalayan shanti (peace)," he rhapsodises.

In a nutshell, the philosophy has converted the Bhagavad Gita into a socially transforming force by using its concept of an indwelling God to weld relationships between people regardless of caste, community and class. The presence of divinity is cited as cause for respect for the self and for others. This redemptive, noble philosophy has motivated 80,000 villages to live in peace and harmony, and has transformed millions of individuals, among whom Mahadevbhai is a striking example. "I changed from bill ki baat to dil ki baat (money-centered to heart-centered)," he says.

His modest one-bed-room apartment in the the distant Mumbai suburb of Vasai, where he lives with his wife, Kusumbhai, and daughter, Gita is clean and neat, but austerely furnished. "Earlier, I was ambitious. I too aspired for a fan, a sofa set. Through Dadaji, I discovered that the meaning of Home is harmony; and that O is for obedience, not ornaments, M is for man, not money, E is for emotion, not ego. Today my priorities have changed. For money, man converts his blood into water, and then uses that money to reconvert it into blood!"

Mahadevbhai has flowered into an orator, poet, administrator and leader. He heads the fishing community, whose membership runs into lakhs, and which forms one of the dominant groups in the movement. However, the most revolutionary of all changes has been his conversion to a priest—well-versed with the Vedic rites for marriage, birth and death.

Arguing that the sacred thread was not only for Brahmins, Dadaji initiated 200 fisherman into priesthood after giving them a one-month-long course in the Vedas. Mahadevbhai breaks into a mellifluous flow of Sanskrit slokas (verses) to illustrate his proficiency in the language. "Were it not for Dadaji I would have been at most a bank manager. Today, I can achieve anything in any field." Poised on the threshold of his first bhakti pheri (devotional tour) abroad, to South Africa, he quips: "Dadaji made me export quality."

Ma Yog Neelam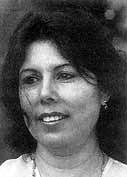 Ma Yog Neelam, Osho commune's India secretary spoke to Parveen Chopra

Religion or spirituality played no role in the early life of the woman who rose in the Osho hierarchy to become the commune's India secretary. "I was a clean slate," says Ma Yog Neelam. Tall and graceful, with deep-set eyes, she is wearing a steel grey long satin dress and looks quite alluring even at 47. Whether serving tea or talking, precision and concentration mark her unhurried actions. It was her businessman husband who was interested in religion and philosophy and who sought out sadhus (monks) and saints visiting Ludhiana, in India, where they lived.

He always tried to persuade her to accompany him. She always refused. Except once: the itinerant teacher in this case was Osho, then known as Acharya Rajneesh, She recalls: "I was highly impressed by what he said, which was relevant, and the way he said it. I just fell in love with his grace, his beauty and the peace that surrounded him. I felt I knew him, I belonged to him." Her involvement with Osho's teachings and work grew with time.

In 1970, she attended her first meditation camp at Manali in India, and within two years took sannyas (monkhood). A few years later, her longing for self growth grew to such an extent that she joined the Pune commune and went on to Oregon, USA, when Osho shifted base. Around this time she also parted company with her husband. When Osho returned to India, she was part of his small retinue, becoming his caretaker and later secretary for India. She believes that there are two ways to evolve: love and meditation. She has chosen love: "The more loving I become, the more silent I become."

Meditation or no-mind just happens. She did, however, practice some select meditation techniques. She believed that having led a cosy life, she had nothing to release. But Osho told her to mimic emotions of being angry, depressed and so on. When she tried, for example, to feel depression, it would became so real that she would start howling. "This made me see that the things that affect me more I push to the mind's basement," she says.

Another technique she tried involved visualizing turning into light and expanding until she became one with the sky. "I'm a Pisces and with my fertile imagination it was easy to do that. The sky came and entered my heart. That experience of vastness made me generous, expand inside." Today, she herself leads meditation camps, most of them abroad. Her understanding of enlightenment is to be master of one's mind. She confesses that she is still not there but her response to outside changes is less reactive than before.

Living in the commune (along with her 13-year-old daughter, Priya) has been a learning experience for her. "We are all seekers and if we get stuck, we talk, share, help each other. We don't hide anything not even our anger or jealousy. But there is no condemnation, no criticism." Neelam is grateful to Osho without whom her search wouldn't have even started. "As a master, he was naughty," comments Neelam. "He would create misunderstanding between people, push their deepest button. There used to be so much chaos that I tended to lose my center. He would chuckle: "You want me jobless."

Neelam affirms that Osho lived what he preached. "At the ranch in Oregon he had 93 Rolls-Royces and gold lining in his bathroom. At the resort in Manali he had to make do with very basic amenities. But it made no difference to him." When leaving Manali, he had to take a smelly, creaking yellow-top taxi. When I fussed over his comfort, he put his hand on mine and said: "Neelam, just go inside, everything is beautiful." When I settled down in silence and looked out of the window, it indeed was beautiful—the Beas river was flowing peacefully and the sun was shining. I was missing all that. And he? Even in that taxi he was sitting as if in a Rolls Royce."

Anjali Malvai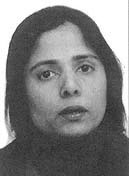 Anjali Malvai, a believer in Reiki practices, spoke to Parveen Chopra

Anger had been the leit motif of her life—once. For many years, says Anjali Malvai, 38, it was anger and frustration over her parents' inability to find a match for her combined with her own failure to find a soul mate. She felt rejected. In 1988, she met Sukhdeepak, a personal growth trainer, and married him two years later.

But her anger and aggression now found fresh ammunition. He was a divorcee and had two grown up sons. "While he and the two boys accepted me with open arms, there was non-acceptance on my part," confesses Anjali. She became manipulative and vengeful, demeaning and insulting them, creating constant turmoil.

Her only redeeming feature was that she conscientiously carried out her duty as a housewife and mother. Nor would she leave the family when Sukhdeepak suggested they call off their marriage. The irony of the Malvais' story is that all his background and experience in the work of personal transformation could not help Sukhdeepak douse the fire raging at home. His dedication to his work, in fact, became a bone of contention.

"He was spending too much time with The Landmark Forum for too little remuneration," Anjali never worked after her marriage. But having grown up in a well-to-do family, the dearth of money in her new home became an issue for her. Sukhdeepak's taking up full time job with The Forum made matters worse. "I never went on holidays with him, nor was he ever home on weekends." His attempts to involve her in the transformation systems boomeranged—she resisted him tooth and nail.

"Why should I too do what you do," she would snap back. Ironically again, Anjali's changeover had roots in Sukhdeepak's work and his dedication. Anjali recalls: "One day a woman I knew called for Sukhdeepak but instead started talking to me, "You can't imagine what Sukhdeepak has done to me," said the woman after heaping fulsome praise on him, she added, "it is only because you are holding the fort at home that he is able to devote so much time to his work."

Anjali called her over for tea and learnt that she had signed up for a reiki course. Overhearing the conversation, Sukhdeepak announced: "Anjali will also join." Anjali, who had refused to learn reiki when her husband had first mentioned it a few years back, readily agreed this time. In Reiki I, Anjali recalls, her anger totally drained out of her. After the workshop, she noticed that the same situations which had triggered her outbursts earlier had lost their power now. In Reiki ll, another level of completion happened for her. She used to suffer from various aches and pains. To a woman assisting in the workshop, she pointed out that she had a backache. The assistant gave her reiki and told her to stop holding on to anger if she wanted relief from the aches.

This led to Anjali crying her heart out for almost 10 minutes, following which the assistant embraced her for a long time. Afterwards, Anjali felt very good and now the aches rarely resurface. Impressed by her own first-hand experience with reiki, she prevailed upon Sukhdeepak to become a reiki master and start holding reiki workshops at home, and offered him her unstinted support. After getting his mastership, Sukhdeepak quit his job.

Now Anjali attends to everything required to set up and conduct a workshop; Sukhdeepak just has to walk in and lead it. Today, she says proudly: "My husband is one of the best trainers in India." She still doesn't want to lead reiki workshops herself; at least not till their two-and-a-half year old son, Eklavya, grows up. In fact, Eklavya has contributed a lot to the breaking down of her resistance to receiving and giving affection. He has been a major source of happiness for her and the family.

The harshness in her voice and on her face is fading. The biggest change, of course, is that while once she recoiled angrily at themention of the word "transformation" now she wants to help other people transform: "There is no need to punish oneself and others, but this realization comes only at an appropriate time."

Sultan Shahin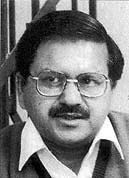 Sultan Shahin, a journalist, spoke to Praveen Chopra

Is this man for real, you wonder. He has the temerity to write that Muslims in India should have no qualms in claiming their Vedic heritage. Or that Muslims' prayers remain unheeded because they have forgotten how to pray effectively, to meditate that is. He calls the Babri mosque demolition an opportunity for Muslims to learn some lessons and to feel grateful to God for making it possible.

They can, for example, exert their right to forgive and thus set both parties to the dispute free of the karmic debt. This is provocative stuff. But the motives of Sultan Shahin, son of a maulvi (Muslim priest) and married to a Hindu, is an unusual man. His journey of transformation has been atypical too. He was attending a barbecue party in England about eight years ago where one face-reader told Sultan that his birthday must be on October 26. For Sultan, this was too close to reality (October 27) for comfort.

Starting with astrology, Sultan went on to delve into spirituality. One of the things he tried was the Hasidic Jewish prayer about forgiving all people who might have hurt one psychologically or financially in the past. For him, this brought back memories: the experience of hurt and living through the accompanying pain again. It wasn't just a load off his shoulders metaphorically, the pain he used to suffer in his shoulders and back disappeared, too. This demonstrated for him the relationship between experience and the body, which is a store-house of experiences. Growing in knowledge, he become aware that all that is is energy. Sultan believes that the less conscious we are of the density of things, the freer we are of illusion.

In retrospect, Sultan says, he had faintly realised such truths even as a teenager. Born in a village in Bihar, he used to take the cattle out for grazing which gave him ample time to reflect. The thinker in him made him argue with his father: "Why do you want me to pray to a God I don't understand?" He stopped doing namaaz (prayers) but promised his father that he would study all religions, particularly Islam, and choose the one that most convinced him.

Meanwhile, his father died and being the eldest son, he had to shoulder the responsibility of supporting a large family. He learnt lessons from both hard work and adversity. He improvised in his own way—akin to creative visualization—which helped him to relax within seconds by imagining that he was flying on clouds. Adversity, Sultan believes, is a great boon. "Only when he is in a loving mood, God gives you a problem. The bigger the problem, the more confidence he has in you."

Sultan believes that there is a logical progression in the history of religion. He gives an example: "While Islam is absolutely monist, people wonder why the Quran rarely gives arguments in support of that standpoint. The reason is that God had already taught that through Vedanta and yoga. So, the Quran is specific that you cannot be a good Muslim unless you respect the earlier prophets of whom there were 1,36,000." Sultan extends the argument to assert that the New Age has synthesized the knowledge from various spiritual traditions as well as science. The bottomline: there is only universal consciousness, the universe is a manifestation of that: and we are all spirit beings.