Life - Meaning of life
We are born. We study, find a job, get married, have children, grow old. And die. In between, we chase money, fame, sex, knowledge and indirectly, happiness. But is that all there is to living, or life? We consult some experts and pose the question to 10 people from various walks of life. Ultimately, the answer has to be individual. You have to ask yourself...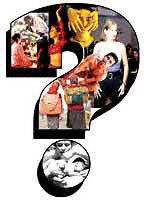 An unexamined life is not worth living, said Socrates the Wise One. Socrates lived in an era when people had the time to 'stand and stare'. Today, let alone examine our lives and what we are living for, we don't even have time to examine the import of his statement. There was another Wise One, this time a Chinese sage, perhaps Taoist, who implored God: "Let me not be reborn in interesting times." Unfortunately, we are living in very interesting times. Life is a soap opera today and we are all glued to it. Wars, bombings, riots, assassinations. Yo-yo stock markets, seesaw politics, psst psst sex scandals. As if real life is not enough, reel life offers still more engrossing entertainment. We cannot peel our eyes and consciousness off the scenery to see where we are going, what we are doing, what are we on earth for. Entertainment is but only one item on the smorgasbord offered today. 'Consume' is the cacophonic jingle. Buy. Acquire. Make money to buy and acquire. Make time to make money. The lure is gratification of needs. And needs can be created and added on by slick ads. The bait is a whiff of future happiness, after you acquire the latest product, but the hidden aim is to keep you unhappy, in want, else why would you keep on buying and consuming. So you work your ass off. Acquire some goodies, fail to acquire many others. You remain unhappy, forever fatigued, but busy. In no condition to ask the existential questions. In any case, popular wisdom dissuades you from philosophizing, tells you to be practical, that is, engage yourself ever harder in solving your endless material problems. Indeed, a case of an entire culture conspiring against man, more insidiously and resolutely than it ever has been in human history.
Reader's Comments
Subject:
life
- 11 June 2012
We need not to answer anything. We just have to look out nature and start from the very beginning. We are here to plant trees and no other else. What we see now is waste everywhere. Please help me to inculcate this things to your friends. thank you.
by:
Sheena Josefa B. Nabong
Subject:
life is a game
- 31 March 2012
life is a stopless travel but whatever happens the show must go on. Just live your life truely till your last beat of your heart. by
More...
by:
saravanan
Subject:
Life...
- 11 October 2010
Well written.I am really impressed.Its so true.I am 16 and today I was thinking where am I going with my life?What am I doing ?What is my destiny ?I am very much enlightened after reading this & I shall practice your principles in real life. Thank You.
by:
Sarthak Tripathy
Subject:
HI
- 21 August 2010
I always think ..............But I am unable to Answer to Myself..........So I alwasy ask ths question to my 3 old son...........I f he can aswer this to me,,Since he has too much time think on this......
by:
Akash