Causes of Stress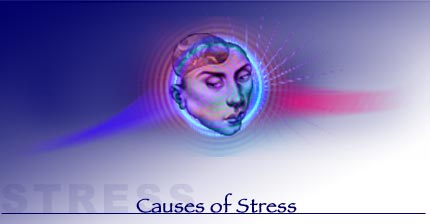 INTRODUCTION
Listing the causes of stress is tricky. There can be innumerable stress factors since different individuals react differently to the same stress conditions. Extreme stress situations for an individual may prove to be mild for another, for yet another person the situations might not qualify as stress symptoms at all. Stress is often termed as a twentieth century syndrome, born out of man`s race towards modern progress and its ensuing complexities. For that matter, causes such as a simple flight delay to managing a teenage child at home can put you under stress.

A stress condition can be real or perceived. Yet, our brain reacts the same way to both causes of stress by releasing stress hormones equal to the degree of stress felt. The brain doesn`t differentiate between real and imagined stress. It could happen while watching a horror movie or when one is apprehensive of some imminent danger.

WATCH YOUR ATTITUDE

It is said that life acts and you react. Our attitude is our reaction to what life hands out to us. A significant amount of stress symptoms can be avoided or aroused by the way we relate to stressors. Stress is created by what we think rather than by what has actually happened. For instance, handling adopted children, adolescents, academic failures, retirements, tax audits or sudden loss of money needs a relaxed attitude, focused will and preparedness to face the quirks of life positively. Otherwise one tends to feel stressed and reacts in anger and frustration. With a better control of attention one can feel that the world is a more congenial place to live in.

Again, in case of a marital conflict, instead of adopting an accusing and frustrating attitude such as—"You made my life hell" or "You are not meeting my emotional needs," the American clinical psychotherapist Willard F. Harley suggests that accepting—" Yes, we have a problem", helps clear the clouds. Failure in adopting a realistic attitude to events creates symptoms of depression and aggravates stress situations.

"Attitude, to me, is more important than facts. It is more important than the past, than education, than money, than circumstances, than failures, than successes, than what other people think or say or do. I am convinced that life is 10 per cent what happens to me and 90 per cent how I react to it. And so it is with you…" says Charles Swindoll, author and public speaker.

A right attitude can make a resilient person out of us in the face of stressful situations.

LIFE'S SITUATIONS

Major life events such as a divorce, death, midlife crisis, financial worries, persistent strain of caring for a chronically sick child, nagging health problems or managing a physically or mentally challenged family member can act as potential stressors. Even conditions such as prolonged unemployment or a sudden lay-off from a job can leave you under tremendous stress. One just can't wish away situation. Moreover one has to live through these situations, in the right spirit, to make living a worthwhile experience.

Stress also comes from our personal and social contexts and from our psychological and emotional reactions to such conditioning. Here, our mental and emotional disposition, built over the years, decides whether to accept these situations with a fighting or fleeing spirit. Accordingly, we may either be under harmful influences of stressors or be out of it.

Children and women subjected to mental or physical abuses are known to suffer from tremendous stress symptoms of depression, constant anxiety and burnout.

Though anger, fear and other negative emotional reactions are natural and necessary we need to channel them constructively to create a balanced state in our body and mind.

COULD IT BE YOUR GENES?

Do "stressed out" parents necessarily have stressed out kids? To this query Dr. Roxanne Dryden-Edwards, a senior Psychiatrist and Assistant Professor of Psychiatry at John Hopkins University School of Medicine, answers: "While no parental issue guarantees that the same issue will be duplicated in their children, parental stress certainly places the children at a great risk of becoming stressed as well. Besides being at higher genetic risk for stress, children of stressed parents can also learn the tendency to get stressed out in reaction to life's challenges from their parents."

Doctors at Mayo Clinics, USA, opined that situations that create stress are as unique as you are. Your personality, genes and experiences influence how you deal with stressors.

A research article published in the British Medical Journal, suggests: "The psychological state of the mother may affect fetal development." It could be caused by stress induced reduced blood flow through the arteries that feed the uterus. It could also create a mental as well as physical predisposition to certain diseases and behavioral patterns in the later life of a child.

It's identified that specific genes govern three endorphin groups, which constitute our stress hormones. Hence, our reactions to physical and emotional stress could also be "genetic." In other words, how our parents or great-grandparents responded to stressful situations may in part determine how we handle ourselves today!

Children of stressed out parents are more likely to be ill equipped to handle stressors positively. They may suffer from emotional disturbances, depression, aggressive behavior or confusion besides chances of weak physical constitutions, which again can be a source of anxiety.

DOES SMOKING INDUCE STRESS?

The relationship between tobacco smoking and stress has long been an area for controversy. The paradox is, although adult smokers state smoking help them feel relaxed, at the same time they report feeling more stressed than nonsmokers. Research shows that nicotine dependency actually increases stress levels in smokers-adults and adolescence alike. Adolescent smokers report increasing levels of stress as they develop regular patterns of smoking. They gradually become less stressed over a time when they manage to quit smoking. Whatever may be the personal accounts of the smokers, clinical evidence reaffirms that smoking is associated with heightened stress.

The Research Results on Smoking and Stress

• Contrary to the belief that smoking is an aid for mood control; it actually heightens tension, irritability and depression, during nicotine depletion in body. This mood swing arises between smokes or during periods of nicotine abstinence. And dependent smokers need nicotine to remain feeling normal.

Studies reveal more than 80 per cent of adult smokers respond positively to statements such as "Smoking relaxes me when I am upset or nervous," and cigarette smoking was "relaxing" or "pleasurable." Interestingly, when nicotine abstinence is monitored in smokers they typically report a pattern of repetitive mood fluctuations, with normal moods during smoke inhalation followed by periods of increasing stress between cigarettes. These mood fluctuations also tend to be strongest in the most dependent smokers.

Though smoking briefly restores their stress levels to normal, they soon need another cigarette to forestall abstinence symptoms. The repeated occurrence of stressed moods between smoking means that smokers tend to experience a distinctly above-average levels of daily stress. In the U.K. Health and Lifestyle Survey of 9,003 participants, significantly more smokers than nonsmokers reported feeling constantly under stress and strain.

This is also true with adolescent and male shift workers, who are nicotine dependants.

• In an effort to answers why smokers report stress during nicotine abstinence, studies found that smokers may be constitutionally neurotic. Alternatively, their stress may be caused by nicotine dependency.

Studies suggested that nicotine helps constitutionally anxious (i.e.,neurotic) individuals cope with stress. When adults quit smoking, they become less stressed rather than more stressed. There is no evidence that smokers suffer without tobacco or nicotine (other than during the initial brief period after quitting. There is also no neurochemical rationale for predicting that nicotine should alleviate stress, because it is a cholinergic agonist with sympathomimetic rather than sedative properties.

• The indirect coping strategy of "lighting up" under stress instead of tackling the problem can leave the real problem unresolved. The frequent failure of smokers to tackle problems may provide a further reason why they suffer from more stress than do nonsmokers.

The majority of smokers recognize that smoking is physically unhealthy but mistakenly believe, it has positive psychological functions. However, smokers need to become aware of why these beliefs are incorrect.

MORE ON STRESS
Stress
The word `stress` is defined by the Oxford Dictionary as "a state of affair involving demand on physical or mental energy". A condition or circumstance (not always adverse), which can disturb the
More....
Stress Management
Self Help
Effects of Stress
Spiritual and Psychological Stress
Anxiety In Children
Gender Stress
Stress And Health
Symptoms Of Depression
Stress At Work
Social Anxiety And Stress
Spiritual and Mental Health
Naturopathy
Medication And Drugs
LifeStyle and Time Management Skills
Relaxation Techniques
Stress Management Techniques
Stress Reduction
Alternative Stress Management
Related Links
Holisticonline
The International Stress Management Association UK
Undoing Stress
Stress Management and Emotional Wellness Page
Mindtools
Directory of Stress Management Resources
Stress Management
Stress Free NET
Stresscure
Stress Education Center
Futurehealth
Stress, Coping and Balance
Information on Anxiety disorders
Stress Disorder