Medication And Drugs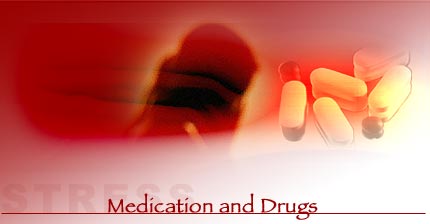 INTRODUCTION
Ideally, standard pharmaceutical therapy is not indicated for the management of daily stress such as those caused by work or family-related issues. These are part of life, and we will all experience stress throughout our lives in various degrees. Since it is an integral part of life, counselors speak of stress management rather than stress removal.

Jacob DaCosta, a Civil war physician, set the tone when he wrote:"It seems to me most likely that the heart has become irritable from its overreaction and frequent excitement, and that disordered enervation keeps it so." This focus on biochemistry and physiology has gradually led to the development of tranquilizers. These are widely used in controlling chronic symptoms such as restlessness, chronic anxiety and sleeping disorders caused by stress. These symptoms and disorders are often attributed to problems of the nervous system.

Sudden catastrophic events such as loss of a dear one or falling victim to crimes and abuses or shocking accidents, which can create severe stress conditions, often require immediate medications . The most common anti-anxiety medication— benzodiazepines and buspirone—are given for short terms benefits. But these may lead to side effects such as drowsiness or lethargy, and dependency on part of the patient. Antidepressant and anti-anxiety drugs are those classes of prescription drugs that are most often abused or misused. Physicians have to be extra careful in deciding the most appropriate anti-anxiety medication for individual needs and symptoms.

A common but debilitating stress effect is tension-type headache (TTH), caused by fluctuations in blood circulation and muscle tension, especially in scalp and face. Antidepressant medication has been shown to be effective in reducing symptoms of chronic tension-type headache (TTH). When TTHs occur near daily or very frequently (over 15 days per month), extending to at least a six-month period of time, they are termed chronic TTHs.

The Journal of American Medical Association (May 2, 2001) published the research findings of the value of stress management therapy; antidepressant medication; stress therapy plus medication and placebo treatment, in managing stress-effects. It showed that both the medical therapy with tricyclic antidepressant medication and stress management therapy were more effective in reducing headache activity, headache-related disability, and pain. Also, medication usage is found to be more helpful than the placebo treatment. However, combined medical and stress management therapy was more likely to lead to significant decreases in headache symptoms than medication or stress therapy alone.

Natural Medicines
A range of `natural` supplements such as ayurveda and herbal medicines, devoid of side effects, can be more beneficial in reducing symptoms of anxiety or depression, which are directly associated with stress.

According to ayurveda, human body is made of three doshas—vata, pitta and kapha, which are also present in the nature. These three doshas are in constant interaction with each other inside human body and, also outside of it, with the three doshas of nature. The three doshas govern all metabolic activities. When their actions in our mind-body constitution are balanced, we experience psychological and physical wellness.

Ayurveda prescribes medicines to bring back balance among these three doshas to remove whatever anomalies present in our mind and body.

Self-Medication Is A No No
Self-medication often leads to dangerous practices of prescribed and non-prescribed drug abuse and alcoholism. In case of severe stress symptom, it always helps to discuss them with your doctor before attempting to `treat` them yourself.


MORE ON STRESS
Stress
The word `stress` is defined by the Oxford Dictionary as "a state of affair involving demand on physical or mental energy". A condition or circumstance (not always adverse), which can disturb the
More....
Stress Management
Self Help
Causes of Stress
Effects of Stress
Spiritual and Psychological Stress
Anxiety In Children
Gender Stress
Stress And Health
Symptoms Of Depression
Stress At Work
Social Anxiety And Stress
Spiritual and Mental Health
Naturopathy
LifeStyle and Time Management Skills
Relaxation Techniques
Stress Management Techniques
Stress Reduction
Alternative Stress Management
Related Links
Holisticonline
The International Stress Management Association UK
Undoing Stress
Stress Management and Emotional Wellness Page
Mindtools
Directory of Stress Management Resources
Stress Management
Stress Free NET
Stresscure
Stress Education Center
Futurehealth
Stress, Coping and Balance
Information on Anxiety disorders
Stress Disorder