Relaxation Techniques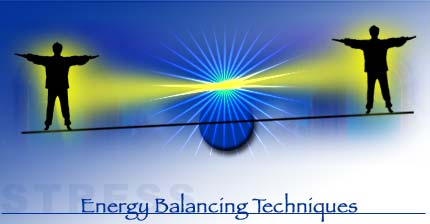 INTRODUCTION
Pranic Healing For Stress
Pranic healing is an ancient science of healing through prana (Qi or `life energy`). Prana is that life energy, which keeps the body alive and maintains its vitality. In Greek it is called pneuma, in Polynesian mana, and in Hebrew ruah, which means `breath of life`. Most ancient healing systems use this prana or `breath of life` to manage and cure various ailments. We constantly drain our life-energy or Qi by our every thought, every act of will or movement of muscles. Accordingly, we need to constantly replenish this life energy and facilitate its flow in our body to ward off diseases.

Pranic healing is based on the proposition that the human body is actually composed of two parts: the visible physical body and the invisible energy body called the bioplasmic body. This invisible luminous energy body interpenetrates the visible physical body and extends beyond it by several inches. It is also called the inner aura. With the help of Kirlian photography it is now possible for everyone to `see` the human aura, whose color varies according to the emotional conditions of an individual.

Principles of Healing
In bioplasmic body plasma implies the fourth state of matter, the first three being; solid, liquid and gas. It is a living energy body made up of invisible subtle matter. It is through this energy body that prana or life energy is absorbed and distributed throughout the whole physical body. In fact, there are chakras or whirling energy centers (11 in number according to pranic healing), just like power stations, that absorb and supply life energy to vital organs.

The solar plexus chakra, the most significant chakra in our body relates to stress and its effects. It is located at the hollow area between the ribs. It controls and energizes the diaphragm, pancreas, liver, stomach, and to a large extent energizes the large and small intestines, appendix, lungs, heart and other parts of the body. The whole body can be energized through solar plexus chakra as subtle energies from the lower and the higher chakras pass through it.

Apart from external disease factors, uncontrolled and suppressed emotions and habitual tension or stress (worry, anger, prolonged irritability and frustration) result in pranic depletion and congestion around the solar plexus and heart chakras. It results in malfunctioning of the chakra. Consequently the health rays are partially affected and are clairvoyantly seen as wavy instead of straight. The outer aura becomes slightly grayish when under the influence of emotional disturbances.

In the first case it may manifest as indigestion or loose motion and in the long run it may manifest itself as an ulcer or a gall bladder problem. A de-vitalized or weakened energy body can become susceptible to all kinds of infections, inflammations and other diseases.

The method of pranic healing involves scanning, cleansing, strengthening and gradually restoring the energy body by manipulating the bioplasmic matter or prana or Qi. It follows the stages of first scanning the aura, cleansing or decongesting the bioplasmic channels (chakras) in the energy body, and then replenishing it by projecting healing prana (qigong) in specific areas.

• A research (Effects of Qigong on Psychosomatic and Other Emotionally Rooted Disorders, page 150) by Richard R. Pavek (USA) found that the healing energy has beneficial effects on suspected emotionally rooted disorders. The disorders particularly involve menstrual and premenstrual distress, migraine, irritable bowel syndrome, eating disorders, chronic low back syndrome (both pre-surgery and post surgery), and other emotional disorders such as anxiety, depression, blocked grief and sleep disorders.

• Jack Lim (of Qigong School of Australia) enumerated in his research finding in the book `An Effective Weapon Against Stress` (page 155) that the healing energy is an effective means for combating stress with physical symptoms such as increased heartbeat, exhaustion and insomnia, ulcer, hypertension and heart ailments. All 400 subjects presented in the survey constituting professionals from various walks of life-doctors, business executives, lawyers, technocrats, artists, housewives and students-reported marked improvement in their conditions.

Pranic Breathing
The method of yogic breathing that enables the practitioner of pranic healing (or any person) to draw in tremendous amount of prana or life energy from the surroundings, and facilitates the projection of prana, is called `pranic breathing`.

METHOD-1

Deep Breathing with Empty retention (kumbhaka)

1. Connect your tongue to your palate.
2. Do abdominal breathing.
3. Inhale slowly and retain for one count.
4. Exhale slowly. Retain your breath for one count before inhaling. This is called empty retention.

METHOD-2

1. Connect your tongue to your palate.
2. Do abdominal breathing.
3. Inhale for seven counts and retain for one count.
4. Exhale for seven counts and retain for one count.

METHOD-3

1. Connect your tongue to your palate.
2. Do abdominal breathing.
3. Inhale for six counts and retain for three counts.
4. Exhale for six counts and retain for three counts.

The critical factor involved in pranic breathing is `rhythm`.

Abdominal Breathing: Expand your abdomen slightly when inhaling, and contract your abdomen slightly when exhaling. Do not over-expand nor over-contract your abdomen. This would make breathing difficult.

Empty Retention: Holding your breath after exhalation is called empty retention; and holding your breath after inhalation is called full retention. (Through clairvoyant observation, it is noted that there is a tremendous amount of prana rushing into all parts of the body when inhalation is done after empty retention)

Some Jargons Used in Pranic Healing:

Scanning: The aura is observed and measured with palms and fingers by moving the fingers slowly, back and forth. While scanning the inner aura one must concentrate on the centers of the palms and the tips of the fingers. In scanning the inner aura, it is important to feel the general energy levels or the thickness of the inner aura. Sweeping: Sweeping is a cleansing technique applied for removing diseased energy from body. When the cleansing is done on the whole energy body, it is called general sweeping, and when it is done on specific parts of the body it is called localized sweeping. Two hand positions are used for sweeping away the negative energies.

Energizing: Energizing takes place when prana is drawn by using pranic breathing and is projected through one or both of the hand chakras. While energizing the affected body parts or relevant chakras one has to concentrate on the center of one`s palm or palms, and then direct the pranic energy.

The principles of healing stress-induced disorders are the same as pranic healing with all energy-healing methods such as Reiki, crystal and pyramid energy healing.

CRYSTAL THERAPY FOR STRESS

Crystals have been routinely used in traditional medicines throughout the world, and have been revived as one of the holistic therapeutic tools. Traditionally crystal is used for healing following the principles of `prana` or `life force` in our bodies. Besides that, it has been used as tools for initiation, for talismans, for prophecy and for mystical contemplation. For healing purposes crystals are basically used on or around the body to effect beneficial changes in one`s abnormal body vibrations. It is therapeutically proved that crystals boost low energy levels, screen out stagnant or blocked energy and transform destructive patterns in our energy body. Today, scientists have established that a sea of radiation of energies surrounds us. All of it comes together to form an energy soup which controls every activity on earth. This energy soup is the `life force` known by the ancient healers.

Crystals have become vital components of modern civilization. In Ian Mercer ingenuous words: "Whenever you cross bridges, enjoy sweets, watch TV, travel by train, car or plane, paint the front door, hold a cup, ring home, drill for oil and look at the time", you unknowingly come in contact with crystals.

Crystals transform kinetic energy into electrical energy (Piezo-electric effect and the pyro-electric effect), which is a fascinating physical property of crystal. But, the best thing about a crystal is that when it is fed with a measured amount of electricity, the degree of vibration it produces is absolutely the equal. The utter reliability of a crystal`s vibrations makes it an ideal component as the heart of radio, television, radar installations and your own personal computer.

But, do these proven properties operate on more subtle levels, as ancient people believed? The energy of pure thought is magnetic in nature when it moves through three dimensions. This is why thoughts can be retained and modified by crystals, similar to magnetic storage for computers.

In his book Cosmic Crystals, Ra Bonewitz differentiates between mundane and spiritual crystal effects. He claims that the measurable physical properties of crystals are paralleled by their spiritual attributions. Quartz, the most widely used crystal, transforms, focuses, amplifies, transmits and stores subtle energies just as effectively as electricity. Quartz can transmit life force throughout the human energy system, bringing healing and balance. Crystals can be used for focusing thoughts, facilitating meditation and healing practice. Crystals can coordinate the dispersed and disturbed thoughts and can help stabilized the emotional disintegration occurring under stress. This is the reason why crystals are becoming increasingly popular as an antidote against stress symptoms such as anxiety, worries, irritability and frustration, as well as stress effects such as hypertension, depression, ADD/ADHD, heart ailments et al.

That crystal has healing properties is proved by Kunzite, a variety of the crystal group spodumene, the prime source of Lithium. Lithium when administered as lithium carbonate (a white powder) is an important drug in the prevention and treatment of manic depression.

Crystal Therapy for Depression
Surveys indicate that Crystal therapists have successfully treated individuals suffering from various forms of depression. Some particular cases of depression can occur following treatments such as chemotherapy, or experience of a traumatic child birth (post natal depression); or after getting anesthesia during an operation. All of these treatments have a damaging effect on the aura. In fact, any kind of traumatic event in one`s life affects the delicate balance of energy field surrounding our body. If left untreated this condition could take a long time to heal and could well result in severe depression, lack of vitality, inability to deal with everyday living and low self-esteem. In these particular cases crystal therapy has shown to be very effective as it redresses vibrational imbalances in the electro-magnetic field of the patients` bodies.


MORE ON STRESS
Stress
The word `stress` is defined by the Oxford Dictionary as "a state of affair involving demand on physical or mental energy". A condition or circumstance (not always adverse), which can disturb the
More....
Stress Management
Self Help
Causes of Stress
Effects of Stress
Spiritual and Psychological Stress
Anxiety In Children
Gender Stress
Stress And Health
Symptoms Of Depression
Stress At Work
Social Anxiety And Stress
Spiritual and Mental Health
Naturopathy
Medication And Drugs
LifeStyle and Time Management Skills
Stress Management Techniques
Stress Reduction
Alternative Stress Management
Related Links
Holisticonline
The International Stress Management Association UK
Undoing Stress
Stress Management and Emotional Wellness Page
Mindtools
Directory of Stress Management Resources
Stress Management
Stress Free NET
Stresscure
Stress Education Center
Futurehealth
Stress, Coping and Balance
Information on Anxiety disorders
Stress Disorder