Social Anxiety And Stress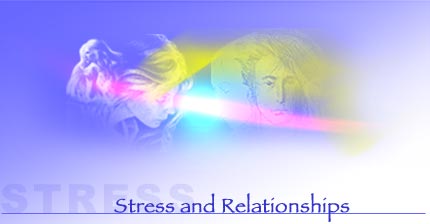 INTRODUCTION
Almost all stressed out people state social anxiety and relationship difficulties as their primary causes of stress. Broadly, social anxiety comes from three major relationship categories—child-parent, marital and career/professional.

Parental Stress
According to Ron Huxley, LMFT: "Nothing describes parenting better than stress!" Stress is defined as any physical or emotional demand that you feel unable to handle. These demands encompass all of the little hassles you experience every day, from the moment you try to get children up for school to the moment you finally get them to bed at night. Even though these daily hassles are often considered trivial, over time, these hassles add up, building in pressure, until you are ready to burst out with anger and frustration.

Whether you stay at home or work, single or married, mother or father, parent of one child or several children—remaining cool, calm and full of energy can be difficult. Some of the common parental stressors are:

• Aggressive children
•Children under performing in school
• Handling stepchildren
• Hyperactive children
• Caring for a physically or mentally challenged child
• Nursing chronically ill child
• Parenting adolescents or teenagers

Parenting can be a pleasurable experience despite its inherent anxieties, worries, frustrations and physical stress. Here is how:

• Accept the fact that stress can`t be avoided
•Seek support from near and dear ones or experts
• Plan the day`s work
• Communicate more freely with children
• Encourage children to forget failure and help them to strive for better performances
• Lend an ear to the children
• Share quality time with them

Marital Stress
Perhaps half of the adults suffering from severe stress blame the deteriorating relationships on their spouse. Looking at the growing rate of divorces, court cases for alimony, physical abuses and single parents, it does seem as if handling a relationship can be a tricky and often taxing issue. The possible causes of stress can be endless, but some major factors are:

• An unaffectionate spouse
• Unforgiving attitude of a spouse
• Handling of monetary affairs (budgeting, investments, expenditures)
• Lack of proper communication between spouses
• Unable to find quality time for each other
• Extramarital relationships
• Step children
• Dealing with in-laws

More often than not, stress arising from marital relationships is manifested in chronic disorders such as depression, insomnia and hypertension. Since a relationship depends on the nature of the persons involved, it helps to seek the middle path when the inherent individual differences surface. It often helps to change one`s attitude, go for counseling or talk openly with your spouse about problems facing your relationship.

Ravi Bhoothalingam, President, The Oberoi Group, India, and a regular participant of Sri Sri Ravishankar`s Art of Living workshops, believes it is important to handle stress in marital relationship at the primary level through proper communication. This can be done by letting others know the exact issue that is bothering you. He practices this precept freely with his wife and two children. In his words: " Honest communication is a great tool in family bonding and a quick problem solver that helps one view a problem from different perceptives."

Career And Family Life
Balancing family with professional life is tricky and often a frustrating challenge. It is important to consider the priorities and evaluate the choices, so that one can have time to work, time to play and time to make sure that life is as fulfilling as it can be. Stress often results from a conflict between work and family responsibilities.

According to Stephen F. Duncan, Family and Human Development Specialist, your ability to cope successfully with work-family stress depends on three things:

• Your resources (such as income, education, intelligence, determination),
• Your coping strategies (or, how you use your resources), and
• Your point of view or perception (for example, thinking: It`s normal for me to feel this way)

The more resources you have and use well, the healthier your attitude, the more successful you will be at coping with stress.

According to Prof. Duncan there are three major issues to consider for a perfect balancing act:

What are the major work-family stressors you are experiencing now?

Marriage
Children
Household management
Leisure

What resources and strategies do you think might help?

Personal
Family
Community

What is your specific balancing plan?

• What will you do?
• When will you do it?
• Who will be involved?


MORE ON STRESS
Stress
The word `stress` is defined by the Oxford Dictionary as "a state of affair involving demand on physical or mental energy". A condition or circumstance (not always adverse), which can disturb the
More....
Stress Management
Self Help
Causes of Stress
Effects of Stress
Spiritual and Psychological Stress
Anxiety In Children
Gender Stress
Stress And Health
Symptoms Of Depression
Stress At Work
Spiritual and Mental Health
Naturopathy
Medication And Drugs
LifeStyle and Time Management Skills
Relaxation Techniques
Stress Management Techniques
Stress Reduction
Alternative Stress Management
Related Links
Holisticonline
The International Stress Management Association UK
Undoing Stress
Stress Management and Emotional Wellness Page
Mindtools
Directory of Stress Management Resources
Stress Management
Stress Free NET
Stresscure
Stress Education Center
Futurehealth
Stress, Coping and Balance
Information on Anxiety disorders
Stress Disorder