Stress Reduction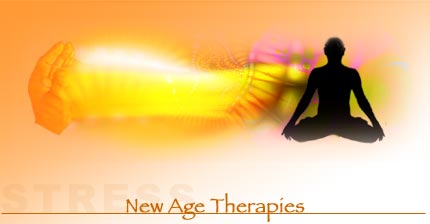 INTRODUCTION
This therapy employs sound in an organized or rhythmic form to disentangle the stressed out nerves and brain, relaxing the mind-body as a whole. Certain sounds have telling effect upon the state of our brain. Most of the sounds heard in the world today are `dis-charging` sounds, draining the brain of its vital energy. Sound therapy is a method of beneficially recharging the cortex of the brain and distributing the latent energy throughout the nervous system. Usually, the effect of therapeutic sound upon a person is one of vitalizing, harmonizing and healing at almost every level of being. Sound therapy is one of the most preferred techniques for relieving negative effects of stress.

Brain energy is a form of electricity, engendered by the central grey nuclei. These are like batteries constantly recharging the brain. The cells of the cortex are the ones which are most energy laden and are accumulated particularly in the zone of the high frequency. High frequency sound transmitted to the brain via the ear activates these cells and releases hitherto untapped energy. As a consequence the balance in body vibration is restored and one can feel relaxed, and lighter.

Sound Therapy is simple in practice. It consists of listening to therapeutic sounds, on quality equipment, for at least three hours a day to a total of 100 to 200 hours. The therapist decides the length of time depending on the condition of patients.

Sounds of Nature
Apart from these specially created sounds, we can access and utilize the natural sounds all around us. Nature has a vast repertoire of soothing and rhythmic sounds. We seem to overlook the sounds of ocean, breeze, rustling of leaves, bubbling sounds of a cascade and even the sound of silence (anahata sabda in yoga). Listen to the note they transmit, then go deeper into the sounds and listen to the note behind them. Then let the sounds resonate through your entire body washing tensions and worries.

In Indian spirituality, chanting or listening to mantras are considered to be greatly relaxing and uplifting. It has been proved that meditating on the sound of `OM` can have therapeutic effects on nerves, muscles, circulation and brain.

Sound therapy is found to be extremely beneficial in almost all stress related problems. It can be helpful for:

• Easier, more effective sleep.
• Regaining vitality and a sense of well being.
• Obliteration of tiredness.
• Deep relaxation, relief from anxiety and consequent healing of stress-related disorders such as high blood pressure, hypertension, digestive problems.
• Correction of stammering and other speech defects induced by psychological disturbances. Dyslexia, hyperactivity and behavioral problems in children can also be effectively treated by therapeutic sounds.
• Weight loss. A balanced body vibration ensures reduction in stress effects and metabolism rates. This can diminish artificial craving for food as under stress.
• Increasing mental focus and concentration.

WALKING FOR STRESS RELIEF

Tension, anxiety and anger can be enormously overwhelming feelings. Their unchecked expression can ruin our outer existence and suppressing them can vitiate our inner being. But such negative emotions can be effectively expended by taking long walks in open environments.

Walking provides you with an excellent opportunity to recharge and invigorate your body with extra intake of oxygen and release of muscle tensions. Through long walks, important organs such as heart, lungs, digestive system, and muscles get thoroughly exercised, facilitating blood circulation.

The act of walking is recognized as a therapy with multifaceted benefits. Walking is also an effective and handy stress buster.

How Walking Repulses Stress:
—The walk can be a three-part exploration of your stress. You can begin at a moderate pace and then increase your speed. As you walk at a moderate pace, raise your eyes to the middle ground 6 - 8 feet ahead of you. This is a warm up pace, which allow your feelings and thoughts to open up. It helps you explore the cause of the emotional turmoil, whether it is inside you or came from a situation outside yourself.

—As you pick up fast pace it makes you feel more energetic and helps speed up your thinking process. You try to find solution to the problem. You even exhaust the pent up negative emotions when you complete a fair round of walk. You may choose to forgive people and forget the causes that created the situation.

—At the end you can slow down to a pace where inner feeling are more accessible. You may size up the stressors and discover methods to avoid them in future by modifying your thinking and attitude.

Regular walking sessions can make you feel surer about you, can improve your physical and mental discipline apart from keeping your body healthy. In the process you release your blocked energy and negative feelings and thoughts.

MUSIC THERAPY

Music, or sound coordinated in a rhythmic manner, is known to appeal to our inner being so powerfully that it can effect healing in our body. The science of yoga reveals that body is made of vibrating energy. Difference in physicality suggests the presence of different types of vibrations in that energy. Music, whether vocal or instrumental, basically sends out various forms of vibrating sound-energy to its surrounding. People are generally attracted to the types of music appealing to their inherent body vibration. Some people may love to listen to the high and racy vibrations of jazz, but to some other it`s the slow and lilting sound of flute that appeals most.

The sound of music, when coordinates well with one`s inner vibration, untangles the knotted and stressed out nerves, soothes the mind-body, and promotes well-being in human as well as other species. Music can be a source of emotional enjoyment, whether one performs or just experiences it as a passive listener.

In human body, the music appreciation center is located in the right hemisphere of the brain. By listening to music one `switches-over` from the left hemisphere (dominant for binary activities) to the creative right hemisphere. It helps stimulate one`s thinking pattern. Music has tremendous relaxation effect on our mind as well as our body. Surveys on the effect of music therapy reveal that favorable musical vibrations can promote a positive thought process in an individual.

Modern therapeutic science says that music has a massaging effect on our brain. Perhaps, that is the primary reason for widespread usage of music as an anti-anxiety and antidepressant therapy and the handiest tool for relaxation.

So, each day massaging your brain with a few moments of your favorite tunes and melodies, can go a long way in making you a cheerful and positive person.

AUTOGENIC TRAINING FOR STRESS

Autogenic training is a European method of relaxation based upon passive concentration and body awareness of specific sensations. Since the last century it has been successfully applied in relieving most stress-related disorders. The affected person learns to use the techniques in relieving stress symptoms such as anxiety, tension, sleep disorder, and examination stress as well as in chronic stress induced medical conditions. The technique`s disease alleviating capabilities has given it the status of a therapy in the western part of the world.

Though autogenic training is effectively used for reducing stress it is contra-indicated for person`s suffering from diabetes, hypoglycemia, heart conditions, and high or low blood pressure.

BIOFEEDBACK

Biofeedback is a technique in which stress affected persons are taught to improve their health and physical performance by altering their brain activity, blood pressure, muscle tension, heart rate and other bodily functions. Under stress these functions become unusual. Patients are taught to use signals from their own bodies, recognize the anomalies and redirect them accordingly. This technique of `bio-feed-back` came into being in late 1960s following successful laboratory tests on patients.

Despite initial skepticism, researchers proved that many individuals could really alter their involuntary responses by being "fed back" information either visually or audibly about what was occurring in their bodies. Studies have also shown that we can actually have more control over so-called involuntary bodily functions.

Under Biofeedback method of treatment, mechanical sensor devices are used to pick up electrical signals from the muscles and translate the signals into a form that people can decode. This device triggers a flashing light or activates a beeper every time muscles become tenser. If one wants to relax tense muscles, one must try to slow down the flashing or beeping. People learn to associate sensations from the muscle with actual levels of tension and develop a new, healthy habit of keeping muscles only as tense as and for as long as that is necessary. After treatment, individuals are often able to reproduce this response at will without being attached to the sensors.

Biological functions such as skin temperature fluctuations, heart rate, sweat gland activity, and brainwave activity are commonly measured and used in similar way to help people learn to control their physical functioning.

At present Biofeedback techniques are widely used for an increasing number of stress induced disorders. Some of these ailments are discussed below:

• Migraine headaches—The American Association for Headache cites Biofeedback as an acceptable treatment. Repeated clinical and laboratory experiments shows that Biofeedback is an effective treatment for migraine and tension headaches both among children and adults.

• Stress and strain—Numerous experiments, using biofeedback training, have shown that people suffering from anxiety, tension and other stress disorders have been successful in controlling these conditions. Studies on women with PMS have shown biofeedback can help relieve the symptoms.

• Chronic pain and movement disorders—Biofeedback is used widely to relieve various body aches, sports injuries, stress induced pains and even neuromuscular disabilities. Therapists in US have found that some spinal cord injury and chronic neuromuscular disease (such as paralysis) have been able to regain most of their muscular limb activities after biofeedback training.

• Incontinence—Urinary incontinence is a disease condition induced by a number of reasons. The disease itself induces stress. Illnesses such as multiple sclerosis, muscular dystrophy, strokes and epileptic conditions can cause incontinence, thereby causing anxiety and tension. The Agency for Health Care Policy and Research Consensus cites biofeedback as the primary treatment for this disorder. Studies suggest more than 90 per cent of children under the age of twelve with sleeping problems such as bedwetting, recover within the first two months of biofeedback treatment.

• High blood pressure/Hypertension and cardiac conditions—Clinical and hospital application of Biofeedback techniques has authenticated that eighty per cent of individuals with essential hypertension (under medication) reduce their prescription medications or no longer needed them. Abnormalities in the rhythm of the hearbeat and conditions leading to other heart ailments are treated by biofeedback.

• ADD/ADHD (Attention Deficiency Hyperactive Disorder)—Electroencephalogram (EEG) Biofeedback (neurofeedback) is used worldwide for treatment of ADD/ADHD. According to clinicians` reports this method is the most effective one for all Attention-Deficiency Disorders. Patients are taught to modify their disturbed brainwave activities to reduce symptoms such as distractibility, disorganization, carelessness, forgetfulness, hyperactivity, fidgeting behavior, restlessness et al.

CREATIVE VISUALISATION

In 1970`s, Carl Simonton developed a visualization technique that helped individuals with cancer and other tumors to contribute to their own healing. Since then, many other self-healing visualization techniques have been developed. This system constitutes visualizing nerve relaxing imageries such as beautiful and peaceful places—a beach, a placid lake, a garden full of blossoms or chirping birds in boughs.

One such visualization technique—the `Wave Imagery`—innovated by Phyllis Krystal, tells you how to `ride` the waves, bringing you relaxation in just a minute.

For example, imagine you are on a beach. Lying on the warm sands. The waves are rolling in and each one draws closer and closer … then the waves start to wash over your body before they ebb out. As each wave falls away from you and returns into the sea, your tension, anxiety and stress are washed away in the process. With each wave you feel a little more relaxed.

Visualizations have been practiced under the guidance of experts to reduce and control pain, lower blood pressure, cure phobias and even turn average athletes into good ones. Research shows that visualizing yourself making a perfect golf swing or surfing successfully on high waves actually increases your ability to do what you visualize. Jack Nicholas, the champion golfer, once said that he never took a shot until he had visualized a perfect putt.

In his best-seller Love, Medicine, and Miracles, Dr. Bernie Siegel put forward some uniquely positive, spiritual and creative visualizations to cope with stress.

1. Pray
2. Leave your troubles to God …and enter God`s country.
3. Know there are correct mistakes, positive disintegrations and happy depressions.
4. Know that something good will come out of this.
5. Imagine the worst thing that could happen and keep it up until it is absurd and leads to laughter.
6. If everything you worry about happens, start worrying about being healthy and free of anxiety and stress.
7. If all else fails, imagine going to a doctor and receiving a prescription for tranquilizers.

Creative Visualization for Children

Dr. Thomas D. Yarnell, American clinical psychologist, has created three short visualizations for children 6 years to 14 years old. These methods effectively help children build self-esteem and self-confidence, learn self-control and release their anger and fear, positively. They could become better behaved, better students, happier and healthier.

According to Dr Yarnell, The Rainbow Visualization is designed to build a child`s self-esteem and self-confidence in many different areas.

The Tree Visualization is designed to help a child become grounded and become less hyperactive and more in control of his own behavior. Children with ADHD problems respond well to this visualization.The Waterfall Visualization is designed to help a child get rid of negative feelings such as fear anger, anxiety, resentment, jealousy and depression.

CRANIOSACRAL BALANCING

It is understood that human body is immensely complex and requires enormous amount of internal organization for its smooth functioning. Craniosacral therapy is a subtle and profound healing form, which aims at organizing the body`s inherent life force and the natural intelligence of the body.

It helps nurture the auto-functioning principles, increasing vitality and well being. The healing effect not only brings about structural changes in the body, but also improves management of self at the mental and emotional levels.

Dr. William Sutherland, an American osteopath, had discovered intrinsic movements of the bones of the skull as well as different rhythmic tidal motions in the body. It became apparent through research that these movements are inextricably linked with not only physical health but also mental and emotional health. This life-function is respected in craniosacral therapy, which address health issues such as physical aches and pains, acute and chronic diseases, and emotional or psychological disturbances. Dr. John Upledger developed this method during 1970s, emphasizing on somato-emotional release in patients, especially at clinically critical stages.

It is increasingly used for treatment used for treatment of many stress-induced disorders throughout the world. The therapy can be profoundly relaxing, exhilarating and effective. Sessions are usually as short as 40 - 60 minutes in total. Some of the stress related disorders managed by craniosacral therapy is as follows:

• Back Pain
• Migraine
• Post-operative pain and strain
• Colic
• PMS
•Depression
• Drug withdrawal
• Exhaustion
• Frozen shoulder
• Hormonal imbalances
• Hyperactivity
• Immune system disorders
• Fall or injury
• Sciatica
• Sports injuries
• Stress related illnesses
•Visual disturbances
In the words of Dr. Upledger, "in specific types of depression, Craniosacral Therapy is probably the most effective treatment available. In others, when combined with Somato- Emotional Release, Therapeutic Imagery and Dialogue, the results are good".

The balancing therapy can treat and manage PMS as well as important glandular functions. In most cases it can lead the patient toward total eradication of this problem. Craniosacral Therapy can help the pelvic organs to function more efficiently improving the function of the endocrine system - in this case the pituitary, adrenal and ovarian glands.

Neurolinguistic programing (NLP)

Neurolinguistic programing provides us with a blueprint of reality that shows how others have positively responded to similar stressful situations that we are facing at present. This lets us understand about practical life-situations and how it can be successfully handled. We see the differences in approaches and make conscious efforts to change our attitudes to stressors. Practice of NLP gives us occasion to grow out of our limited capability to face life positively. When encountered with stress or depression, many of us have and applied these principles in our life without even realizing it came from NLP.

`Neuro` refers to the neural network that feeds information to the brain. Neurons or nerve cells are the working units used by the nervous system to receive, store and send signals. `Linguistics` is about the content (verbal and non-verbal) that moves across and through these networks. Through `programming` stored content or signal is manipulated by brain to convert them into useful information. The brain may direct the signal, sequence it, or change it based on our prior experiences, or connect it to some other experience we have stored in our brain to convert it into thinking patterns, and behaviors.

What It Does

• NLP is increasingly used in the therapeutic spheres to bring about mind-body healing, attitude change and personal growth.
• It provides the tools that enable a connection between self and others.
• Many of NLP`s tools and applications are widely used in business, management, education, and sports training as effective measures to manage/cure stress, depression and complex personality problems.
• NLP can increase the quality and effectiveness of our relationships, beginning with our personal and intimate relationships to our professional lives.

How It Works

NLP uses our self-image and attitude towards illness to effect change and promote healing in us. It relies heavily on the human sense of hope. When a person loses hope and feels helpless in the face of supposedly incurable diseases such as AIDS or cancer, the body just `quits trying`. If the patient is made aware of his or her inner abilities and what it can accomplish, he or she may see things differently and encourage the body to not to `give in`. In the process the body`s natural healing power may get activated again.

NLP is based on many useful presuppositions supporting the attitude that change in a situation is very much possible. NLP believes flexibility in thinking and not rigidity, is the key element in a stress response. The one, who is most likely to survive a stress, responds positively to changing (or unchanging) circumstances. If what you`re doing isn`t working, try something else, regardless of whether the new method would work for you or not. You may find something else, which has worked for some other person. It is about never losing hope.

Some of the presuppositions or assumptions practiced under NLP are:
1. Communication is more than what you are saying.
2. No one is wrong or broken.
3. People already have all the resources they need.
4. Behind every behavior is a positive intention.
5. Every behavior is useful in some context.
6. The meaning of a communication is the response you get.
7. If you aren`t getting the response you want, try something different.
8. There is no such thing as failure. There is only feedback.
9. Choice is better than no choice.
10. In any system, the element with the most flexibility exerts the most influence.
11. The map is not the territory.
12. If someone can do something, anyone can learn it.
13. You cannot fail to communicate.Apart from these presuppositions other techniques such as Meta model, Sensory acuity, Milton model, System representation and Sub modalities are available to NLP therapists.


MORE ON STRESS
Stress
The word `stress` is defined by the Oxford Dictionary as "a state of affair involving demand on physical or mental energy". A condition or circumstance (not always adverse), which can disturb the
More....
Stress Management
Self Help
Causes of Stress
Effects of Stress
Spiritual and Psychological Stress
Anxiety In Children
Gender Stress
Stress And Health
Symptoms Of Depression
Stress At Work
Social Anxiety And Stress
Spiritual and Mental Health
Naturopathy
Medication And Drugs
LifeStyle and Time Management Skills
Relaxation Techniques
Stress Management Techniques
Alternative Stress Management
Related Links
Holisticonline
The International Stress Management Association UK
Undoing Stress
Stress Management and Emotional Wellness Page
Mindtools
Directory of Stress Management Resources
Stress Management
Stress Free NET
Stresscure
Stress Education Center
Futurehealth
Stress, Coping and Balance
Information on Anxiety disorders
Stress Disorder