Corporate Management - Look for good in yourself
by Nilima Pathak
Dr Bindeshwar Pathak, Founder, Sulabh International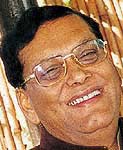 In spirituality lies the essence of happiness," says Dr Bindeshwar Pathak, founder of Sulabh International Social Service Organization, considered one of the biggest NGOs in India and a pioneer in low-cost sanitation. In 1969 Dr Pathak was entrusted a special job by a committee set up during the Gandhi centenary celebrations in Patna, India. The committee aimed to liberate scavengers. Fascinated by the idea, he read literature on public health and hygiene, including books on disposal of night soil in rural areas. The committee failed to make an impact. But Pathak did. He resigned from the committee and designed a flush toilet, which functioned without being connected to the sewerage system. This was the beginning of Sulabh Shauchalaya.

Dr Pathak has since been honored with Padma Bhushan, the International Saint Francis Prize for the Environment, the NRI Gold Award and the most recent Dubai International Award for Best Practices to Improve the Living Environment 2000.

Says he: "Life cannot be happy and fulfilling without spirituality. Whoever is spiritual will think differently from a non-spiritual person. And depending on the line of thought a person follows, the fruits are borne accordingly. It's God who decides life for us as we are mere pawns in his hands."

But he cautions: "It's important to note that spirituality and religion are two different things. And combining them can be disastrous." Citing an example, he states: "(Lord) Rama exercised his powers with spirituality and bhakti (faith) and vanquished Ravana(epic character in the Ramayana) . But Ravana, although an extremely religious person, combined his powers with ego and that was his undoing."

Born into an upper-caste family in Bihar,India, Dr Pathak makes a rueful observation: "The sad fact is that a newborn child is tied into three bonds-religion, caste and thought. And on growing up it's difficult for him to come out of any of these. But whoever does, is a great man. And in a sense becomes one with God."

He recalls an incident when he had gone to the Somnath temple and tears rolled down his cheeks for several minutes. "I had lost myself in God. And a similar incident occurred at home. One can't express these experiences in words."

Dr Pathak is a keen observer. "In life I have learnt a lot by what I read or from people I meet and interact with," he says. But no, he's never followed a guru. "We look for God in others but not in our own self. As for me, I do introspection and that's the main aim of being spiritual."

Although he watches television programs of Asaram Bapu and Dada Vaswani, Dr Pathak finds Osho very convincing. "I am impressed by his thoughts and sayings. For instance, he says, the body has mind, mind has intellect and in intellect is enlightenment (chaitanya). Toh jiski chetna jaag jaati hai, woh insaan hi duniya ko dekh aur bhog sakta hai. Aur woh hi bhagwan ko prapt kar sakta hai (Only he who has been enlightened can realize life and God). How philosophical!" he comments.

As far as Sulabh is concerned, sanitation has been treated as dharma. "Dharma means vishwas (belief)," he opines. "Sanitation is our religion and human development is thought of as karma and spirituality. I believe that whatever we are doing in this birth will be paid for in the next. What we all are going through is of the past birth. In our organization we have a system of a morning prayer."

The best teaching, he feels, is to create sensitivity and sensibility in a person.

Dr Pathak is credited with introducing the idea of obtaining bio—gas from human excreta. Despite heavy odds, he set up the first bio—gas plant in Patna, India, in 1982, after six years of research. Today, more than 60 bio—gas plants are operational in Bihar, Uttar Pradesh, Gujarat and other states in India. "Lack of sanitation and hygiene is a national health hazard. And it should be tackled on a war footing. The subject of toilets is much more important than any other social challenge."

A quiet reformer, he believes "it's a misconception that business and ethics can't go together. Right from the inception if you decide that you will not use unfair means, your business will flourish and whatever the hardships, you'll overcome them. But if the foundation is laid on dishonesty and distrust, no business can survive for long. But money certainly can't buy peace or happiness".

In his pursuits and ambitions, the crusader under went hardships but remained positive. "Whenever you feel something is not going in your favor, you feel unhappy. The first rule is to go back from where you began. You'll find you were better off. Go through your achievement list. You'll feel better and positive. Whoever sees that remains happy but if you try to go beyond your means, you'll feel melancholic. Moreover, trust in God minimizes sufferings. If burdens are left to Him, they are taken care of." Continues Dr Pathak: "Contentment is also a feeling. Who's unhappy on what front who knows? Difficulties after all are not just related to oneself. Your work and family are as much a part. It may not be your creation, but since it's related, it affects you. But don't let negative thoughts come in. And when they do, faith in spirituality helps. I can't say I'm an extremely happy person. But yes, I try to remain happy and content."

Reader's Comments


Subject: on bindeshwar pathak - 15 April 2011
I HAVE TRUST BINDESHWAR SIR WILL ERADICATE MANUAL SCAVENGING IN INDIA AND ALSO WILL PLAY THE MAJOR ROLE IN REHABILITATION OF THIS COMMUNITY
by: AMARDEEP KUMAR