Corporate Management - Core values count
by Clifford Sawhney
Ravi Bhoothalingam,President, The Oberoi Group

The Oberoi Dharma
We, as members of the Oberoi Organisation, are committed to display through our behaviour and actions the following CONDUCT which applies to all aspects of our Business:
CONDUCT which is
More >>
---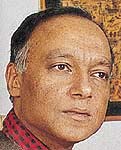 The first thing that comes across on meeting Ravi Bhoothalingam is his totally unassuming nature. Enter his prim, proper and spacious cabin and you're inundated with a nostalgic old-world charm. On the walls are half-a-dozen framed sketches of Mumbai, India, and other cities of yore. As the man speaks, the baritone leaves a lasting impression.

The 54-year-old President of the Oberoi Group does not subscribe to run-of-the-mill tenets on spirituality: "I look at spirituality in terms of adopting the right values and the right conduct and transmitting these to others to the best of my ability."

Neither of his parents was a great believer in rituals and young Bhoothalingam realized that what counted were the basic values and traditions of our rich culture. This valued-based foundation was buttressed by his mother, Mathuram (now 85), a well-known writer on philosophy and mythology, who writes in Tamil as well as English.

Influenced by the teachings of Sri Sri Ravishankar , he has attended the Art of Living workshop, which has been of great help personally as well as professionally. Despite a hectic schedule that comes with being a part of the hospitality industry, Bhoothalingam makes time for his daily 45-minute walk, usually in the mornings. Besides staying fighting fit, this helps him handle the stresses and strains of an industry veteran's life. His other stress-busting techniques are mantras and meditation coupled with proper breathing techniques. "It's been three years since I'm practising meditation. Meditation brings down stress levels, improves balance and provides calmness to the mind," he avers.

He believes it is important to handle stress at the primary level through proper communication. This can be done by letting others know the exact issue that is bothering you. He practices this precept freely with his wife and two children. In his words: "Honest communication is a great tool in family bonding and a quick problem solver that helps one view a problem from different perspectives."

A journey to Kailash and Mansarover in August 2000 has etched an indelible impression on his mind. "The journey was through a lesser-traveled route across the Tibetan Plateau from Lhasa to Kailash-Mansarover," he reminisces.

It was a rediscovery of the sheer beauty of nature's bounty and the awe-inspiring spectacle of Tibet's night sky. The stunning landscapes stretching endlessly mile after mile, the plethora of lakes sprinkled across the plateau, the kaleidoscopic hues and surreal quality of the atmospheric lights, the pin-drop silence and the sheer solitude of Tibet's countryside swamped all the senses of the pilgrims.

And the nights were no less awe-inspiring. For city-slickers habituated to the appearance of barely a few hundred stars in the night sky, they were now witness to millions of stars twinkling in their incessant glory-some seemingly winking at the incredulous looks of the earthlings! "An enormously humbling 'inner' experience, it was a rediscovery for every individual in the group about the true meaning of companionship, friendship and team spirit," smiles the nostalgic man.

The experience has left a positive impact on him: "Although the problems of life before and after this pilgrimage are just the same, my perspective towards these problems has changed for the better."

Fortunately for Bhoothalingam, the Oberoi Group too believes in promoting welfare and personal growth programmes. Towards this end the company organised two Art of Living (AOL) programmes for its staff, besides hiring a couple of the AOL instructors to conduct yoga and meditation. The employee response to these initiatives has been very positive. "There is increased awareness of how these programs can benefit a person in every aspect of existence. One cannot separate work life and home life in totality. An imbalance in one causes an imbalance in the other," Bhoothalingam explains.

The Oberoi Group has very strong founding values instilled by Rai Bahadur M.S. Oberoi, now 102. On turning 100, a journalist had asked Rai Bahadur the secret of his success. His response was enlightening: "The idea was never merely to make money. The compulsion was to think big, offer the best and let it happen. The profits would automatically come in."

Bhoothalingam believes that business and spirituality can coexist, when spirituality per se connotes certain healthy values, not dogmatic rituals. Adopting an ethical approach in one's daily life helps in thinking through conflicts of any kind and in finding win-win solutions: "A sense of ethics allows one to tackle problems with the right attitude."

To put these ethical precepts into practice, five years ago the Group put down a statement of corporate ethics and values. Initially titled the Oberoi Code of Conduct, it was rechristened The Oberoi Dharma when a manager from Belgium observed that the Japanese have their own code of conduct popularized through Japanese concepts. The Oberoi being an Indian company, why not have Indian nomenclature for their code? The Oberoi Dharma emphasizes conduct that fosters intellectual, financial and moral integrity, promotes team spirit.

Bhoothalingam believes that value education in schools is critical. Infusing these values during the late teens or in adulthood is very difficult. Therefore, the school and the family play an indispensable role during a child's formative years. However, are we making sincere efforts in this regard? "And," says Bhoothalingam, "I'm talking about value education, not religious education." For one can be honest, yet not religious. Or one can be religious, yet dishonest. Following the right role models makes all the difference.