Corporate Management - Healing drive
by Sharmila Chand
Sushil Gupta, Managing Director, Asian Hotels Ltd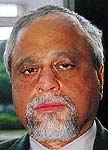 A successful hotelier, pranic healer, active Rotarian, sensitive social worker, environmentalist and keen golfer... Sushil Gupta is all this and a lot more. A multi-faceted personality, he finds time for everything he wants to do. Currently, he has been imparting a healing touch to his patients as a pranic healer. Gupta was drawn to this system when a practitioner relieved him of his blood pressure and its consequent tension a couple of years ago. "My interest in pranic healing developed and I subsequently went to Manila to meet the Master, Choa Kok Sui," he reveals.

As chairman of the Pranic Healing Foundation of Delhi, Gupta finds immense satisfaction in treating people: he reserves an hour each for healing in the evening on Tuesdays and Fridays. "I do not say that pranic healing is a complete panacea. It is more suited to ailments like asthma, backache and psychosomatic diseases, which defy conventional treatment… It is not a replacement for orthodox medicine, but is complementary to it."

In pranic healing, one is able to diagnose the root of the disease by observing the aura and chakras of the patient. All organs are connected with one chakra or the other. The disease occurs in the aura, or the pranic body first, and then manifests itself in the physical body. And if the pranic body is treated, the effect automatically goes to the physical body, thereby healing the person of his/her ailment.

Gupta finds that pranic healing has helped him in his work too. Besides helping in inter-personal relations, in grasping management issues better and in improving intuition, it is the best management mantra for this successful hotelier. Above all, it helps in keeping the ethics of the trade intact and that's what ultimately counts.

"Today my word carries weight because no one doubts my credibility," he says. From his wealth of experience, here are some stress management tips:

• Don't expect anything from anybody and you will be happy.
• Do not harm anybody.
• Be ethical, be truthful.
• Let your day pass, then just forget about it when you go to sleep.
• Be positive in your approach.

With these simple measures, life certainly can have that ray of hope we are all looking forward to. After all hopes and dreams weave a real meaning to life!