Dada Gawand - Metamorphosis
by Prem Nirmal
Prem Nirmal expresses gratitude to his spiritual mentor, Sri Dada Gavand for his spiritual transformation

Download PDF Format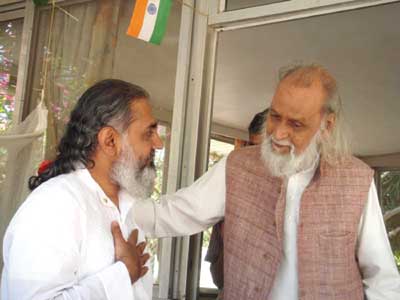 Prem Nirmal with his guru, Dada Gavand Love's capacity to transform is experienced at its peak in a master-disciple relationship. I met my spiritual mentor, Sri Dada Gavand, in May 1992, and it was love at first sight. A tall, lean personality in spotless white dress, with long hair and flowing white beard, with deeply piercing eyes and very sensitive hands was in front of my camera, and my mind almost stopped functioning in his energy field. At that time, I was keenly interested in spiritual growth, and here was a master who had time to answer all my questions, and clear all my doubts. He showed me the way of spiritual growth through 'watchful attentiveness.' It took me some time to practice what he taught me, and soon I was deeply into it.

It was the evening of July 13, 1993. I was pondering over an insightful paragraph from his book, Towards the Unknown, which sent me into meditation. During the silent period, the watchfulness of the moment was extremely sharp.
| | | |
| --- | --- | --- |
| | | |
| | I noticed all the sounds more clearly and attentively. A new kind of profound awareness was present | |
| | | |
I noticed all the sounds more clearly and attentively. A new kind of profound awareness was present. In that state, one felt the sound of rain lashing the earth. With the onset of rain the sounds of chirping birds and children playing in the basement disappeared. In that sudden silence, exploded a new kind of vibrancy. It was so intense and overwhelming that it engulfed my entire personality.
I felt a new surge of energy that washed away the faintest residual thought, and nothing could sustain in that vibrancy. It was a kind of flux, intense and powerful. The flames were ablaze to engulf ego-mind-personality completely. Nothing existed, except the very dynamicity of that energy in the moment that was felt inside, around, and everywhere without any boundary. In those moments, the quality called godliness pervaded all over and there was no one to observe or witness it, just pure awareness! With it, I felt a new kind of health all over the body. This kind of healthy state of body I had never experienced before. It was like drinking the water from the very fountain of life, quenching the thirst completely. The outside work and life continued as usual, but the inner world had been transformed. The struggle with thought had ended. The questions dissolved. Meditation was happening, and I felt the 'vibrant silence' many times. Unconditional love is the outcome of such a spiritual happening.
My heart is full of gratitude to Sri Dada Gavand, for holding my hand in a space of love and acceptance, at a time when I needed it the most.
See more articles on Love :
http://www.lifepositive.com/Articles/Love