Jaggi Vasudev - Modern life and the mystic
by Parthiv N Parekh
In an interview with Parthiv N. Parekh, master, mystic, and humanitarian Sadhguru Jaggi Vasudev talks on job loss, gender equality, parenting, politics, and pessimism.

Download PDF Format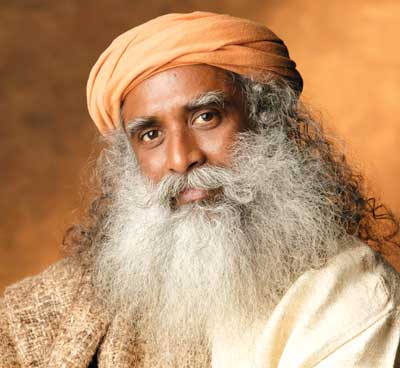 He hobnobs with chief ministers and CEOs of global corporations; has been invited to speak at international forums such as the World Economic Forum in Davos, Switzerland; and has been cited amongst the 50 most powerful Indians by India Today magazine. He plays a mean game of golf, flies helicopters, rides motorbikes, and drives fast cars.

But Sadhguru Jaggi Vasudev seems most in his element when working towards raising the consciousness of the masses – such as at last year's Anand Alai ("A Wave of Bliss") event in Chennai, India, which attracted 150,000 people, from housewives and business executives to farmers and film stars.

The sheer range of his activities and accomplishments in the area of his mission of elevating consciousness and human well-being is staggering. In the realm of personal spirituality, he has touched over seven million people across six continents over 30 years. Environmentally, Project Green Hands, an undertaking of his Isha Foundation, set a Guinness World Record for planting over 800,000 saplings in a single day across 27 districts of the state of Tamil Nadu. The Foundation's Action for Rural Rejuvenation wing, through its rural health clinics and mobile health clinics, serves over 4,200 villages and a population of over seven million people by providing timely medical care to people who would otherwise not have access due to financial constraints or the remoteness of the region.

Following are excerpts from an interview with him at his 1,200-acre US ashram in the Cumberland Plateau region of Tennessee:

In today's economy, too many people have faced the ugly reality of being unemployed. What advice might you have for them?

Do you agree that right now this is the best-fed generation on the planet?

Yes.

So, if this is the best-fed generation, you are not talking about bread. You're talking about butter, cream and dessert. A little less butter is good for you. Even your doctors are telling you that. I'm not making fun of the struggles people are going through right now. But I want you to understand that humanity is constantly raising the bar of survival. Individual human beings and societies are struggling for survival no matter how much they have. No higher pursuits of life will happen in such societies. An individual will have to pursue his calling, whatever is his passion, whatever really means something to him, what truly matters to him. He can't just go on increasing the scale of survival. Every human being has some kind of genius about himself, which largely remains unexplored in most human beings because they're mostly concerned about their own survival…

… In our educational systems, in our social circumstances, we need to develop the idea that money is not the highest value in our life; it's a useful thing. It does not decide who a human being is. If those values are not brought into the social structure, into the family structure, and above all into the psychological structure of the human being, we may be the richest nation but we will always live like beggars hankering for something.

What are your thoughts about the role of women in the workplace compared to being a full-time homemaker, and about gender equality in general?

It all depends on how you understand the word "equality." If you think equality means sameness, then it's cruel for both man and woman. If they both become the same, then you'll wonder why the other gender. They're different, and that's why it's valuable.

Equality is about equal opportunity, not levelling everybody to one level. Instead of talking about gender equality, if you talk about humanity, gender equality would naturally happen without talking about it. The person that you love can never be equal to you. That person will always be above you. And that's how it should be. You must hold her above you and she must hold you above her. If both of you sit down and start a civil debate about who is equal to whom, then you'll come to some paper that you can sign, but the fundamental reason why you have come together will be destroyed.

And about homemaker... our values have become totally monetary, and we think whoever has the most money is the biggest man. Naturally the woman also thinks she must make as much money as the man is making; otherwise she is not equal to him. There are certain biological responsibilities of manufacturing the next generation of people which she wouldn't want to do, naturally, because it will set her back in the race. I think that's an unfair thing, both for humanity as a whole and particularly to a woman that she cannot go through whatever her fundamental needs are, simply because we have set an artificial goal that she has to earn so much to be somebody in society.

Followers cheer as Sadguru shows the righteous path Why is it you think that somebody who goes out and earns some money has a bigger job than keeping the home, raising the children, in a way creating the future generations of the planet? Why is that a lesser responsibility and of lesser credibility than making a few bucks in the marketplace? Those values have to change. Then naturally these things will fall into place.

Thanks to technology, the pace of change has gone up dramatically. This, coupled with a historic economic crisis around the world, environmental deterioration, and social changes such as children no longer playing in neighbourhoods, have all added up to an increase in pessimism about the future. Please comment.

Children are not playing in the neighbourhood because they are playing across galaxies. (Laughs). They are not fighting with the neighbourhood boy, they're fighting with intergalactic enemies! About the historic economic crisis, I don't think so. Except for a certain percentage, is it true that as a generation of people we're eating better than any other generation? Maybe not the healthiest, but more choice and more quantity. Are we dressing better? Travelling better? In more comfort? Then why do you say "historic economic crisis"? There is no historic crisis. There is a historic well-being. Never before have people experienced such well-being. Okay?

Technology is a tool which has greatly enhanced many capabilities that we have. We can walk. We're already capable of locomotion. But now you came up with a motorcycle, car, airplane. We're already able to speak, but now we have a phone to talk [across distance]. So is this a problem? Definitely it shouldn't be a problem. But now people have an immense capability to make a problem out of everything. You give them any blessing, they can make a curse out of it. Whatever boons you give them, they will make suffering out of it.

This is because they have not tended to the most sophisticated technology that has been given to them in the first place, which is the human mechanism. Because you never explored this, that seems to be freaking your life out. If you had explored this, you would use that gracefully to the extent it is necessary, to facilitate your life, not to destroy your life.

Can you give some insights on good parenting?

If you say something to your child and he doesn't believe you, what does it mean? It means you've not earned that credibility. So if parents believe that children should listen to them, first thing is that they must earn that credibility. Credibility is not going to come by enforcing authority. It has to be earned. I'm always trying to leave the choices of life, the small things and big things, to my daughter. But she keeps coming back to me and saying, "You tell me what I should do, and I'll do that." You must earn that credibility. The moment you ask for credibility you become a fake. When you demand respect, you become a fake. You cannot earn it any other way than by being a credible person in every possible way.

Don't be bothered about parenting. Just be concerned about how this one (pointing inwards) should be. You work on this. You think you have to work on your children. You are the one who needs to be fixed. You work on this one constantly—this one will become credible.

But if people start revering authority, they become slaves. So nobody should revere authority. Authority should not conduct competence. Competence should be the authority, shouldn't it? So if your child is more competent, than you let him be the authority.

What is your advice to those who don't know whether to shun or embrace technology?

Technology is available; you use it to the extent it's relevant for your life. The problem is just this – you don't know how to deal with yourself. You don't know how to deal with your body; you don't know how to deal with your mind, deal with your emotions, deal with your chemistry. You don't know how to deal with anything that's you. So you're trying to complain about everything that's around you.

How can one learn to be spiritual on a sustained basis in such a material environment?



Parthiv N. Parekh is the
editor-in-chief of Khabar,
an award-winning magazine
based in Atlanta, USA. Such a question comes up only because spirituality (to you) is some unpalatable rubbish that you have to eat. If it was the sweetest thing, this question wouldn't come, isn't it? Right now my work is only this—not to tell you to take on to the spiritual process because it's the greatest thing to do. No, (take on spirituality) because it's the most beautiful thing in your experience. So you'll naturally do it. In your experience, if it's the sweetest thing that's happening, would you sit and email or meditate? You'll email to the extent that it's necessary for your work and the rest of the time you'll meditate, isn't it?

A few generations back, American philosopher Henry David Thoreau expressed his belief that most men live lives of quiet desperation. Many would agree that human life is too hard and at times simply overwhelming in its complexity and challenges. Do you feel the Creator overestimated the capacity of humans to deal with life?

(Laughs). See, nothing is overwhelming here, except the stuff that you have created. The suffering is not because of this or that. The suffering is just your inability to handle yourself. You do not know how to handle yourself. So first learn that. That's why I said, first do inner engineering, then you'll enjoy all the outer engineering very much..

Can you recommend one overriding magic bullet that one can make a part of his or her life to steadily grow in the direction of ultimate well-being?

We're offering a very simple process called Isha Kriya free of cost. In India we distributed over 12 million DVDs in various cities. In the United States we have made it available on the net for free. You can go on it and meditate everyday for 12 minutes a day. And it will set you on the path. Some day when you're ready for more you can do more. Till then you can do at least this much. It's called Isha Kriya and being propagated as Be, Breathe and Blossom. This is something everybody can do.

See more articles on Sadhguru Jaggi Vasudev : http://www.lifepositive.com/Articles/JaggiVasudev