Seeking - Mata Anastasia
by Chitra Jha
Russian anchorite Anastasia's charged wisdom is contained in books authored by Vladmir Megre that are engineering a seminal spiritual shift across the world, says Chitra Jha

Download PDF Format
I first heard of Anastasia in February last year, when one of my teachers, Dr Newton, said, "If you don't read any other book ever, but just read Anastasia, you will be blessed." His categorical statement intrigued me. The name Anastasia also reminded me of the sad story of the youngest daughter of the last Tsar of imperial Russia. I was further intrigued when I learnt that the name Anastasia means 'resurrection', and resurrection is my latest obsessive passion.

Soon I learnt more about Anastasia, which is not only the name of the central character but also the title of the first book in an ongoing series of 10 books published so far, known as The Ringing Cedars Series. These books have been written in Russian by Vladimir Megre, from 1995 onwards and translated into English by John Woodsworth from 2004 onwards.

As I opened the first page of the first book, I understood the meaning of Dr Newton's words. Anastasia herself has stated that these books contain words and phrases in combinations which have a beneficial uplifting effect on the reader, especially if the books are read in natural surroundings. Since I live in the midst of nature, my love affair with Anastasia started in the full bloom of Kashmir's spring in March 2011, and continues well into its icy winters, as I absorb her essence through her seventh book, titled, The Energy of Life.

Star Trek meets Bible

It's not very easy to describe these books that tell the story of an unusual person in a most entertaining way, bringing out the multifaceted characters of both the author and his muse, and yet carry elements of a documentary, narrating real-life events that stretch a reader's imagination to unimaginable limits. John Woodsworth, the translator, has described them as 'Star Trek meets the Bible' which kind of sums up the essence of this work.

The story begins in the spring of 1994 when Vladimir Megre charters three river boats to carry out a three-month expedition on the River Ob in Siberia, to foster economic ties with Russia's far northern regions.
| | | |
| --- | --- | --- |
| | | |
| | Anastasia lives in the wilderness without warm clothes, cultivated food or man-made shelter. She survives on fresh pollen-laden air, fruits, nuts, berries and mushrooms, brought to her by wild animals with whom she lives in harmony | |
| | | |
There he meets two unusual men who speak about mysterious 'ringing' cedar trees that accumulate so much cosmic energy over the course of hundreds of years, through their pine needles, that they begin to audibly vibrate, creating a 'ringing' sound. Vladimir dismisses their story as far-fetched but it remains so etched in his entrepreneur mind that in 1995 he sets out in his quest for these trees.
At a riverside stop he is greeted by a young woman named Anastasia who leads him deep into the Siberian Taiga saying that she knows the exact location of the ringing trees. Megre stays in the forest for three days, during which he is led into a completely amazing world of unbelievable revelations about man's relationship with nature, universe and God. Megre feels so compelled by the display of Anastasia's astounding powers, knowledge and wisdom that he abandons his river trading business in order to document and share these teachings with the world. During subsequent visits Anastasia also reveals her philosophy regarding lifestyle, education, nutrition, spirituality, love, family, sacred sex, parenting, altered states of consciousness and life on other planets. These teachings form the basis of the
Ringing Cedars
series written over a period of 14 years (the latest book was published in Russian in March 2010).
A master is born
According to Vladimir Megre, Anastasia was born in 1969 in the wilderness of Siberian forests. Both her parents died in a bizarre forest accident shortly after her birth, so she grew up fending for herself, watched over by her grandfather, and great-grandfather (the two men whom Vladimir met in 1994) and wild animals. The pristine, natural, and isolated environment helped Anastasia develop skills and knowledge that is 'unknown' in the modern world, but finds a parallel in the stories of Indian yogis, rishis and munis. Anastasia herself claims to be a surviving member of an ancient Vedic civilization known as 'Ved-russ'.
She lives in the wilderness without warm clothes, cultivated food or man-made shelter. She survives on fresh pollen-laden air, fruits, nuts, berries and mushrooms, brought to her by wild animals with whom she lives in peaceful harmony. And yet, she is completely conversant with the contemporary modern way of life as she can view it from a distance.

The Ringing Cedar series by Vladimir Megre: a wealth of wisdom
Anastasia stuns her readers with her highly developed unusual psychic, mental and physical powers that include distant healing, remote viewing, mind reading, access to long forgotten knowledge of past events, perfect physical health, and use of mental imagery to create future events. For example, Anastasia had told Megre that she would encode her words with an energy that would make his books sell in millions. Megre didn't believe her at first because he was not a professional writer, but this is exactly what happened. (In fact, each subsequent book offers documentary proof of previous utterances coming true with almost flawless accuracy.) The best part is that Anastasia not only believes that all her powers are innate in all human beings, but also reveals how to develop these powers, if one desires to do so.
She proposes self-reliant living, close to nature, in a space of love, which provides physical sustenance and spiritual fulfillment. She advocates living in communities that combine ecological principles with traditional family values.
| | | |
| --- | --- | --- |
| | | |
| | Anastasia stuns her readers with her highly developed psychic, mental and physical powers that include distant healing, remote viewing, mind reading, access to past events and perfect health | |
| | | |
In the past decade or so, her books have become a basis for the 'back to land' movement not only in Russia but many other parts of the world as well.
Anastasia may not be a Russian imperial princess but she definitely rules people's imagination. She may well be the harbinger of the 'great resurrection' of Russia as prophesied by Edgar Cayce in early 20th century.
Here is a small sample of Anastasia's wisdom:-
Seed as physician
Every seed we plant contains within itself an enormous amount of information about the universe. Nothing man-made can compare with this information either in size or accuracy. With the help of this data, the seed knows exactly when it is to come alive and grow; what nutrients to take from the earth, how to use the rays of sun, moon and stars, and what fruit to bring forth. These fruits are designed to sustain life.
More powerful and effective than any manufactured drug of present or future, this produce can counteract any disease of the human body, provided the seed 'knows' about the human condition.
In order for a seed to have that information (any seed of cucumber, tomato or any other plant grown in your garden would do), follow these steps:
• Stand barefoot on the spot of earth where you plan to plant the seeds.
• Put one or more seeds in your mouth, under your tongue, for at least nine minutes. (make sure that these seeds have not been treated with chemicals)
• Then take them out of your mouth and hold between the palms of your hand for about thirty seconds.
• Open your hands and blow lightly on the seeds, warming them with your breath.
• Now the seed knows everything that is within you
• Keep the seeds in your hands for another 30 seconds presenting them to all celestial bodies around you.
• This will make each seed determine the moment of its awakening. The planets will help in this process.
• Now plant the seed in the soil but do not water it for three days, so as not to wash off the saliva covering it.
• When planting seedlings, soften the dirt with your fingers and toes and spit into the hole before planting. Perspiration of hands and feet contains information about bodily diseases which can be absorbed by the seedling.
• Planting must be done on days appropriate to each vegetable according to the lunar calendar.
• Do not pull up all the weeds growing in the vicinity of the sprouts. At least one of each kind should be left in place. Weeds have their own appointed functions. Some protect the plant from diseases while some give additional information.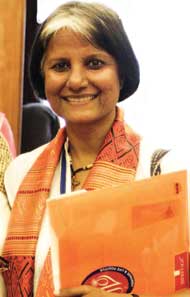 Chitra Jha is a life skills coach,
corporate trainer and verbal
ability instructor.
• The seed will take in information of the person who plants it and pick up appropriate blend of energies from the universe and the earth, needed by this person.
• During a plant's lifetime it is important to communicate with it as often as possible. It is desirable to touch it during the full moon
• Walk around the plot barefoot from time to time.
• The produce cultivated in this manner and con sumed by the individual, who cultivated it, can cure him of all diseases, significantly retard the agin process, rescue him from harmful habits, increase his mental abilities and give him a sense of peace.
• The produce will be most effective if consumed within three days of harvesting it.
• The produce thus grown will be different from other fruits of the same species not only in taste but also in terms of substances it contains.
• Any vegetable or fruit can be grown in this manner with the same efficacy.
• The important thing is to infuse your garden with information about you.
• When you make connection with the plants growing in your garden plot they will take care of you and cure you, making the right diagnosis and prepare the most effective medicine especially designed for you.
• In order to create a full energy micro climate in a vegetable garden plant at least one sun flower and a one square metre patch of some cereal; also leave two square metres of land for wild grasses and herbs.
See more articles on Seeking :
http://www.lifepositive.com/Articles/Seeking
Reader's Comments
Subject:
Ringing cedar series - ordering
- 8 October 2012
Hi Chitra Thanks for your reply. I have been to their official website (http://www.ringingcedarsofrussia.org/store.php?id=listof_1rcr&warehouseLocation=dflt&userlang=English) They have only 3 books of the series in English, and not the complete set. Can you direct me to which websi
More...
by:
sonal
Chitra Jha replies: -8 October 2012
This is the very website I was referring to......perhaps they have run out of the stock....:)
Subject:
where can I order the complete set
- 8 October 2012
Hi Chitra I've read Book 1 and I wish to read the complete set. Can you let me know from where I can get the complete set? Flipkart only sells the books individually. Thanks
by:
sonal
Chitra Jha replies: -8 October 2012
Sonal, please go to their website to order the complete set...All the best!
Subject:
Anastasia is Amazing
- 9 September 2012
Thanks for your input on Anastasia, I am on my 4th book already. I realize that all of the info I have read previously needs to be re-read again. She gives a fresh perspective of live, nature and God.... read it for yourself!
by:
Reuel
Chitra Jha replies: -9 September 2012
Thank you for re-affirming my faith Reuel.......I just LOVE her wisdom and so-so-so resonate with it......:))