June 2013
Enlightenment is your Birthright , Author: Deepa Kodikal, Published By: Viva Books, Pages : 223 pages, Paperback, Price : INR 395

---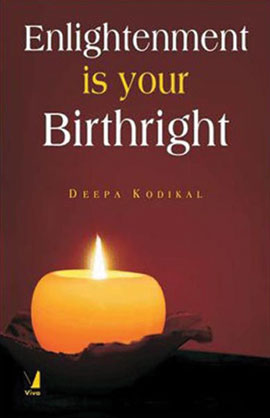 All the questions that have ever crossed your mind, whether you made them vocal or not, about karma, meditation, past-life regression, even God, in fact anything to do with enlightenment, have their answers here.
In a lovely question and answer format, Deepa Kodikal has answered profound questions in a simple, enlightened way, brimming with warmth and wisdom.
The true seeker shall find within its pages pathways to better understanding, roads to deeper searches and encounter insights that lead to spiritual shifts.
Kodikal draws on her own spiritual awakening and stresses the importance of ?experiencing? enlightenment. Her first book, the autobiographical, A journey within the self is about her experiences of ?nirvikalpa? samadhi ? a state of oneness with the Absolute, and she emerged from this state with the knowledge that enlightenment is the birthright of everyone. This book addresses this knowledge and is in response to the numerous questions that have been put across to her over the years.
Why is the mind said to be restless? What is a silent mind? What exactly is the Law of karma? What is the difference between ?seeing? and ?experiencing? in meditation? How does one conduct ?self-watch? Is it true that a truly enlightened person does not know that he is enlightened? How can one make this internal shift to less or no ego happen?
Questions like these, seeking to go inwards, will find resonance with all of us, whether we have started on our journey as true seekers yet, or not. These are questions that underlie our very life, our destiny as human beings. Kodikal answers them with calm presence, patience and above all, her answers ?ring true?. You know that she has been there, to a place that all of us yearn to experience.
So her sharing becomes a precious gift. Dip, dive or delve into the book. It has something for everyone. For it is bound to influence or impact you in some way, big or small.