September 2011
Craniosacral therapy, immensely popular in USA, is now gaining recognition in India. Irma Battig, a Swiss by birth, with 12 years of experience having trained with the best healers in USA, has recently set up shop in Mumbai, to help heal the most complex of head and spine-related illnesses, including migraines, backaches, and even depression.

---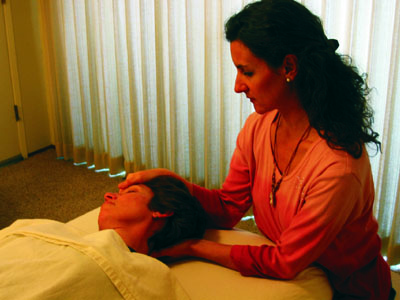 Irma in action
An offshoot of osteopathy, a recognised stream of medicine in USA, craniosacral therapy involves ?working with the bones of the cranium and the sacrum and balancing the forces in between with a more spiritual and emotional understanding,? according to Irma.
Besides subtly manipulating the bones of the cranium, it also involves tuning into the cerebro-spinal fluid that protects the brain, and travels to the spine, carrying essential nutrients and energy.
?Most patients find the massage relaxing. Some are blissful, some are all over the place and some have also reported out-of-body experiences,? says Irma, who chucked up a lucrative corporate career in communications in Switzerland, to honour her call for healing.
A visit to an osteopath in Switzerland, who first introduced her to craniosacral therapy, caused the shift to healing. A chance meeting and she ended up training with Hugh Milne, California, one of the biggest names in craniosacral therapy and then the Sacred Journey Institute in Illinois.
?Many individual bones make up the cranium. Though they are separated by the thickness of a carbon paper, a healer can magnify them to about a thousand times and then manipulate them. In many cases the bones are jammed as a result of a physical or a mental trauma, which I then assess with energy and intention to heal,? says the soft-spoken Irma.
At birth, the birth passage compresses the bones of the skull which usually return to normal. ?But the process may be affected in a C-section and cause immense trauma. We can therefore undo a lot of damage done then.?
A high point in her healing journey came when a Swiss man expected to die of cancer within six months, approached her. ?When I worked with his energies, I felt a lot of life force in him, which did not suggest that he would die soon. Within five-six sessions, he was completely cancer-free. He also improved his relationship with his boss, which had almost caused him to quit his job.?
In the first session, which lasts a couple of hours, Irma not only asks some pertinent questions, but also uses reiki, chakra balancing and psychic surgery to access the darker energies stuck in various parts of the body, releasing them, causing an instant relief. She also does ?result-oriented coaching? for which she trained with master trainer Christopher Howard, a combination of hypnosis and NLP to direct you to achieve your goal. Six to nine hours of this therapy can completely change lives, according to her.