September 2011
Some people come into our lives and quickly go. Some move our souls to dance. They awaken us to a new understanding. With the passing whisper of their wisdom they make the sky more beautiful to gaze upon. Stay in our lives for a while and leave footprints in our hearts?? an excerpt from Kala Kaarthikeyan: Forever in Our Hearts

---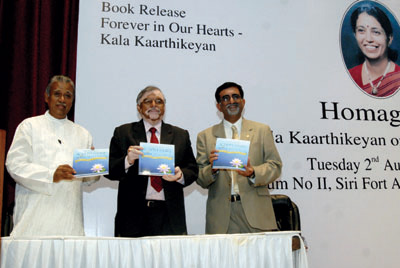 DR Kaarthikeyan, Justice Sathasivam, and the author launch Ketan Shah's book
The president of Life Positive, Mr D R Kaarthikeyan, paid homage to his late wife, Kala Kaarthikeyan (1950-2009) on August 2, 2011, at the Siri Fort Auditorium in New Delhi, by releasing a book,
Kala Kaarthikeyan: Forever in Our Hearts
. Supreme court judge, Justice P Sathasivam were present at the book release function.
Speaking on the occasion, Mr Kaarthikeyan said, ?This pictorial book is a humble homage to a remarkable, simple and unassuming human being, Kala Kaarthikeyan, who left for her heavenly abode in the early hours of Monday, August 3, 2009. She lived a full and fruitful life, comforting and relieving the pain of countless people, who came to be touched by her unconditional and spontaneous love, care and hospitability.?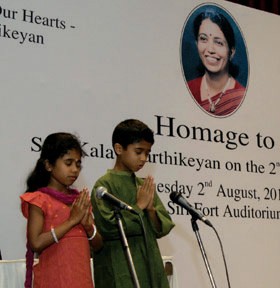 Grandchildren, Arjun, Samika recite shlokas
He added, ?I am still receiving numerous tributes to her through e-mail, letters and phone calls from friends all over the world. I am also grateful to the well-wishers who have been coming for the several prayer meetings at Delhi and other places.?
The occasion also saw the release of
Acupressure for Total Wellness
by the internationally renowned acupressure practitioner, Ketan V Shah, published by Life Positive publications.
Mr Shah told the audience that the book has been designed to simulate the flow of an acupressure workshop. ?We have been conducting workshops in many countries and also treating patients for various health problems. Many participants had requested us to compile the information in a book,? Mr Shah said. The event concluded with an elegant cultural programme that stirred and satisfied.