Acupuncture can treat acute sickness too – Dr Ravinder Tuli
By Parveen Chopra
The introduction of acupuncture in the world in recent times is a fascinating story. Delhi-based Dr Ravinder K. Tuli, the leading acupuncturist in the country, recounts that during World War II when the Red Army was fighting the Imperial army, there was an outbreak of malaria. Though quinine was around, Mao Tse Tung was informed about the efficacy of acupuncture in treating, curing and preventing malaria. Indeed, when tried, it proved as effective as quinine. Gradually, the Red Army started using acupuncture in varied conditions. Later in 1949, when Mao took over the reins in China, one of his first pronouncements in the Red Book was that while they should modernize, they should also adopt, develop and popularize traditional Chinese medicine, of which herbal practice and acupuncture are two parts. And when the barefoot doctors concept was formulated to take medicare to grassroot levels, basic training in both the use of herbs and acupuncture was provided to them.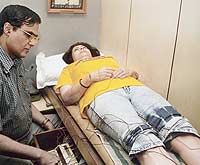 The second episode relates to President Nixon's ice-breaking visit to China in 1971. James Reston, senior editor of The New York Times, who was in his entourage, developed acute abdominal pain which was diagnosed as appendicitis. A surgical team specially summoned from the USA removed the appendix, but the pain did not disappear. Eventually, they accepted their Chinese hosts' offer of trying acupuncture and the relief was immediate. The incident made headline news in America. Acupuncture prominently figured in the MoUs signed between the two countries, and a department was set up in George Washington University to understand the practice. Today, acupuncture education and practice is fairly developed throughout the USA.
An MD doctor who has worked for the Indian Air Force and who has learnt acupuncture in China and Sri Lanka, Dr Tuli has been practising the system since 1977. He also uses acupressure, yoga, nature cure, reiki, pranic healing, etc.
He is at pains to explode the myth that alternative systems are good only for treating chronic cases. He relates the story of how once when he went trekking to Gaumukh, India, he found a person in his rest
Please login / register to view the rest of the article