September 2010
A list of shops which sell spiritual artefacts and charms

---
Being fond of crystals, I have always found something more to them than just mere stone, a deeper life perhaps. One of the most energizing feelings I have is on visiting shops that stock crystals. The energy of such shops is so strong that often from the moment I enter to the time I come out, my hands are tingling. The vibrations they emit are entirely different and the experiences are well beyond anything measurable or explainable. Since spiritual shops contain such heavily energised items such as crystals, candles, incense, Feng Shui items, one feels as though entering another realm. If you haven't been to any of them so far, I suggest you head to one soon for an experience of your own. Here are a few of these shops.
MumbaiCrystal Rock Shop
A small and obscure shop, you're likely to miss it when you pass by. But inside lies an amazing collection of crystals, of almost every kind. From large crystal balls used for scrying (crystal gazing), to ornaments and jewellery used to increase vibrations, attract favourable opportunities or improve health, to crystal clusters to absorb negativity and increase well-being of a room or household, the owner Laxmidhar would guide as to what is suitable and would work best for different individuals.
Dhobi Talao, Marine Lines
Magick
Located in a small bylane of Bandra, this shop has some amulets and artefacts that probably won't be found in any other store in India. Focussing primarily on the neopagan religion,Wicca, they have wands, brooms, chalices, candles, pentacles, amulets, talismans, rare herbs and spell-kits. Apart from this, the shop resonates a mystical charm through its purple walls and strong incense. Also available are dreamcatchers, Wiccan and angel therapy books and CDs, aromatic oils and essences, tarot cards, and runes. The owner, Swati Prakash, a prominent Wiccan, tarot reader and healer, also holds courses in healing techniques, divination techniques such as tarot and crystal gazing, and spellcasting. She also reads tarot cards, tea leaves, crystal gazing, does past-life regressions and various forms of healings for clients. Though priced on the higher side, the range is diverse and the quality appears to be good.
16th Road, Bandra
Vaastu and Feng Shui Shop
Filled with crystals and Feng Shui items, this small shop is abuzz with tremendous energy, for those who can feel it. Be it crystal clusters, balls, pyramids or jewellery, they have it all, and in a variety of sizes. They also have a wide variety of Feng Shui items ranging from the famous Laughing Buddha to the toad, tortoise and dragon. A small and cosy shop, it is packed with almost everything you could require in crystals, Vaastu and Feng Shui items. Dr Kalania, who runs the store, provides free Feng Shui and Vaastu consultations.
Near Milan Mall, Santacruz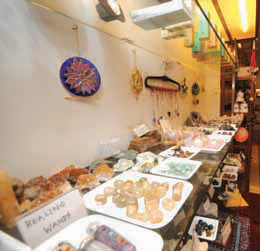 The Ostara Shop, Mumbai: A wide spread of treats and goodies
The Ostara Shop
Ostara is the spring equinox, marking the changing point from the dark to the light part of the year, a blossoming of joy and celebration. Ostara has crystals in various shapes, including wands and jewellery, incense and natural essential oils, Feng Shui articles, Tibetan singing and prayer bowls, beautiful wind chimes created by reiki masters, pyramids which can charge water and different items placed in them, divination tools such as tarot, angel and oracle decks, and pendulums, yoga bags and mats, meditation seats and music. Samira Amin, the brain behind Ostara, also does a number of healing services such as tarot and astrology consultations, chakra balancing, crystal healing, hypnotherapy, past-life regression, theta healing and angel therapy.
Gamdevi, Grant Road
Laughing Buddha
This is one of my favourite haunts when I visit Phoenix Mills. A small stall inside the large complex, it attracts questioning glances from those who don't know much about crystals. The stall has various crystals, cut to different shapes, crystal clusters, angel cards and books, aromatic candles, wind chimes, incense and aromatic oils.
Phoenix Mills, Parel
New DelhiIndian Astrovastu Centre
They stock shivlings, rudraksh malas and bracelets, siddh shani yantra, rings and pendants of precious and semi precious stones, amulets for protection and wish fulfilment, navratna pendants and rings, gem stones, and conch shells.
Laxmi Nagar
Crystals Haven
They deal in crystals, Feng Shui items, and bio-ceramic products. Bio-ceramic products are made up of various oxides such as aluminium oxide and silica oxide, fused together so as to be able to emit far infrared rays. These rays promote the growth of healthy cells in plants, animals and humans. It helps the cells absorb water and nutrients better, eliminate wastes better, greatly improving well-being.
Swasthya Vihar
Siddha Shakti Peeth
Leaning more toward the Hindu side of spirituality, they have Shree Yantras, rudraksh beads and malas, crystals and healing stones.
New Ranjeet Nagar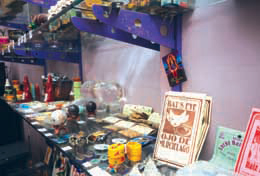 The realm of witches and wizards: Magick in Mumbai
Vardhmaan Crystals
Stocking popular and sought after spiritual products, they deal in various kinds of crystals, reiki products, Vastu and Feng-Shui items.
Joshi Road, Karol Bagh
Aumkaara
Aumkaara bracelets, rings, and pendants come in silver, gold and diamonds, studded with religious symbols like aum, swastika, Allah, Ganapati, evil eye, yin-yang, giving the jewellery a spiritual nature. With the modern seeker wanting to show off his bhakti, Aumkaara offers a way to combine the material life with the spiritual.
D-139, Defence Colony
JodhpurAcupressure Health Care System
A manufacturer of various kinds of acupressure and acupuncture equipments, they also sell su-jok and magnetotherapy instruments, along with various kinds of pyramids. With the head office and factory in Jodhpur, they have branches in New Delhi, Allahabad, Mumbai, Jaipur, Vadodara, and Kolkata.
Kamla Nehru Nagar
ChennaiHealing Magnets & Crystals
They have magnets for treating aches and pains, eye relaxation, neck problems, asthma, obesity, blood pressure, diabetes and knee problems. Pyramids to attract health, prosperity, for protection are also available, along with crystal pendulums, pendants, chains and wands, and aromatic oils. The Lecher antenna, a technical tool that works on the principles of dowsing, checks the energy of various parts and objects such as chakras. It can improve the functioning of the body and various specific parts, reduce bad vibrations, absorb negative effects of electronic equipment and so on.
Gopala Krishna Street, Pondy Bazaar, T Nagar
<bengaluru< b="">
The Ostara Shop

Ajay Panjwani, the owner and a sceptic turned believer, experienced a series of personal events that led him to try various alternative systems and products with dramatic results. Ostara is a one-stop shop with a wide range of healing crystals, Ganeshas, pyramids, new age music (under the Ostara label), books, yoga and meditation accessories, acupressure and massage products, Buddhist and Tibetan art and more. Panjwani's mission is to offer guidance and help in empowering people. They also offer consultations in Feng Shui, vaastu, chakra cleaning and balancing, tarot reading, pranic healing, yoga and meditation.
Sai Baba Temple Road, Cambridge Layout

Antara

Usha Balachandran, a yoga and reiki teacher for more than a decade, runs Antara which caters to Bengaluru's spiritual crowd. The store sells crystals, crystal grids, healing stones, pendants and Feng Shui items. She also does tarot card readings at her shop.
Shanti Nagar

House of Feng Shui and Vastu

Shobha Alexander, a Feng Shui and Vastu consultant for homes and offices, has an exclusive shop with only these products. She also has products on Pyravastu, which rectifies the vastu of the house through pyramids.
Kamanahalli

See more News at Articles/News