March 2012
Evolutionary Enlightenment - A New Path to Spiritual Awakening, Author: Andrew Cohen, Published By: Jaico Publishing House, Pages : 212, Paperback, Rs. 250

---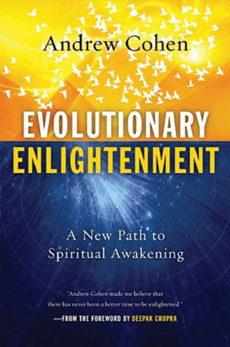 When you think objectively about how much work went into creating your own capacity to have the experience you are having in this very moment ? 14 billion years of hard work ? when you awaken to the evolutionary process and ? discover how profound and complex the structure of our universe is ? you start to recognise ? what a precious gift it is to be here.?
So begins Andrew Cohen?s wake-up call to each individual to ?notice one?s lucky state of being in the present universe?. It is an invitation to grasp one?s responsibility to shape the development spiral that he calls ?evolutionary enlightenment.?
Cohen himself was awakened to spirituality by his teacher, HWL Poonja (a disciple of Ramana Maharishi) in 1986, while on a visit to India. Thereafter, he has been teaching people his vision of a deep and personal responsibility for the evolution of the cosmos.
In this book, as in most of his work, he reminds each one of us that we are fully capable of contributing to the purpose of universal evolution. But how do we participate?
First, Cohen makes a distinction between traditional ?enlightenment? ? which is focused on ?being? enlightened as an individual ?through transcending ego? ? or simply awakening one?s consciousness to the Self Absolute by whatever path one has chosen, and the ?new enlightenment? which requires a ?very different shift of identity? ? an awareness of ?becoming? continuously enlightened in lock-step with the universe right from the moment of the Big Bang, expanding through space and time to the present ? and surging ahead to a common destiny that envelopes all beings.
Cohen encapsulates his path in a series of five tenets ? clarity of intention, the power of volition, face everything and avoid nothing, the process perspective, and cosmic conscience. Each of these is ?both the path and the goal.?
In clarity, one makes the intention to evolve ? alongside the cosmos ? the most important objective in one?s life.