Tied up in Knots
As a country, we need to loosen up and like ourselves a little more. India exhibits classic low self-esteem symptoms. Says Mumbai psychotherapist Sushma Sharma: 'It's because we think so poorly of ourselves that we ape the West. We don't have an identity of our own.'
The contempt we have for ourselves as a nation is in evidence when we relentlessly run our country and ourselves down, whether in print, at the local teashop or while commuting. Every Republic Day and Independence Day is an occasion for a national dirge on our many iniquities.
Intellectuals gnash their teeth in impotent fury about our lacking the killer instinct, our unwillingness to patent nature's bounty or our lack of commercial sense. A thorough grounding in our values would reveal to them that they arise from a spiritual outlook of life rather than a material one.
We can also never appreciate the achievements of any of our countrymen unless they produce a certificate from the West. Tagore needed the badge of approval from Y.B. Yeats and R.K. Narayan from Graham Greene before we would deign to acknowledge them.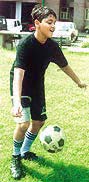 Even our lack of discipline, sloppiness, poor quality control and chalta hai (it's okay) attitude indicate a fundamental lack of self-belief. We fear that we cannot rise to Western standards and accordingly value ourselves less, thereby writing ourselves off. It is this innate lack of self-worth that creates endemic corruption and makes us tolerate it from others. Manufacturers rip us off, people jump queues, politicians exploit us, other countries palm off their rejected goods on us. We take it all, because we feel we deserve no better. The corollary is an awe of the West. Ever since the country's independence, we have unthinkingly adopted the western model of civilization, whether political, economic or social. Today, when the West is examining many of its tenets, we continue to careen heedlessly on the road to liberalization and globalization. How we long for the West's approval! How we lap up even insignificant mentions of India or Indians! How we protest against their criticism or even worse, their indifference to us! How do we restore our self-esteem? Ours is a spiritual country. Why not try the spiritual approach? Our sages described us as amrutasya putrah(children of immortality). Ours was the only civilization that dared to proclaim our divinity. Now, we need to believe it and live it.
This is what the group has tried to instill in the villagers of Maharashtra and Gujarat. The villager is exhorted to believe in himself because God is within him. I have seen the miracles this belief has wrought. Village women hold themselves like queens and the village sarpanch (headman) turns away opportunistic politicians. Faith in themselves has set them free from many addictions, to alcohol and tobacco, as well as to external manipulation. Why can't we try it too?
BOOSTING YOUR SELF-ESTEEM
Exercise I
Be self-assertive
Self-assertiveness comes from self-worth, the knowledge that you are okay as you are. It means not allowing anyone power over you or the right to control you. The self-assertive individual neither controls nor allows others to control him.
In the book, Don't Say Yes When You Want to Say No by Herbert Fensterheim and Jean Baer, we are told to do basic things like make eye contact, stand straight, speak loud enough to be heard and learn to communicate directly. Unassertive people, according to the authors, can be wordy, have shallow feelings, and lack clear-cut desires. Know your rights and enforce them—rights to judge your own behavior, thoughts, emotions, and to take responsibility for their initiation and consequences upon yourself. You have the right to change your mind. You have the right to make mistakes and be responsible for them. You have the right to say: 'I don't know' or 'I don't understand' or 'I don't care.'
Exercise ll
Heal the inner child
Sit erect. Relax and focus on your breathing as you breathe in and out. Now imagine walking down a long flight of stairs. As you reach the end of the stairs, turn left and walk down a long corridor with doors to your right and left. A force field of light shines out from the end of the corridor. Walk into that light and find yourself going through time to a street where you lived before you were seven years old. Walk down the street to the house. Look at the house. Notice the color of the house, its roof, windows and doors. See a small child come out of the front door. How is the child dressed? What color are his shoes? Walk over to the child. Tell him you are from the future, that you know better than anyone what he has been through—his suffering, abandonment, his shame. Tell him that of all the people he will know, you are the only one he will never lose. Promise your child you will meet him for five minutes each day. Pick an exact time. Commit to that time. Place your child in the palm of your hand and let him shrink to the size of your hand. Place him in your heart. Now walk to a beautiful outdoor place and reflect on your experience. Get a sense of communion with yourself, your Higher Power and with all things. Now gradually count up to five, feeling sensation return to your body and you will feel happy, restored and fully awake.
Exercise III
Choose to love yourself
Close your eyes and imagine that the person you currently love and respect the most is sitting across you. Take three to four minutes to see the person fully. Get in touch with your feelings when you experience the person. Now imagine yourself sitting next to you. Take three to four minutes. What are your feelings? Notice what you felt when you looked at yourself. Most of us have negative feelings about ourselves. To counteract these, say to yourself: 'I love myself. I accept myself unconditionally.'
A variation: Strip and stand in front of a full-length mirror. Look at every part of yourself. What do you feel? If there are parts of yourself that you flinch at or reject internally, repeat to yourself: 'I accept all of me unconditionally.' Says Bradshaw: 'When we make the decision to love ourselves unconditionally, we accept ourselves unconditionally. We are at one with ourselves. If you decide to love yourself, you will give yourself time and attention. You will allow yourself solitude, a nourishing time of aloneness. You will take time for hygiene and exercise, for fun and entertainment. It means learning techniques for getting in touch with your feelings. It means discipline.'
Exercise IV
Rework personal history with NLP
Close your eyes and relax. Recall a moment that filled you with shame, inadequacy or embarrassment. Now think of what new resources you have that could have helped you counter these. For instance, if your classmates teased you about your reading glasses as a kid, why not use your greater powers of articulation and assertiveness to rewrite the history? Recall the moment as vividly as you can. What are the visual memories it evokes? What sounds do you associate with it? What feelings do they arouse? Recreate these factors to their highest level of intensity. Anchor the moment by bringing your left thumb and forefinger together. Recall an experience when you were articulate. Recreate it by evoking visual, auditory and kinesthetic associations. Anchor it again by bringing the right thumb and forefinger together. Do the same with a memory of being assertive. Use the same anchor as that for being articulate. Now return to the original memory of being humiliated and use the new resources. This is done by simultaneously activating both sets of anchors. Now say whatever needs to be said to those who hurt you to prove that you can stand up for yourself. Feel complete within yourself. Take a deep breath and open your eyes.