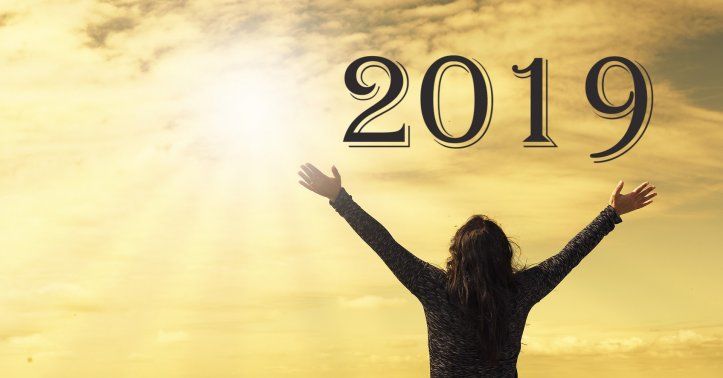 Yearly Forecast 2019: Let's Welcome New Year with Open Arms!
The yearly forecast 2019 comes with a set of strengths, weaknesses, opportunities, and threats (SWOT). Know each of them and start the New Year with a note of celebration and confidence.
Aries
The year 2019 brings forth your meticulous energy, along with the truth, new opportunities, hard work, and openness.
Initial months, you will feel the ecstasy of contentment from all the aspects of life as well as a spiritual awakening, as you will automatically be pulled towards knowing yourself. March onwards, you can expect new opportunities coming your way that urge you to come out of your comfort zone and do something that brings greater meaning into your life. Allow yourself to take certain calculated risks in a job change or even in investments.
By midyear, some inner force will guide you to stand up for what you believe is right. It is also indicated that a court case will be settled or a contract can be signed. A change will come as you start taking charge of a personal relationship. Be patient and things will turn out well by the end of this year, says the yearly forecast 2019.
Year-end also brings in lady luck for many men. You may find yourself enjoying more in women's company. Business excursions overseas are likely to be lucrative this year, specifically in China and the USA.
Taurus
New Year brings an inflow of wealth and prosperity for Taurus born.
The first few months indicate a fast-paced lifestyle, which can make you impulsive. Along with hard work in your professional life, you will not let any fun opportunity go by unattended. You are suggested to make a calculated move related to money after March. If you plan to invest in property, the second half of the year proves more prolific. If you've been contemplating to change your job or even careers, trust yourself, and do it.
Midyear indicates that a leap of faith will be required to overcome challenges without risk; just accept your potential. Leisure trip with friends is indicated during this period, according to the yearly forecast 2019. By the end of this year, you may feel the need to mend relationships. Also, be clear in your communication with family members and co-workers. Financially, watch out the extravagance.
You'll definitely like to reassess the quality of your love life this year. Traveling due to work is possible in the last months of 2019; most likely to Jaipur, Pune, or Singapore.
Gemini
The year 2019 brings a whole new set of choices and opportunities.
A life-altering change is on the horizon, but you will be patient enough to endure that change. You will bloom in the new job or relationship. By midyear time, your mind may be restless, filled with doubt. Stay calm and determined to reach your goal. You are expected to take longer to decide on a marriage proposal. Married couples may have their share of disagreements, especially over other family members. Decisions related to property, or even trusting your spouse/partner will take a surprising twist.
A female relative may cause misunderstandings but things should sort themselves out if you learn not to react to provocations. There is a possibility of feeling insecure, holding on too tight to relationships, acting possessive over belongings or even ideas; this will only delay your progress. Let go and surrender.
In the last few months of this year, a new chapter will unfold in your life. Something comes to an end and something begins anew, it may seem like some things in life are passing you by in a flash. There is a probability of extra expenses for travel between October and December 2019.
Cancer
Cards indicate that 2019 is going to be really interesting as you are expected to experience a mixed bag of emotions throughout.
The first few months, as per the yearly forecast 2019, can bring complications in your love life. To avoid it, just try to ignore petty things and do not pick up fights on minor issues. April onwards, things will shift for the better. Career-wise, the cards indicate gain and prosperity. A major change is in store for you specifically in the mid-year period. It could be a new job, lover, or place you are living in. You may get connected to someone very close and might feel like soul mates.
Marriage is a possibility for singles. Many can expect recovery from an ailment that was disturbing for many months. As the year progresses towards the last leap, you will notice that stagnant prospects will step ahead toward success. You may take up exercise and health regime as a priority. You will enjoy the attention of everyone and gain popularity.
A young person in the family will help you to tackle situations with enthusiasm and positive energy. Business-related overseas travel is indicated. Colombo, Toronto, or the Bengaluru trip can be lucrative for you.
Leo
2019! This year will bring structure and authority into your life like never before.
Those seeking jobs or different careers may find a number of options and have a tough time choosing – just think with a calm mind as they are long-term decisions. The early year period will be a beneficial phase for the ones who are in the field of media, social service, marketing, and other allied fields. From June onwards, you can experience financial and emotional stability. Leos will become the source of positivity for many people around them.
Good news like marriage or the arrival of a new member of the family might come your way. According to the early forecast 2019, couples are expected to invest their time and energy in improving their relationship. Bestow completely to the things that matter to you, that which give you inner peace and contentment. By the end of 2019, the card is blessing you with immense energy that motivates you to take up new tasks.
You will gather immense admiration and your dignity will be maintained. Most of your travel will be sudden ones. A family vacation to Singapore, Abu Dhabi, or Goa will be a memorable one.
Virgo
Virgos need to be really calm and patient this year.
Keep all your five senses on - all the time, even while sleeping. Work harder but don't let your rage overlap your actions. Clouds of perplexity will keep a hold on you, therefore, try to assimilate all the pros and cons in advance. Try to manage things on time, for pending decisions may take a toll on your mind. Don't splurge too much as the bills could pile up and take you by surprise and restless at the end. The mid-year period brings in a sigh of relief as financial problems are likely to resolve. Try to discover new ways of earning and increase your sources of income with your abilities.
The last phase of this year, says the yearly forecast 2019, will be a wonderful time for starting a new fitness regime or diet and maintaining your health. Avoid too much drinking or smoking, as it could take a toll on your health.
A holiday trip to Hong Kong or Columbo is indicated in the month of June. You might undertake a professional-cum-holiday trip around August.
Libra
This year is going to offer you great opportunities but you have to stay alert to grab them.
The opportunities can be in your personal or professional life. It will be the perfect time for you to utilize your time in the things that you want to do. There are prospects of an overseas trip after the month of March, but it can also burn a hole in your pocket. April onwards card signifies that you will go through a phase of confusion in your love life.
You can also feel secluded many times even in the midst of people. Spending time with kids and helping someone who needs help will satisfy you. If you are planning to change job, shift city/country, then you better leave the worries behind and travel along the time cheerfully.
If you like someone, it is expected to culminate into something deeper. In the last few months of 2019, your family life will need more attention. Cards advise you to trust your inner self rather than falling for the things at first sight. The yearly forecast 2019 predicts a family trip full of leisure and fun by the end of this year.
Scorpio
Scorpions, you could not have asked for more! You will encounter some life-changing moments in 2019.
You will also have some fundamental choices in hand that need a serious overhaul. It may be the absolute basics of something as important as marriage. You might find it difficult to choose, as it may simply be emotional patterns such as pessimism about your career or obsession with a relationship. You might have to travel to attend some party or marriage during this period. You will experience inner bliss after July as you will be inspired to look at the brighter side rather than focusing on the negative aspect.
The mid-year months, according to the yearly forecast 2019, will see you in high spirits, taking risks, but sometimes you need to be less adventurous and wiser. By the end of the year, the bond of friendship, love and even business partners will be strengthened. Those who are in the service sector and have been striving to get a job in a foreign nation will also get success in their endeavors.
Leisure traveling towards hills is on the cards that will help in reducing your stress and will also bring you closer to your loved ones.
Sagittarius
With the advent of 2019, astounding new possibilities might open a whole new vista for you.
You will get a chance to exhibit mastery and skills that bring recognition and attention to all areas of your life. There will be no worry related to wealth in the initial months. Moving ahead, from April till June, you will find that things that used to be extremely important are now on the back burner, on the other hand, things that weren't so important are moving to the forefront.
This may be just the beginning of a big shift that can help you surrender and watch the Universe play, says the yearly forecast 2019. The mid-year shows a phase of dedication towards your job or relationships. Near August, you may plan a pilgrimage visit with your spouse. After September, you will feel much relieved to experience contentment, liveliness, and responsibilities at the same time. You will start working towards your interests, e.g., gym, sports, dance, etc.
A male member of the family will play an important role. There are opportunities to travel this year if you are thinking to expand your business overseas. The USA and London can be beneficial.
Capricorn
The year 2019 brings in positive results in finances. You are likely to initiate new work soon.
Women might take some decisions practically rather than being emotional. People in the glamour field will get recognition and accomplishment. Midyear months may bring with them a combination of confusion and restlessness. It may get hard to reject the temptation to repeat old, negative thoughts in your head. Don't procrastinate or take too long in making a decision.
You might find yourself in an emotional crisis and go through a turbulent period in love life, don't worry as this will be temporary. Your seniors at work may not be so cooperative at the end of this year. Impatience and giving up too soon will only lead to unnecessary despair. Cards suggest you standing for yourself and seeking advice from someone who is wiser and has more experience.
Cards also show your Guru's blessings are on you that will be recognized only if you try to surrender and have faith. You might change your residence. Cards also predict journey during December towards hills for leisure.
Aquarius
The year ahead urges you to move with the times with great awareness of self and surroundings.
You will be tempted to be impulsive; you might lose some very important opportunities. Don't be fooled with the spontaneity of people and think at least thrice before acting, warns the yearly forecast 2019. Agreements should be well-read and business deals well organized. Any proposal for marriage should be investigated carefully before fixing things. Months after March, you are likely to receive love and support of everyone around; which will inspire you towards good deeds.
Enjoy the time and be thankful for the Divine power. Singles would get opportunities to enhance their romantic life. If married, spending time together will enhance mutual respect. October month will bring a shift in your energy. You will find yourself helping people and they will start recognizing you for your kindness.
The year 2019 will be good for experiencing the pleasure of spiritual growth. Traveling with friends and family is on the cards in June and October. The trip will not only rejuvenate your mind and body but also revive childhood memories. Goa or Port Blair will be your preferred destinations.
Pisces
The year 2019 will motivate you to transform your way of working and thinking.
You may delay decisions, as cards signify confusion. You would definitely want to go with your intuitions but your deep thoughts may distract you. At this phase, be courageous and trust your creativity, it will surely take you to the pinnacle. The mid-year phase will nudge you to let go of past attitudes and habits. Delays in payments and commitments may test your patience.
Unexpected changes at your work front will provide you the opportunity to start afresh, with a whole new set of building blocks. Don't let trust issues come in your love life. Cards suggest communicating openly and clearing the clouds of delusion. A trip with your beloved is necessary to fire up the lost love and romance between you two. By the end of this year, the cards advise you to avoid any sort of argument.
Beware of romantic whims and secret affairs, as betrayal will provoke explosive reactions, warns the yearly forecast 2019. There will be a few domestic travels this year specifically in the mountains, which will help you to connect with nature.
May the Divine fill your home with blessings in the coming year.
Have a great 2019!
(Dear readers, this time we have not specified the name of Tarot card in the beginning, as the process for taking a reading for the full year is different. We have to take out several cards in one zodiac itself. Hence, there is no particular card name this time. This is a yearly reading.)
To read more such articles on personal growth, inspirations and positivity, subscribe to our digital magazine at subscribe here
Comments