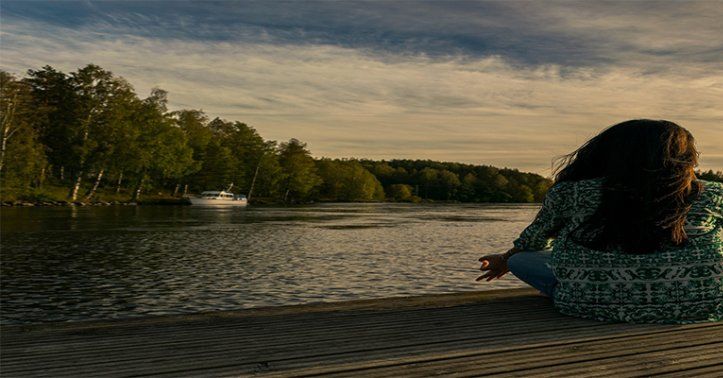 Meditation for Mental Health & Why You Must Start Now
Quite a bit of our life is spent lost in thoughts. There is hardly a moment when we are not bombarded with demands at work and at home. We are regularly challenged to remain one step ahead just to get past the day. Not only this, the pressing issue is that when we live our life driven by our musings alone, we pass up opportunities for a plethora of knowledge accessible to us through our bodies and spirits. Our mental health is suffering because we are failing to give importance to our minds. Spiritual gurus and mental health experts, now more than ever, recommend meditation for mental health as a remedy.
Why Do We Need Meditation for Mental Health?
There is more to this world than material things. Often, we get lost in fulfilling our basic material needs and forget our purpose in life. To resolve the complexities of our inner conflicts, we have to understand our minds.
Meditation is where an individual focuses on connecting with their inner self. It is for the psyche to just recognize its substance without literally relating to it. Meditation is a phenomenon that has taken the world by storm. With the increasing evidence in favor of meditation, even psychologists and other specialists have started suggesting it to cure their patients. Medical practitioners have begun considering it as a part of treatment.
Gains of Meditation for Mental Health
It invigorates your sensory system that encourages your body to come back to a quiet, casual state. At the point when this state is stimulated, your body can normally restore and repair itself.

Clears your brain for peaceful sleep every time.

Enhances physical fitness by refining your capacity to concentrate on an objective or circumstance

Moderates your breath so your body can absorb more oxygen.

It suppresses the release of cortisol, which improves your immune system.

Diminish tension and discouragement by empowering your body to adjust its neural framework.

It enables you to settle for better choices and enhances thoughtfulness.

It brings an end to unhealthy addictions and makes us value our body and soul.

It enhances correspondence with your mind. You have more control over what you think. It will help you in removing negative thoughts.

Last but not the least; it helps you accept yourself for who you are.
A Note to the Reader
Often, we dismiss the need for meditation for mental health and fitness, citing that it cannot fit into our busy schedule. As a result, our mind is overloaded with stress. It is essential to provide a channel to let the pressure out. Go ahead, find a secluded place and sit down to meditate. Material things will not satiate your mind. Instead of looking for happiness in material things, find yourself. In reality, only that person is happy who understands and accepts the worth of soulfulness.
Meditation for mental health infuses positive energy in your thoughts. Your relations will improve because positive thoughts are contagious. Meditation is not merely an exercise; it has the power to heal your mind. Do not mistake it for another trend as it is here to stay.
Zen Master Hsing Yun says, "Meditation will not carry you to another world, but it will reveal the most profound and awesome dimensions of the world in which you already live. Calmly contemplating these dimensions and bringing them into the service of compassion and kindness is the right way to make rapid gains in meditation as well as in life."
There are passionate professional meditation coaches who can teach you the proper art of meditation. You can find a seasoned meditation coach near you.
Author Bio:-
Vatsla Singh is a content curator and writer. She is actively interested in the psychology of the human mind and thus writing about spirituality and personal growth comes to her easily. Having also tussled with the mild bipolar disorder, she is a first-hand benefactor of meditation for mental health. Aside, you can catch her with her cats whilst she isn't typing away on her laptop.
To read more such articles on personal growth, inspirations and positivity, subscribe to our digital magazine at subscribe here
Comments