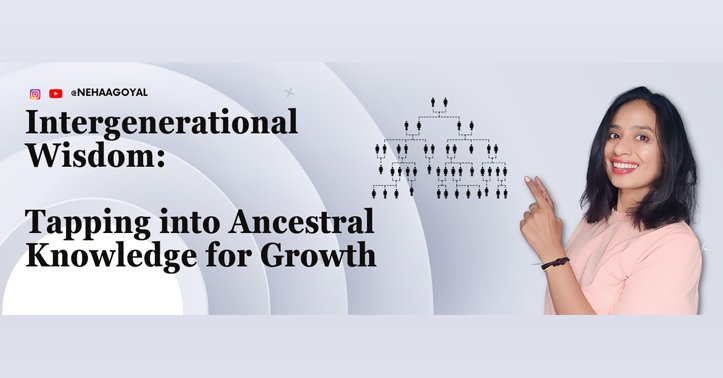 Intergenerational Wisdom: Tapping into Ancestral Knowledge for Growth
Since a few years, I have been fascinated by the connections between Bollywood movies of the 90s and the concept of tapping into ancestral knowledge.
"Mere Karan Arjun Aayenge", famous dialogue from a popular hindi movie based on reincarnation to take revenge and "Lamhe" , another famous movie where Mother and Daughter looked exactly the same is what inspired me to write this article
Growing up during that era, I was not only entertained but also intrigued by the underlying messages.Today, as a practitioner in the field of InterGenerational Healing, I have come to understand the profound significance of these narratives.
We often find ourselves repeating the patterns, behaviors, and even physical resemblances of our ancestors. It is not uncommon to hear phrases within families such as "This person reminds me so much of our grandmother" or "They've inherited their father/mother's traits" or even "It's in their blood."
These seemingly ordinary sayings hold deeper truths when we examine the intricate connections between generations.
Our ancestors transmit their wisdom and experiences, as well as their unresolved traumas, through the intricate codes embedded in our DNA, much like the complexity of a video game. These codes lie dormant until activated by external or internal circumstances at different stages of our lives.
In this blog, I want to emphasize the significance of tapping into this intergenerational wisdom, which I refer to as the "Intergenerational Wisdom Code."
Through my research and practice, I have discovered effective methods to engage with and access this ancestral wisdom.
Allow me to share some of these transformative techniques:
1. Journaling Practice: Start by creating a dedicated journal for your intergenerational wisdom exploration. Find a serene outdoor space, stretch your hands towards the expansive sky, and set a clear intention: "Beloved Ancestors, reveal to me the wisdom I need at this time." Pay close attention to the feelings, memories, or words that emerge, and diligently record them in your journal. Revisit these entries later to unlock their deeper meanings.
2. Heart Connection: Place your hand upon your heart and establish a deep connection with your own body. Inquire within, asking, "What do I need to know in this present moment?" Trust the wisdom that arises from within, as it often carries the echoes of your ancestors' guidance.
3. Ancestral Pilgrimage: Embark on a meaningful journey to the lands where your ancestors once lived. Immerse yourself in the atmosphere, explore their cultural heritage, and if possible, visit the sacred sites associated with your lineage. These places carry powerful energetic imprints and can serve as conduits for ancestral connection and understanding.
4. Illuminated Family Tree: Create a detailed family tree within your journal, tracing your lineage as far back as your memory allows. On the night of the new moon, symbolizing a fresh beginning, revisit your family tree with a heightened awareness. As you gaze upon its branches, envision the ancestral wisdom being illuminated and ask for guidance, just as mentioned earlier.
5. Ancestral Wisdom Embodiment: Deepen your connection with your ancestors by envisioning yourself as one of them. Ask yourself, "If I were this ancestor, what wisdom would I pass down to the present me?" Engage in this reflective practice during the dark and receptive nights of the new moon.
Drawing upon my expertise, these practices offer profound insights into the intergenerational wisdom that resides within you. Remember to approach this transformative journey with reverence for your ancestors, embracing the richness of their heritage.
Allow the secret codes embedded within your DNA to unlock the hidden wisdom and guide you on your path of spiritual growth and self-discovery.
Remember to Subscribe to the community. Over the year there are several techniques I will share with the community through workshops, emails and blogs to go deeper into InterGenerational Healing
You can click here to consider DNA Astrology Reading
Please get in touch with Nehaa to schedule your sessions or if you need help:
To read more such articles on personal growth, inspirations and positivity, subscribe to our digital magazine at subscribe here
Comments