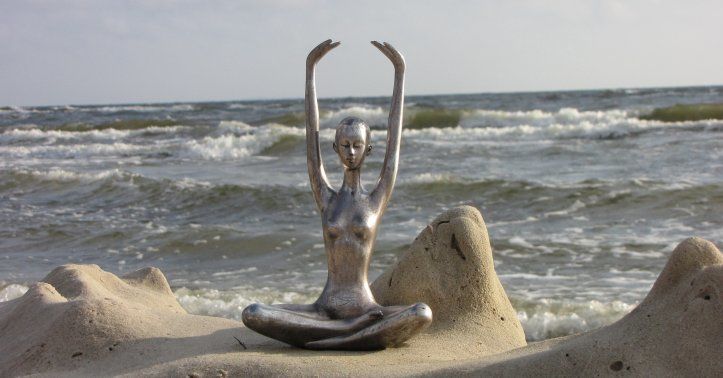 Effect of yoga on Mental Health and its Benefits
Do you always feel stressed and tensed? Do you feel as if you're carrying the entire world on your shoulders? Most of us have jokingly declared that we plan to run away and settle in the Himalayas, but this is never possible practically. So, what is the solution? The answer lies in the ancient art of Yoga. By removing tension and stress via yoga poses and breathing exercises, a person remains free from negative vibes. The effect of Yoga on mental health is profound. This is why more and more people are embracing it.
The Effect of Yoga on Mental Health
Yoga helps in moving from the sympathetic nervous system to the parasympathetic nervous system. It will typically lessen your anxiety and keep you in a more relaxed state. When you start breathing deeply, your system slows down and you calm your nervous system. This is the effect of Yoga on Mental Health.
Yoga helps in building your sense of self and trust. You become strong and courageous with the willpower you get by practicing yoga. You will not be afraid of difficult conversations and you will know that you are going to be fine at the end of the day. When you become more confident and rooted in your self, you develop a healthy and balanced ego, where you have nothing to prove and nothing to hide.
Yoga modulates stress and anxiety by slowing down the heart rate and lowering your blood pressure. Exercises of various kinds increase the feel-good neurotransmitters. However, Yoga is the best at boosting one's mental health. It will put a brake on your brain activity and keep you relaxed.
A study on mild depression revealed that yoga classes improve mood and reduce anxiety and fatigue. When compared to other breathing and visualization exercises, those who practice yoga will feel more alert, energetic and will be in a positive mood.
Yoga has the power to boost the brain. It helps in improving concentration and memory.
The Effect of Yoga on Mental Health of Adolescents
Adolescence is a stage in one's life where various health and mental problems are more likely to develop. With many such cases diagnosed, it has become imperative to prevent the onset of such mental health conditions. Yoga is the savior that will protect adolescents from mental sickness. Yoga involves breathing, relaxation and meditation. This will help in keeping the wide range of moods in adolescents in check. It will also help in lowering the levels of anxiety and depression, controlling anger and enhancing mindfulness
A Note to the Reader
The regular practice of yoga brings remarkable lifestyle changes in people. Not to mention that people will experience relief from chronic illness and also observe pleasant behavioral changes. This can happen once we fully enter the different worlds of yoga and learn the secret to better health and a sense of happiness.
Yoga is a psychology that helps us understand the nature of the mind and our bodies. It also helps grasp how emotions live in our bodies and how they affect our behavior and mind. It helps in recognizing and coping with our own low self-esteem. There are many people who develop a condition called Traumatic stress disorder after a shocking life incident. In such cases, Yoga is the best counter. There is a huge effect of yoga on mental health which is backed by psychologists and scholars.
You can start your Yoga journey by finding a trained Yoga Instructor here.
Author Bio:-
Vatsla Singh is a content curator and writer. She is actively interested in the psychology of the human mind. Thus writing about spirituality and personal growth comes to her easily. She also tussled with a borderline bipolar disorder and consequently understood the importance of spirituality in life for better well-being. After thorough research and first-hand experience, she now truly understands the effect of yoga on mental health. Aside, you can catch her with her cats whilst she isn't typing away on her laptop.
To read more such articles on personal growth, inspirations and positivity, subscribe to our digital magazine at subscribe here
Comments