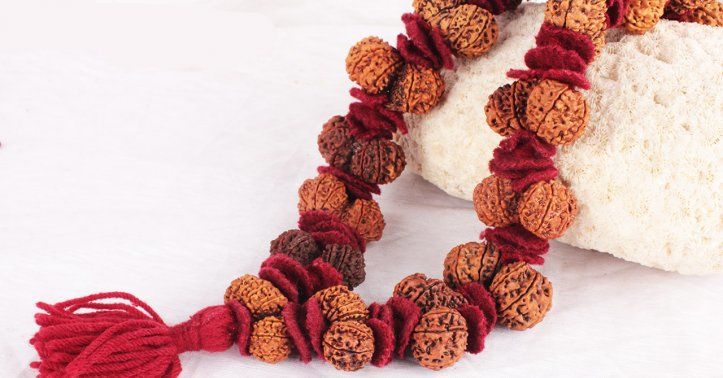 Rudraksha Therapy: These cosmic seeds do Divine healing
India is the land of eternal wisdom, divinity, and prosperity. Among the most revered treasures of our tradition is the Rudraksha, a spiritually empowering and powerful symbol, prescribed for all eternity. Ascetic authors of Vedas, Puranas, and Epics have proven beyond doubt that the Rudraksha is the means of well being, wisdom, and salvation for mankind. Rudraksha therapy renders miraculous results. It is proven scientifically and acclaimed by the medical world.
What exactly is Rudraksha?
Rudraksha is a seed of a tree named Rudraksha.
This tree is as big as a Champaka (Champa) tree. Rudraksha is nearly rounded in shape, but according to the increase in faces, its shape becomes oval. The bead Rudraksha is the seed of a fruit. When growing, the Rudraksha's color remains green, and in maturity, it becomes bright blue or violet. The seed has different divisions in its body. The divisions have cartridge like shapes and are called faces or Mukhis.
According to our old Epics, around 38 faces have been recorded. But, in recent times, the maximum number of faces obtained is 21.
You can decipher the faces by counting the division. A face is a complete line from top to bottom of a Rudraksha. Many studies have been carried out for the scientific explanation of different effects of various faces. The Indian Epics harbor scientific explanations about the effect of various faces and their influence on the human body.
Do you know more than 95% of Rudrakshas available in nature are of Five Mukhi and are powerful with several beneficial attributes?
The seed with cosmic energy
Rudraksha beads are the storage cells of cosmic current or Prana in the direct form of electric power, even though it is a perfect non-conductor. Nature provides all the grace of healing through multi-faceted beads from one face to 38 faces.
If worn scientifically, the wearer will receive the benefits of many minerals and metals resulting in harmony and health. As a provider of sheer luck and divine solution, you can use various faceted beads effectively for many problems like a professional crisis, phobias, many diseases, dilemmas, and marital problems.
Many experts provide scientific suggestions on Rudraksha, along with astrological predictions. One to 22 faceted Rudraksha in genuine species is available.
Cost of Rudraksha
Prices of different faces depending on availability. Cost is not linked to the effects.
According to primitive sciences, Rudraksha is the eternal symbol of the first civilization in which Tantra was the bedrock of spiritual living. All Agamas and Nigamas praise Rudraksha as the "papahara" (neutralizing of sins) and energizing agents in all manners.
According to Tantra, Rudrakshas are considered as deities of the Almighty in different forms. Tantras harbor mantras and rituals for each facet of the Rudraksha.
In Yoga, Rudrakshas are the mighty representatives of Shadadhara Chakras and power supplements to Ashtanga Sadhana.
As the power-packed miniatures of planets and stars, Rudrakshas are adorable beads in Astrology.
Rudraksha therapy - Divine healing
Rudrakshas are enormously dependent on Astro-solutions for many dilemmas and diseases. In the mother of medications, Ayurveda, Rudraksha is the chief ingredient in many medicines. It is considered as the divine healing agent in medicines apart from its medicinal values.
Modern science acknowledges Rudraksha's great healing powers. Hence, Rudraksha therapy is popular. Many universities and great scientists, who conducted scientific studies on Rudraksha, declared its values with technical logic. Modern physics and allied sciences have acknowledged the existence of electromagnetic energy or prana in the kinetic form.
In some rare materials, this energy can be found in the static form also. Those objects are live in their core but found idle. Rudraksha belongs to this rare class.
Rudraksha contains carbon in large amounts. The human body is also built with carbon and calcium!
Even if Rudraksha is a non-conductor, it supplies this mighty electro-magnetic power to the wearer's body. While passing the electromagnetic energy to the human body, Rudraksha absorbs the toxins and harmful substances from the body.
In short, Rudraksha is a scientifically approved cleansing and energizing agent. These wonder beads uniquely formed by nature encompass many secrets yet to be revealed.
Who can wear Rudraksha?
Everyone can wear Rudraksha irrespective of sex, age, culture, ethnic-geographical and religious background.
Ancient Indian Epics recommend wearing Rudraksha for those who wish to live a better and satisfying life. There is no consideration for Varna-Ashrama-Dharma.
People who are non-vegetarians, drink alcohol, and have any other bad habit can wear it for evolution in their life. Rudraksha therapy can help them rejuvenate their lives.
How much time does it take for healing through Rudraksha therapy?
Some changes happen immediately. Other changes take time.
As per our ancient books, a 40-day period is required for results to manifest.
Wearing Rudraksha brings auspiciousness in life and it will continuously keep giving benefits. You must choose the correct combination of Rudraksha to get optimum benefits. Also, make sure that the beads are cleansed and energized as described in our ancient texts, otherwise, its energy will be blocked just as electrical energy gets blocked in electronic equipment.
Can one wear a combination of different faces of Rudraksha and how to decide?
Yes. One can wear a combination of all the beads. You can feel the individual powers of the beads simultaneously.
One can also wear a pendant of any specific facet of beads. You can wear either a number of a particular facet of beads or a mix of a different facet of beads that can be worn.
Now the question: How do we decide which combination of beads to wear?
You can choose beads according to the properties of different beads, which are based on our Puranas. According to it, each face of Rudraksha contains the power of particular planets and deities. So astrological and numerological aspects help us to select the correct combination.
How to test a Rudraksha?
It is important to have a good Rudraksha bead to expect effective Rudraksha therapy. But, how do we choose a good Rudraksha? The originality test like the sinking of beads in water is not accurate. This is because an unripe or dry but genuine Rudraksha may float and a fake bead may sink.
Copper coin tests, etc. do not give conclusive results as, nowadays, fake Rudraksha are made by tampering original Rudraksha beads.
So, the client needs to be aware of the ways in which a Rudraksha is faked. You should use simple procedures like observing the face lines by a magnifying glass, soaking in warm water to observe tampered face lines if any, etc.
In most cases, if you use glue, the Rudrakshas may come out and broken beads will come apart, but genuine beads will remain intact.
The best way is to procure from reliable sources.
Care and Precautions in using Rudraksha
Puranas recommends using Rudraksha mala on the body while taking a bath, but regular soap could dehydrate the beads and clog the pores of the beads. Also, talcum powder clogs the pores of the beads.

Cleaning and Energizing of Rudraksha
If the beads need cleaning after regular usage, dip them in warm, soapy water for some time and scrub them with a brush.
Monthly cleansing by dipping in Nalpamara water overnight helps to cleanse the beads and let them dry.
Then for curing, dip them in oil.
We feel proud to call ourselves the only authentic consultants on Rudraksha beads and Rudraksha therapy. We provide the strongest unique and scientific Rudraksha Kavachas for all your problems and ailments to attain wealth and wellness. Realize your divinity through Rudraksha!!!
To read more such articles on personal growth, inspirations and positivity, subscribe to our digital magazine at subscribe here
Comments