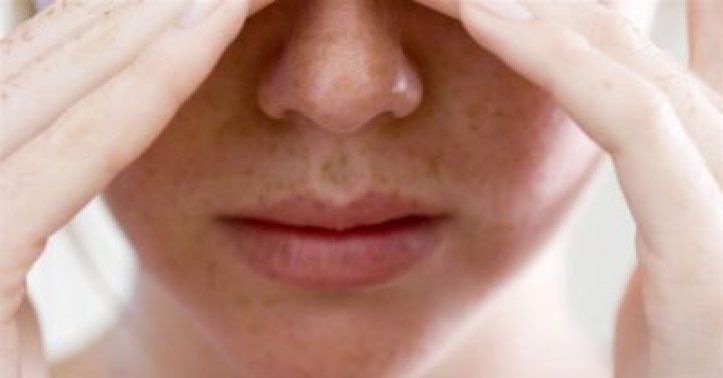 5 Natural Remedies for Sinus Headache Straight From Kitchen
I thought of writing about natural remedies for sinus headache when, two weeks ago, a friend of mine suddenly started wheezing violently. Her eyes turned watery and she lost her consciousness. We were having a good laugh over something when I realized that she was blowing her nose unsuccessfully at repeated intervals. A few seconds later, she was visibly uncomfortable and complained of stuffiness in her nasal passage. While I managed to call her parents when she was gasping for breath, I did not realize that she was suffering from the sinus infection.
An ardent believer of Ayurveda, she later decided to cure sinusitis by following natural remedies.
5 Natural Remedies for Sinus Headache
Ayurveda is a blessing to us. When Nature blessed life on our planet, it also made sure that we are surrounded by cures to heal us. We are fortunate to have natural cures around us. Below are a few natural remedies for sinus headache. They can also help to cure severe sinus infection symptoms.
1. Clove- Eucalyptus Cocktail:
Boil up to 2 liters of water along with a couple of drops of clove oil. Mix squashed mint leaves and a few drops of eucalyptus oil. If you cannot find oils, put a fistful of eucalyptus and cloves in boiling water. Steam your face with this water for 10-15 minutes. Repeat the same process twice a day daily to see improvement. The blockage will clear within a few days. To remove the residual symptoms repeat the process once every week.
2. Ginger:
Ginger is an ultimate cure for cough, cold, and sinusitis since ages. Be it beverages, salads, or dishes, ginger is an absolute favorite of the Indian subcontinent. Its medicinal properties provide relief in severe sinus infection episodes. To cure sinusitis, have one teaspoon of fresh ginger juice mixed with honey twice daily. Ginger is one of the best natural remedies for sinus headache in addition to curing common cough and cold.
3. Garlic:
Garlic is famous for its antibacterial and soothing properties. They are useful to get relief from sinus attacks. Ginger contains powerful antibacterial, antiviral, and antifungal properties, which help to fend off bacterial contamination, causing inconvenience. Allicin and Scordinin are the compounds responsible for making garlic a "natural healer." This, again, is one of the most effective natural remedies for sinus headache.
It contains decongestant and expectorant properties, which unclog the sinus cavity and provide relief in the long run. Its influenza-busting property that incorporates vitamin C, a few proteins, selenium, sulfur, and others offer support to battle against the disease-causing microscopic organisms.
Pound 4-5 peeled garlic buds and inhale the aroma. This will decrease nasal blockage. Blend one tablespoon of pounded garlic and one tablespoon of turmeric with two tablespoons of nectar. Take one tablespoon every day.
4. Apple Cider Vinegar
Apple juice vinegar contains a variety of supplements, including vitamins B1, B2, A, and E, calcium, and magnesium. These supplements help clear sinus cavities and treat hypersensitivity issues. Furthermore, apple cider vinegar leads to the thinning of the mucus layer quickly. Those who do this remedy will find their mucus turning from white or green and thick to thin and transparent. The thinning of bodily fluid is a sign that sinus disease is vanishing.
You can either dilute apple cider vinegar and sip it throughout the day or put a few drops in your nostrils. The key to treating a sinus disease with apple juice vinegar is to catch and cure the sinus early. This gives you the power to kill the infection and avoid its severity.
5. Turmeric
Turmeric is a highly prevalent spice and most South-East Asian countries utilize it as a part of curry dishes to enhance their taste. It is a decongestant or stimulant, as per numerous researchers. It is one of the best natural remedies for sinus headache.
Sinus Headache is truly a "headache"
Therapeutically known as rhinosinusitis, you catch a sinus infection when your nasal cavities wind up noticeably tainted, swollen, and aroused. Sinusitis is a result of an infection and frequently perseveres even after other upper respiratory indications are no more. Now and again, microbes, or once in a while, parasite, may cause a sinus contamination.
Mucus secretion in the nasal cavity blocks sinuses or causes a nasal clog. Sinuses are made of thin, delicate tissue that is efficiently chafed by allergens, natural elements, and microorganisms and infections. At the point when the sinuses react to allergens, they obstruct your capacity to inhale ordinarily through your nose.
For example, fluctuating weather, hypersensitivity, nasal polyps, and tooth cavities can add to sinus pain and manifestations. Typically, mucus gathers into the sinuses and flows into the nasal chambers. Your sinuses get noticeably swollen and can't drain the mucus when you catch a cold or face an allergic reaction. This clogs nasal cavity and may develop into chronic sinusitis.
Natural remedies are best for any kind of cure. Our bodies respond very well to the extracts derived from nature without any side-effects.
Author Bio:-
Vatsla Singh is a content curator and writer. She takes an active interest in the psychology of the human mind. Thus writing about spirituality and personal growth comes to her easily. She also tussled with borderline bi-polar disorder and consequently understood the importance of spirituality in life for better well-being. After thorough research and first-hand experience, she now truly understands the effect of yoga on mental health. Aside, you can catch her with her cats whilst she isn't typing away on her laptop.
To read more such articles on personal growth, inspirations and positivity, subscribe to our digital magazine at subscribe here
Comments