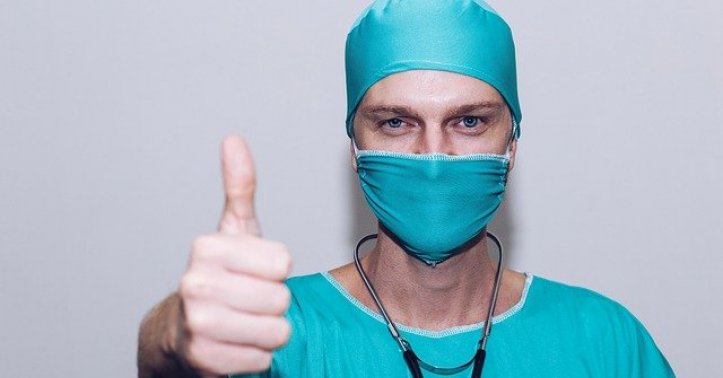 4 Careers in Healthcare with a Positive Job Outlook
These days, it can be incredibly difficult for a person to decide upon the right career path. Jobs that were once deemed to be secure and safe are now falling by the wayside. On the other hand, though, many career paths were once seen as moderately secure that have gained a reputation for having an incredibly positive job outlook, and healthcare is one of those careers that will always be in demand.
While there are many considerations that will play a factor in your decision about the type of career path you will choose for yourself, it does not hurt to bear in mind the job outlook presented by a certain job. You will certainly want to choose something that makes good use of your particular talents, and that is something you can be passionate about, but a degree of safety and security in your position is also important.
If you are currently trying to figure out what medical career path is best for you, looking at predicted job outlooks can be a helpful place to start. With that in mind, here are four such careers that are known to have a positive job outlook for the foreseeable future.
1. Nursing
If the events of the last year have led to any widespread conclusions about healthcare, it is that nurses are truly the backbone of the healthcare system in general. They are the ones who have worked tirelessly by the bedsides of their patients to administer the very best care and reassurances that were in their power to give.
Aside from the results of recent events, though, the job outlook for nursing is one that has been steadily improving for some time now. Over the last decade or two, the demand for nurses has been growing exponentially. There are many factors that have contributed to this growth over time.
For starters, an aging population means that more and more people are going to be at a point in their lives very soon where more frequent healthcare is necessary. Furthermore, the wider access to health insurance that has taken place in recent years means that more people are seeking out healthcare as and when they need it. As individuals who serve on the frontline of healthcare, these things all add up to more work and more demand for nurses in general.
If you would like to consider following this career path and becoming a nurse yourself, there are a variety of options that you can consider. It also does not have to take as long as you might assume to earn your degree and become a registered nurse (RN). There are a number of excellent accelerated nursing programs online to choose from that are designed to help people become qualified as RNs sooner rather than later.
2. Physical Therapy
Healthcare as a whole is a constantly changing field, making way for certain roles to improve in job outlook along the way. One such role is that of the physical therapist.
Recent years have seen a change in the manner in which the healthcare community approaches pain management. While it was common practice to prescribe harsh pain management medications as routine, more and more evidence indicates that such medications can generally do more long-term harm than good for a patient. For this reason, many physicians have seen it fit to turn to such medications as a last resort for pain management.
This is where the role of the physical therapist comes into play. Through specific treatments, exercises, and stretches, a physical therapist can help someone suffering from certain types of acute and chronic pain to recover and manage their pain without the aid of dangerous medications.
With a much faster than average projected growth of 18% and a median salary of nearly $90,000 per year, this is one career in healthcare that is certainly worth considering.
3. Dental Hygienist
The world of healthcare is vast and includes a variety of different roles. These days, one would be remiss if they were to overlook that aspect of medicine that involves oral health when they are looking to figure out what sort of medical career path is right for them. With a projected growth of 6%, the demand for qualified dental hygienists is only going up.
These days, many people are taking their oral health and hygiene more seriously. This is because of a medical community's push to emphasize this often-overlooked aspect of one's health. Aside from having a beautiful smile, dentists and dental hygienists work to provide a more comprehensive healthcare approach.
Recent studies and research indicate that there is a definitive link between one's oral health and the rest of their physical wellbeing. There is even evidence to suggest that cardiac health is directly linked to oral health. With more and more people seeking out quality dental healthcare on these grounds, dental hygienists' demand continues to rise.
4. Home Health Aides
The field of medicine that is referred to as geriatrics is one that never seems to have enough helping hands to go around. Geriatrics involves the care of the elderly and can be a challenging yet incredibly fulfilling career to pursue. One role in the field of geriatrics that are increasing in demand is that of home health aides.
This career in healthcare boasts a projected growth of around 40% in the coming years. Many of the reasons for this growth are attributed to the fact that so much of the population is expected to reach the point in life when additional routine care is necessary. Even for aging individuals who are fairly independent, it can become necessary for a qualified home health aide to enter the picture.
As a home health aide, you would be administering routine care to the elderly in their own homes. Ensuring that they are taking any required medications and helping with rehab on injuries, among other jobs, are all part of being a home health aide.
To read more such articles on personal growth, inspirations and positivity, subscribe to our digital magazine at subscribe here
Comments