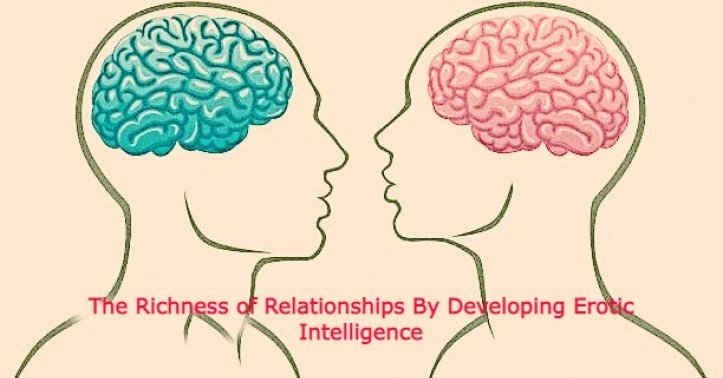 The Richness of Relationships By Developing Erotic Intelligence
"The quality of our relationships determines the quality of our lives"
The connotation of the term eroticism in today's society elicits thoughts about pornography, obscenity, casual sex with multiple partners and prostitution. Yet eroticism often goes well beyond the concept of sex, extending into deeper aspects of what brings joy in our lives. In nature, art, music, food, fashion, etcetera, we sense these currents. Thus, eroticism is the interplay of desire and arousal with the everyday difficulties of loving and living.
What Is Erotic Intelligence?
Have you noticed that desire and lust often fade for couples who claim to love each other as much as they did before? So, why doesn't healthy intimacy guarantee good sex? Is it because we don't desire what we already have? Or, does passion and arousal die out amidst the everyday challenges in the couple's life, including parenthood and professional
Commitments?
There's no doubt that in order to build a strong relationship and lead a fulfilling life, sexual satisfaction is a key component for most human beings. However, even then, our understanding of this concept is extremely limited.
Eroticism simply explained, is a bundle of emotions that are contradictory and paradoxical in nature. Emotions like anxiety, guilt, fear, jealousy, shame and anger can surely hinder your sexual life, however, these emotions can also enhance the experience tenfold. The only difference is to know how to use these feelings to your benefit.
Contrary to popular belief, erotic intelligence isn't about studying the Kama Sutra alone. It's more about being in sync with who you are and having the ability to balance your desires and feelings with the chaos that is going on around you.
Ideally, there are five main elements when it comes to erotic intelligence, and they are:
Body attunement

Social intelligence

Emotional intelligence

Self-awareness

Creative imagination.
The ability to master these elements and being able to communicate your sexual wants with your partner are the most important aspects to build a passionate relationship with life-long intimacy.
Find Your Path To Erotic Intelligence With Pinakin Shah
A qualified personal counsellor, Pinakin Shah has years of experience in intimacy training and has developed a deep understanding of the concepts of mind, body and health.
Based on his experience and training, he established "Mysteries of Emotions" with an aim to reach out to all those people who seek guidance in matters of the mind and body.
Email: pinakinshah27@gmail.com
To read more such articles on personal growth, inspirations and positivity, subscribe to our digital magazine at subscribe here
Comments