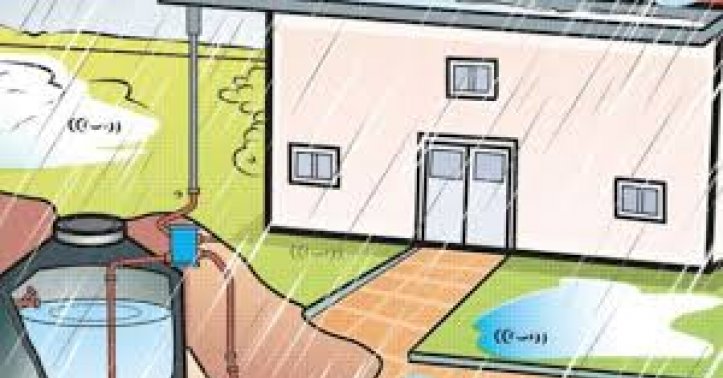 Harvesting rains for sustainiblity
Floods are taking place on a large scale and people don't have enough water to drink. This is happening everywhere and recently in the Silicon of India, Bengaluru. This is actually the result of mismanagement and indifference to nature and not just nature's fury.
Fury does not come overnight whether in relationships the environment or life itself. We certainly have not understood how badly we have treated mother earth in recent times. Nature gives us all that we need but when we do not take her seriously, she can destroy us like no one else can. However, if we respect nature, we shall also benefit from it. Long back, my grandmother taught me to respect nature and never destroy anything, including a shrub. We grew up that way and would ensure that we do not harm nature in anyway. Rainwater harvesting was not common then but people always filled drums whenever it rained. Wells too were seen all around. They used to be cleaned by people at regular intervals. This was always done on priority basis.
As a resident of Bangalore everyone was worried about us recently when the city got flooded due to excessive rains. The situation was such that anyone being a bit late made us worried sick for we saw reports of the horrific situation outside. A young girl was electrocuted because she held to an eclectric pole for safety. A rich family had to sit on tractor as no other vehicle could be considered safe and their home was fully flooded. There were jokes about these situations which I felt that were in extremely bad taste. The need was understanding and finding solutions and not inappropriate humour.
Solutions through rain water harvesting
With the advent of new challenges, rain water harvesting is something that we all can do to make a wee bit of difference for it not only utilises the water but prevent flooding as well. It is possible everywhere- from a slum to a palatial bungalow. This can be done if we have the intention of doing it. Most governments aid in this effort as they know it benefits everyone. I have personally seen this being done in Bangalore. For new houses, the authorities have made it compulsory to install rain water harvesting plants in their premises. In the Bengaluru Water Supply and Sewerage Board or BWSSB has been entrusted with the task of meeting the city's need for drinking water and it is making every effort to discharge its responsibilities. They hold workshops in gardens, distribute pamphlets and encourage everyone to adopt rain water harvesting. The earth is crying out for our help. If we fail to pay attention even now, it may show us more horrors and calamities.
What we all can do All steps need to be taken together to create a wonderful sustainable earth. To begin with, it is possible if we begin following these simple steps.
Save, save, save- Do not treat water lightly. Save as much as you can. If we have excess we could use it to water a plant in a nearby garden but never ever throw it away for water is indeed precious to all and is our life giver. We need to ensure that water goes where it is needed.
Plant, plant, plant - More than buildings, we need plants, parks, lakes, rivulets and rivers. Let us always work on improving this green cover in whichever way we can. I remember a young girl in my erstwhile colony who asked me to promise her that I shall plant at least one plant a year as her birthday gift. For sure, she has transformed me into a plant lover for the right reasons.The government is helping especially in rainwater harvesting, NGOs are working on it but nothing will happen unless we work on improving the environment with passion. The earth is our mother. Things will improve for sure if we work together on sustaining our planet.
By Jamuna Rangachari
To read more such articles on personal growth, inspirations and positivity, subscribe to our digital magazine at subscribe here
Comments