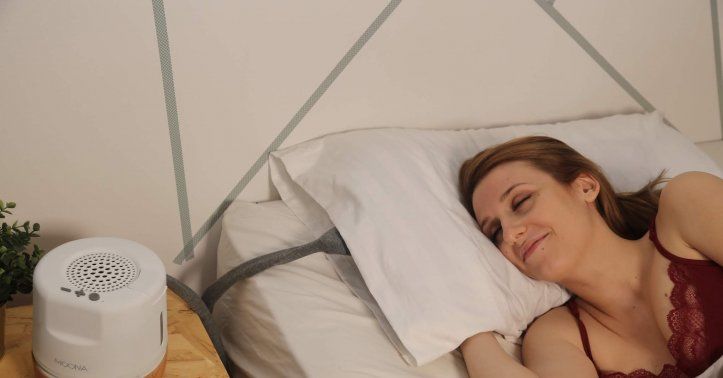 How technology can help menopausal women improve their sleep
For a variety of reasons, most adults fail to enjoy the recommended seven hours of sleep every night.
But when your body slows down its production of sleep-inducing hormones, as well as becoming prone to hot flashes - both of which occur during the menopause - it can make your precious sleep all the more difficult to come across.
Unfortunately for many women, insomnia is one of a number of symptoms of the menopause.
The ovaries start producing less of the hormones estrogen and progesterone, making it harder to fall asleep.
Surges in adrenalin can also cause hot flashes, making sleep even harder to come by.
These two factors can also combine to produce higher stress levels, particularly as they occur at a time when other lifestyle changes regarding work, children or relationships might also be affecting one's state of mind.
These related anxieties can easily have an adverse knock-on effect on both the quantity and quality of one's sleep.
One National Sleep Foundation poll found that as few as three in 10 post-menopausal women enjoyed a decent night's sleep just a few times a month.
That might make for grim reading for women approaching menopausal age, but help is at hand.
Femtech - using technology to address issues involving women's health - is becoming big business.
Not only that, but it is producing results.
One such product is Moona - an advanced cooling pillow pad which reduces the body's core temperature to help bring about sleep.
Temperature-controlled water is circulated through tiny tubes inside what is still a soft, comfortable pillow pad made with memory foam, helping to cool the entire body via the head.
It also contains smart technology so it can adapt to each individual user's sleeping patterns and habits.
A motion sensor is used to monitor quality of sleep, combined with sleep environment data and user feddback. It is used to 'learn' when and at what temperature the user enjoys the best sleep.
This is then 'remembered' by Moona, which can make sure it is at just the right temperature at exactly the right time.
At first glance, simply reducing the temperature of the head by a few degrees may not sound as if it is likely to be effective in the face of hormone imbalances and adrenalin surges, but the theory is firmly underpinned in science.
Temperature is vital to how we sleep. The human body ideally needs its core temperature to decrease by two to three degrees Fahrenheit to doze off.
This drop in temperature results in an increase in melatonin levels, which should accelerate the onset of sleep.
That then needs to be maintained during our period of sleep, before slowly creeping up when we wake up.
But studies have shown that postmenopausal women sleeping in cooler ambient temperatures have fewer hot flashes and better sleep.
To read more such articles on personal growth, inspirations and positivity, subscribe to our digital magazine at subscribe here
Comments