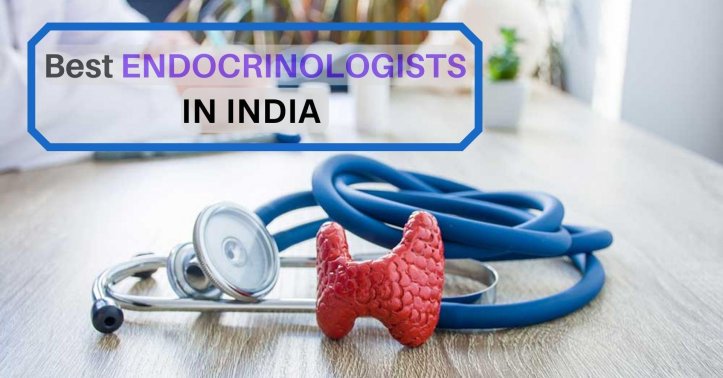 Best Endocrinologists in India - 2023 Updated List
Best Endocrinologists in India - 2023 Updated List
Have you ever thought about the number of cells in a human body? That was one complex calculation even for the scientists. But eventually they concluded that an average human body would have more than 37 trillion cells. Now, imagine a system in our body that has an influence in each of these 37 trillion cells. That is what we refer to as the Endocrine system in the human body. Whenever there is a problem with the endocrine system, the entire body will get affected by it within no time. That's when we need the help from an endocrinologist for fixing the system. So, today we will give you an updated list of best endocrinologists in India along with some interesting facts about the endocrine system.   
Best Endocrinologists in India 
We are giving you a list with the most well-known endocrinologists in India that you can use as a guide for choosing the best endocrinologist near you. 
Dr. Anil Bhansali 
Best endocrinologist in Chandigarh with 30 years of experience in the medical field. 

Served as HOD of Endocrinology department at PGI, Chandigarh for many years.

Has done extensive research on diabetes and treatment of complex conditions like diabetic foot and diabetic retinopathy. 

600+ publications and 12000 citations. 

Winner of many prestigious awards including the top most award for a physician in the country in 2017. 

Currently serving at Ginihealth, Mohali.

Online consultation is available for patients from Delhi, NCR. 
Dr. Anoop Misra
Director of National Diabetes Obesity and Cholesterol Foundation (NDOC) and President of Diabetes Foundation (India)

Published more than 300 research papers.

Author of the Book: "Diabetes with Delights" 

Won the prestigious B.C.Roy award in 2006. 

Padmashree awardee in 2007. 

Executive Chairman at Fortis C-DOC Hospital for Diabetes and Allied Sciences.

Available for both offline and online consultation at Fortis Healthcare. 
Dr. Mohammad Asim Siddiqui
One of the best endocrinologists in New Delhi with 26+ years of experience. 

Specialises in treatment of Diabetes and related health issues. 

He is a member of The British Endocrine Society (BES) and Endocrine Society (USA).

Author for 50+ health articles published on national and international journals 

Currently practising as a Consultant Endocrinologist at Indraprastha Apollo Hospitals, New Delhi.

Online consultation is available.
What is the Endocrine System?
In simple words, the endocrine system is like a messaging system in our body. The messages are passed on to all parts of our body with this complex network of receptors, glands and organs. The endocrine system is commonly referred to as a collection of hormone systems. Each gland in our body produces and releases hormones to regulate the bodily functions. The releasing of a particular hormone will tell our body what the next process should be. Again these hormones are often mentioned as chemical messengers of our body. They are there to control every single cell in our body by instructing them what to do in a particular situation.
The number of hormones that get released each time also has a role to play in this process. So, any deviation in this number or as we say variation in hormone levels will present itself as various disorders and symptoms as our organs will fail to function properly in such a situation. Because these hormone systems or in other words the endocrine system as a whole controls each and every function of our body including growth, metabolism and reproduction. They even control our heartbeat, blood pressure, body temperature and respiration. Even our mental state and moods are fully regulated by these hormones. 
In short, we can say that the health of our organs and body as a whole will greatly depend upon the health of our endocrine system. So, keeping our endocrine system healthy is very much important for our physical as well as mental well-being. And Endocrinology is the study of the endocrine systems and endocrine diseases. An endocrinologist is a physician who specialises in treating various hormonal disorders such as diabetes, thyroid dysfunction, PCOS and any other related health conditions that happen as a result of the disorder. 
Role of An Endocrinologist 
As we mentioned earlier, an endocrinologist has expertise in endocrine disorders that happen as a result of hormonal imbalance. To talk about the most common endocrine disease, then that would be diabetes. The second most common hormonal disorder treated by endocrinologists are thyroid disorders. The third one is PCOS or Polycystic ovarian syndrome which is yet another common endocrine disorder affecting 1/3rd of women in their reproductive age. But the role of an endocrinologist is not just limited to treating these conditions as there are many more complex conditions that fall under the scope of endocrinology. Still diabetes, thyroid disorders and PCOS are three of the most common conditions as per statistics. 
One disturbing fact is that even the most common endocrine diseases often go undiagnosed in many patients for a long period of time. For some patients it takes a longer duration for the symptoms to show up and even then they tend to ignore the warning signs and only seek help when their health starts deteriorating. These chronic conditions can turn into life threatening diseases in the absence of proper treatment and care. Also for most part, the treatment of endocrine disorders not only involves the usage of medications but calls for permanent lifestyle changes. Because some endocrine disorders are often caused by unhealthy lifestyle and eating habits. Type 2 diabetes is a perfect example for this. 
When to See an Endocrinologist?
Even though endocrine disorders can result in different symptoms in different patients. Here are some of the common symptoms of endocrine diseases which call for your attention. You should be seeing an endocrinologist without any delay if you are experiencing these symptoms without any other diagnosis. 
Changes in appetite and excess thirst 

Unintentional weight loss or weight gain

Fatigue 

Frequent mood swings or symptoms of anxiety and depression

Insomnia

Decreased sex drive

Irregular menstruation

Hair loss and excess body hair in women 

Muscle weakness and bone or joint pain

Feeling cold or getting hot flashes

Skin problems 
In the end, managing complex endocrine diseases is not that easy unless you decide to make some much needed changes in your life. An endocrinologist can surely help you a lot in making these changes with personalised nutrition and lifestyle changes. You can also take some help from clinical dietetics and lifestyle coaches as and when needed. But one thing to note here is that managing any endocrine disorder takes time and effort from both sides. An endocrinologist can only guide you on which path to take but you need to commit and follow this advice till the very end. By doing this, you will be able to win this battle against endocrine diseases and will get to see the most healthier version of yourself for a long time.
To read more such articles on personal growth, inspirations and positivity, subscribe to our digital magazine at subscribe here
Comments