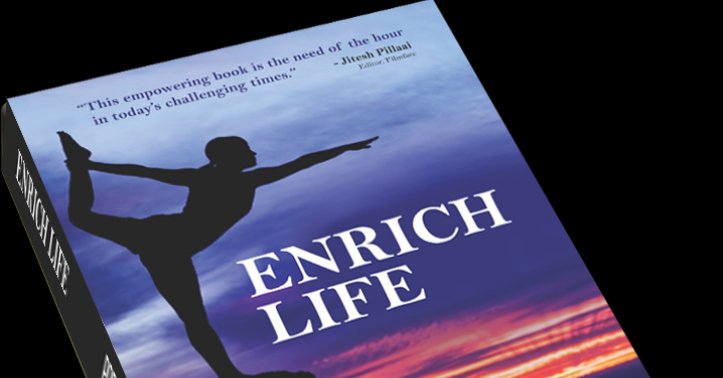 Excerpt from Enrich Life by Preeti Pathak.
Self Forgiveness
Forgive, Forget, Forgiven
The ultimate key to accomplish any task is awareness and being mindful. All promotional campaigns related to environment protection, girl education, gender equality,
health awareness campaigns, etc., focus on one fundamental principle – to generate awareness amongst the masses by sowing the seed in every heart that – 'I am the driving force' e.g.- Environment protection begins with me!
You encounter several situations and experiences in your daily life. You may experience hurt, betrayal, rejection or repentance. Do you acknowledge own feelings? My understanding over the past several years has been that very artistically, one ignores them. Conscious efforts are made to divert the mind into other activities and not think about pain riven experiences. The more you ignore own feelings; deeper are the grooves of self-hurt. It is true, time is the greatest healer but only if you are mindful and with strong determination decide to transcend every hurdle. If you choose to suppress own hurt, mistake or sensitivity, you are digging a deep well where rescue would not be possible.
Deep wounds take time to heal and with time one wants to believe that one forgets them. Sometimes, a flash of memory brims your hearts emotion, unleashing the spiral of self-blame or blaming others. What appears as forgotten and forgiven, in reality, is alive with greater velocity. A surge of similar memories manifests into ill health and disharmony within own self as well as others.
Self-forgiveness is a subtle state related to one's own reaction, relation and attitude towards others and one's own self. The ultimate road to forgiveness is built on the plinth of sincerely, truly forgiving own self as well as others from the deepest place of our being. The heart is the center of love, compassion, and emotions. It stores all emotional experiences. It is the dearest of the dear and nearest of the near to all. So when you forgive yourself and others you tap into your own heart. Actual forgiveness does not happen just by saying it verbally, but by feeling the forgiveness in the heart. Forgiving self and others you feel as light as a feather and your core self is calm and filled with more compassion and love. Whenever you say that you have forgiven, scan your heart, do you feel as light as a feather or is it a superficial state of expression with scars deep within. When realization descends, one realizes how essential it is to forgive own self and others. If we do not forgive, we carry the baggage of pain for several incarnations. The pain stored in the subconscious mind if not resolved manifests into ailments.
When you release any form of negative emotions towards a person and forgive them, not only do you resolve karma but also experience a surge of ease deep within. All resentment, pain, and worry just evaporate. When you forgive others, you are actually forgiving your own self and I believe this is the fundamental principle of the universe. Always be mindful of own speech, action, thoughts, and expression.
As much as forgiving own self is ignored, it is even more challenging to actually forgive own self. Even a practical headed person feels this pain. They may not express it but deep inside there rests a dormant volcano. Shadowbox thinking adds fuel to the fire. One is caught in a similar cyclical pattern of thinking by virtue of lack of understanding, limited awareness and an inability to resolve problems.
The main obstacle to forgiveness is 'Ego'. Ego with respect to one's self-respect is essential but when it is a speed breaker to your own personal growth, it definitely is a negative trait2.
There is always an internal conflict between ego influenced thoughts and heart influenced emotions that work on one's own mind. Caught in a conflicting situation as this; one chooses to close eyes and sit like a cat. Cats live in paradise, they believe once they close their eyes they see and know nothing and believe the same applies to others. Many people believe that either time or changing situation will take care of. They forget to love, forgive and nurture own self leading to loneliness, depression and low self-confidence. The boasted ego feels inferior to acknowledge and it prevents them from forgiving own self and others.
Self-forgiveness supersedes any other form of forgiveness. When you point one finger to others, three fingers automatically point to your own self but when you turn the direction of the pointing finger you now see one finger pointing to your own self and three fingers pointing outward. The point I am trying to explain does not hold your own self responsible for every single problem or failure. It is nothing but a state of mind. A vulnerable and sensitive state of mind gets trapped in the law of duality, slowly leading to the spiral downward and a drop in energy.
"It is important to understand that rejection is not the end of life. It is an experience which makes one strong. Instead of being harsh tell yourself, "It is okay, this is not the end of life, there are many milestones to achieve, let me focus on how to be successful in all areas of my life."
To learn how to live an enriched and happy life order your copy of Enrich Life today!
To read more such articles on personal growth, inspirations and positivity, subscribe to our digital magazine at subscribe here
Comments